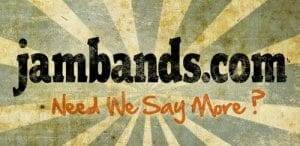 Jam bands are musical groups whose live albums and concerts relate to a unique fan culture that began in the 1960s with The Grateful Dead, and continued in the 1990s with bands like Phish. The performances of these bands typically feature extended musical improvisation ("jams") over rhythmic grooves and chord patterns, and long sets of music that can often cross genre boundaries.
While the seminal group The Grateful Dead are categorized as psychedelic rock by the 1990s the term "jam band" was being used for groups playing a variety of rock-related genres, including blues, country music, folk music, and funk. Today the term even includes some groups completely outside of rock, such as those playing world music, electronic music, progressive bluegrass, and jazz fusion.
The Jam band Charts are an offshoot of Relix magazine, and their radio charts can often cross and mix genres, so much so that many consider the Jam Band scene to be the most open to new and innovative music. Many Blues artists have crossed over to the Jam Band charts, such as Warren Haynes and Derek Trucks as well as outside of the mainstream to such indie blues artists as JPBlues to name a few. If you feel your music might appeal to these DJs then you might want to include them in your radio promotion.
Remember do your research .. Jam Band Radio Reporting Stations Stations and DJs fall off and on each month for the latest updates go to https://www.jambands.com/radio-charts/ … If you are a DJ that plays Jam Band type music, you may want to contact dean@relix.com and ask to be a reporting station.
Don't forget to read the article on DIY Radio promtion by Rick Lusher! CLICK HERE TO READ!!