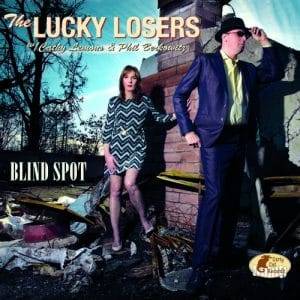 Cathy Lemons   October 26 at 7:26 PM ·
I just submitted or album "Blind Spot" to Making a Scene and the Independent Blues Awards. We are very excited about this particular award because Richard L'Hommedieu and the folks at Making a Scene do such an incredible job getting new artists some real exposure. We are seeing a huge spike in CD Sales on CD Baby and also a spike on Spotify for monthly listeners. This has never happened to Phil Berkowitz and I before. We have always flown under the radar.

Out of all the music platforms for Indie blues artists, this is really the one. It's a tireless 24/7 effort with their newsletters and their "Live at The Midnight Circus" podcasts.
The Making a Scene difference is we drive traffic to our site EVERY DAY!  Using multiple social media outlets to promote our daily postings of articles, interviews, podcasts and CD Reviews to Hundred of thousands of people. Unlike some other online advertisers for musicians, Music Fans and music related businesses, we don't wait for weekly or even monthly updates to drive our traffic, we work daily to drive traffic to our site and YOUR ad.
This all goes to make  Making a Scene one of the most affordable advertising opportunities that directly targets a highly engaged market of Musicians and Music Fans.
The numbers support this model, we now average over 7 million page reads a month and that number keeps growing! This is no small feat and is a testament to our content and our ability to drive traffic to the site via social media and our newsletter.
Our weekly Newsletter, which was launched in 2015 and now has a subscriber base of over 17,000 members. Better yet, our statistics show we have over 70% engagement with our content within the newsletter. What that means that during any given week, approximately 70% of the emails are opened and read. This shows that our content is important to our subscribers and your ad WILL get seen! Not only that this newsletter drives traffic to Making a Scene website, and to your ad on the site!
There are so many great opportunities to get your message out. If you would like to create a ad campaign and combine several of our opportunities? Drop us a line and let us help you design an effective campaign for you and save you money!
If you have any questions email us at adsales@makingascene.org  or call us at 678-541-5541
Check out our different ad opportunities below!
WE ACCEPT AND ENCOURAGE ANIMATED GIFS!! ADD MORE BANG FOR YOUR BUCK WITH MULTIFRAME ADS! 
Ad Spaces:
NOTE: Some ad spaces are "Rotated" with each page load. Some have between 4-6 slot positions that can be purchased.
Above the Fold 768×90 (Ad Type 001)
This is the top most banner ad! Each time the site is loaded this is one of the first ads that is seen. In addition this ad remains in this position for every Post, Page and Category that is loaded by our readers. There are 6 slots that are rotated on 3 positions on each page load.
1 Month = $150  3 months=$400 
---
Above the Fold 970×400 (Ad Type 002)
This also is on the topmost portion and largest ad of the main page. This block appears on every Post, Page and Category in addition to the main page. This is a great value as it only has 10 slots! Which increases the chances your ad will be in front of your Market. This includes inclusion in our newsletter!
1 Month=$175 3 Months=$480
---
Main Page 250×250 (Ad Type 008 and 009)
This is a good value and runs on the main page and all posts
1 Month=$50 3 Months=$125
---
Main Page 250×900 (Ad Type 004 and 005)
This is a great value for a Large Skyscraper ad! This runs on All posts
1 Month=$100 3 Months=$250
---
Main Page 768×90 (Ad Type 006)
This Center position is available on the "Main" page. On the Main Page there are 4 positions, in two slots. This is a Large ad for a great price!
1 Month=$75 3 Months=$175
---
Footer Ad 768×90 (Ad Type 013)
This ad displays at the bottom of the front page as well as all posts, pages and categories! This is a great large banner ad and a great value as it displays on all areas of the Making a Scene
1 Month=$125 3 Months=$300
---
Making A Scene WEEKLY Newsletter
Advertise in the Weekly Newsletter! Each issue will recap the top stories of the last week and help you reach an additional 24,500+ customers.   All website ad purchases include the newsletter for FREE
Contact us at adsales@makingascene.org
Ad Templates
In order to help you create your ads we have created templates for the 4 different ad sizes that are available on the site. Just right click on the link and choose "Save as", then load it into your graphics program and create your banner.
1. 250×250 Sidebar (Main,Pages,Posts,Category)
2. 250×900 Sidebar (Main, Pages, Posts)
3. 468×60 Banner (Top Page, Header, Footer)
Ad creation Service
If you would like us to create your ad for you, we would be more than happy to help you out. You can contact Publisher@makingascene.org and we can discuss your needs and give you a price on the completed ad.
Now you see all the great opportunities to advertise on "Making a Scene"!
 Making a Scene Stats!
Making a scene was launched on May 1 2014, and we have grown over the years, We now average over 8 Million Page Reads a Month.
This is a golden opportunity to become part of the most innovative web magazine for the Independent Musician and Music Fan!