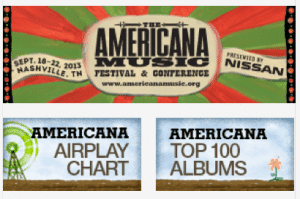 Americana is an amalgam of roots music formed by the confluence of the shared and varied traditions that make up the American musical ethos; specifically those sounds that are merged from folk, country, blues, rhythm and blues, rock and roll and other external influences. Americana, as defined by the Americana Music Association (AMA), is "contemporary music that incorporates elements of various American roots music styles, including country, roots-rock, folk, bluegrass, R&B and blues, resulting in a distinctive roots-oriented sound that lives in a world apart from the pure forms of the genres upon which it may draw. While acoustic instruments are often present and vital, Americana also often uses a full electric band.
The Americana Airplay chart represents the reported play of terrestrial radio stations, nationally syndicated radio shows, satellite radio and internet stations who have agreed to submit weekly spin counts. It was developed by the Americana Music Association (AMA).
The current weekly chart can be viewed at https://www.americanaradio.org/
Stations come and go to check the latest reporting stations go to https://www.americanaradio.org/ama/reporters.asp?he=1
Here is a list of other charts that would encompass Americana Music https://www.americanaradio.com/charts.htm
Don't forget to read the article on DIY Radio promtion by Rick Lusher! CLICK HERE TO READ!!