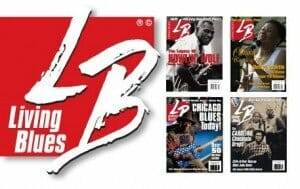 Living Blues is a bi-monthly magazine focused on covering the blues tradition, and its America's oldest blues periodical. The magazine was founded as a quarterly in Chicago in 1970 by Jim O'Neal and Amy van Singel. Alligator Records owner and founder Bruce Iglauer was also one of the magazine's early editors. Howlin' Wolf was featured on the cover of the first issue. In 1983, O'Neal and van Singel donated the publication rights and the magazine's collection of blues memorabilia to the Center for the Study of Southern Culture at the University of Mississippi. At that time the magazine became a bi-monthly.
Each issue contains a variety of features, including artist interviews and profiles, record reviews, and a monthly Top 25 national blues radio chart. It is this radio chart that is considered the gold standard in Blues Radio. Very few artists are able to achieve a position on this chart that are not "Traditional" blues artists, though that has been changing lately. Radio stations and DJ's reporting to Living Blues comprise only a small portion of the total stations playing Blues. If you want to try to break onto this chart, Below is the COMPLETE list of stations/DJ's that are reporting to Living Blues!


You still have to do your research. Go to the station page, look at their playlist and see if that DJ will play YOUR style of Blues. And definitely read Rick Lusher Article on "DIY Radio Promotion" . Also to keep up to date on new reporting stations, purchase a copy of the magazine (or subscribe), where they list all the stations reporting to their charts.
If you are a Blues Radio Show on FM or AM, and wish to report to the Living Blues Charts, contact Jim McGrath at rmcgrat3@rochester.rr.com . The Non Reporting stations and shows are not as important as those that do report. Maybe, with new stations, that might have a more open mind towards the blues, we will start to see a wider range of blues artists on this chart.
Encourage your local Blues DJ to report