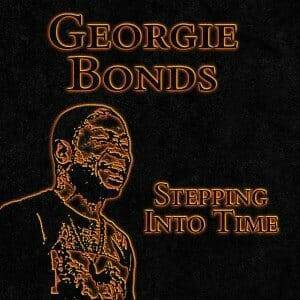 Georgie Bonds
Stepping Into Time
8th Train Records
Georgie Bonds grew up in the Germantown section of Philadephia. Bonds liked Rhythm and Blues but he loved horses even more and he dreamed of being a cowboy. He purchased his first horse in 1975 when he was 21 years old. Unfortunately a year later he got into trouble with drugs and wound up doing three years in a minimum security federal prison. In prison Bonds obtained his GED and started writing songs. Upon his release Bonds got a job at a horse stable and went to school to become a blacksmith. When he returned to Philadelphia he became the village smithy.
Bonds also began to perform at open mic blues jams. One night he sang "Stormy Monday" and bluesman Sonny Rhodes heard him and took him under his wing. Then in 1994, due to a medication error, Bonds got gravely ill. Bonds lost a kidney and had to undergo hip replacement surgery. His blacksmith career was over.
Bonds began to host the open mic blues jam at Warmdaddy's. He formed Georgie "Gatormouth" Bonds and The Blueskeepers and over the years he shared the stage with Hubert Sumlin, Koko Taylor, Bernard Allison, Melvin Taylor, Slam Allen, Larry Garner and many others. In 2001 Bonds released his first cd "Sometimes I Wonder" to critical acclaim. Health issues again sidelined Bonds.
Bonds released "Stepping Into Time" in 2013. The band on this recording includes Bonds, vocals; Neil Taylor, rhythm and slide guitar; Kenny Githens or James White, bass; Andy Haley or Russ Joel, drums; Walter Runge, keyboards; and Buddy Cleveland harmonica. The album is co-produced by Bonds and Cleveland.
The album opens with the traditional "St. James Infirmary" sung without accompaniment by Bonds. Bonds emotive vocal displays his beautiful baritone.
Then the band kicks it up. The "Blacksmith" is the first of five songs written or co-written by Bonds. Written with Taylor, Bonds tells us his story, "there's a fire deep inside me and my hammer is in my hand". The rhythm section of Githens and Haley provide the foundation for Taylor's guitar, Runge's organ and Cleveland's harp. Also co-written with Taylor is "I Need Somebody". Bonds has also written the New Orleans sounding "Lord, Oh Lord" with its second line beat; "Calling Your Name", and "Going Shopping". The latter of which is receiving a fair amount of airplay.
Taylor also contributes "What More?" featuring a great sax solo from Dave Renz; the topical "Daily News" and "Out of the Fryin' Pan". "Dyin' Is the Easy Way" is from Joey Stout and Neil Taylor.
My favorites include Bonds' version of John Lee Hooker's "Dimples", which closes out this excellent album, and the hidden track which is a fabulous acoustic version of "The Blacksmith" featuring Taylor's guitar and Cleveland's harmonica.
Bonds' is a joy to listen to.
Richard Ludmerer