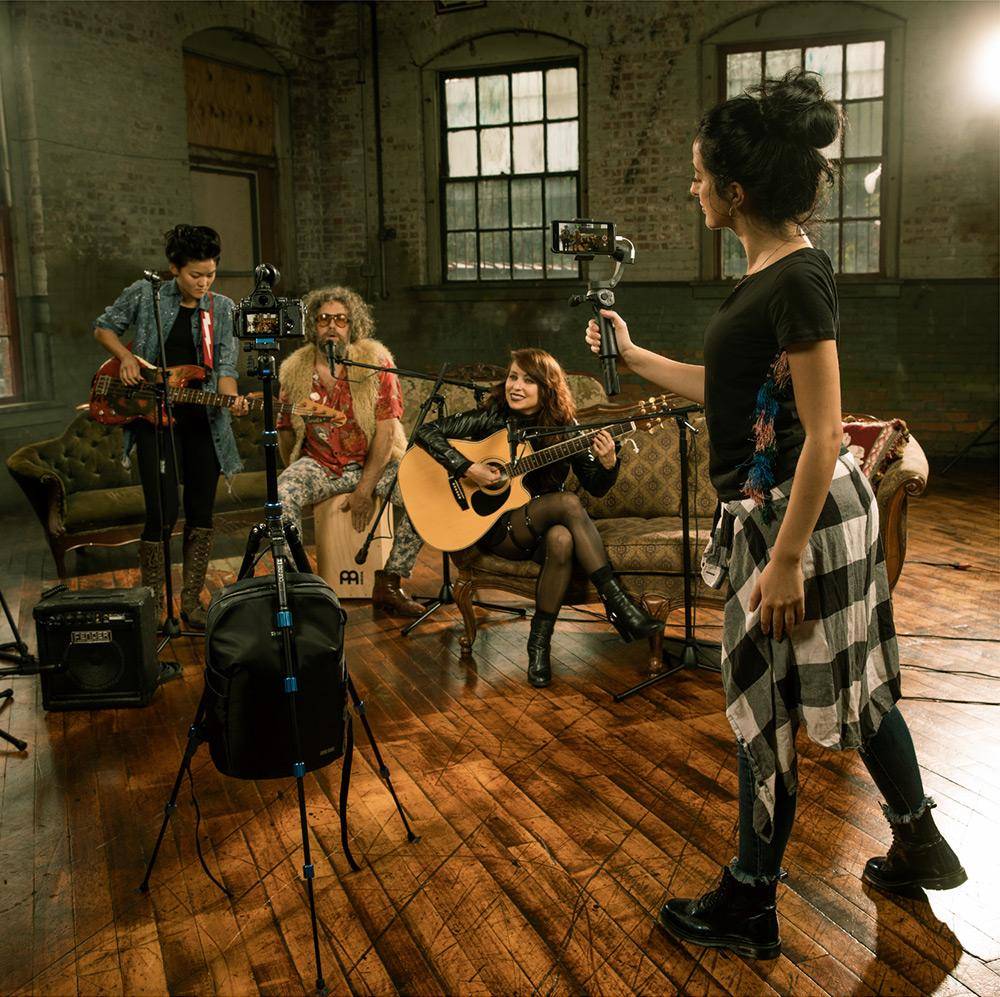 Funnel Marketing For the Musician
With the shutdown of the gig economy many indie artists have turned to the internet as a way to stay connected to their fanbase and to generate interest in their music. Unfortunately many of these artists are losing some important potential income as well as losing potential fans by not establishing some simple rules of content creation and funnel marketing.
What is Funnel Marketing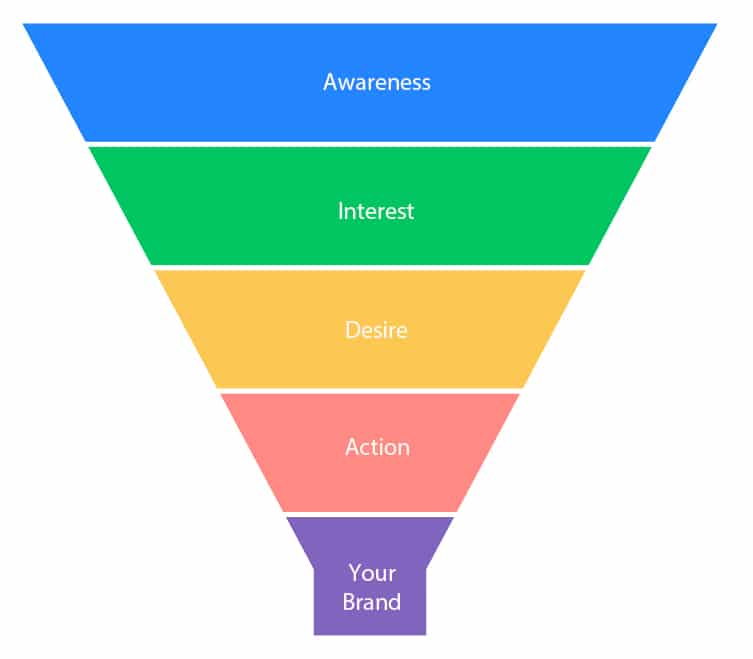 Simply put Funnel marketing describes the journey your potential customer or fan takes as they move from the time they become aware of you to the time they invest in you as an artist. If properly constructed the marketing funnel will guide the potential fan through it's stages.
Awareness – this is the initial stage of the funnel, or the large rim at the top. This is where you cast the wide net with your content to draw in potential fans and establish your brand awareness
Interest – This is the stage where a portion of the potential fans from the awareness stage take an interest in your brand and your music. They start to utilize the passive income level of funnel as in Spotify Followers, Youtube Subcribers, Instagram Followers, Twitter Followers, etc.
Desire – Here is where a portion of those who show an interest in your brand and music to want to know more and support you. This is where you find those people who will tip you during a live stream show, or contribute to your Patreon campaign.
Action – This is the bottom of the funnel, the fan that will wants to see you live when you come to his town, that will purchase your merch either online or at the merch table. The fan that will want to turn their friends on to you, your brand and your music.
Funnel Marketing for the Musician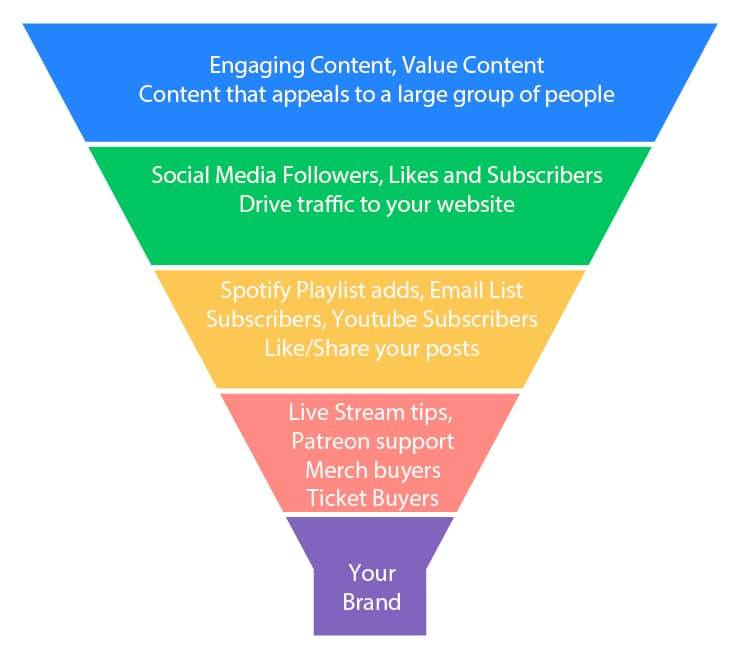 Awareness stage
The first thing to understand is people on the internet have very short attention spans, which is a direct response to the shear amount of stimulus that is available in any given moment. You also need to understand that people don't want to be hit with a sales pitch no matter who it's from.
The idea at this point is to create content that is either engaging or gives some value. Now, you ask what the hell does that mean? Think about it what makes you stop and take notice of something on Instagram, Twitter, TicTok? Got some interesting gear, post some pics of it. Do you have your own studio? Then post pics of you or other musicians in the studio working. Give a behind the scenes look at the world of a working a musician.
If you play an instrument, consider doing some you-tube videos on how to play that instrument. Post some videos on how you like to record a acoustic Guitar, Drums, etc. Do you have a hobby outside of music? Post pics and videos of that hobby or activity. Camping, Cooking, Got a squirrel in your backyard that does something interesting post it. Look for ways to create content that is universal and has a wide appeal.
Interest
Here is where you content brings you your first level of interest. This can be in the form of subscribers to your Youtube channel, Followers on Twitter, Instagram, Facebook, etc.. This is all about engagement with your content and converting that engagement into those who are willing to want to learn more about what you are doing and who you are.
Don't get this confused with those who will sell you likes and followers. This is not organic, engaged users. Those will not move down the funnel and do more harm than good.
Desire
Here is the payoff part of the funnel! This is where your engaged followers are exposed to your spotify account and become fans of your music. They place your music into their playlists and generate streams for you. They will watch your "Production" music videos on Youtube and share them with their friends.
You want to capture this group and get their emails. One good way is to create a email list and give anyone who signs up for the list a free download of a song or songs. Create a contest for a free T-Shirt/CD. This is the group that has enough interest in your brand and music that they want to invest enough into getting to know you more to give you their email.
Action
This is your Tribe, your people! They are invested in not only your brand and music, but in you as a person! They feel they know you, and more important they feel that you understand and are engaged with them. They like, comment and share your posts. You in turn comment and like their posts and show your appreciation when they share your music. Much like the days where you would stand at the merch table and talk to your fans and let them get to know "you" as a person, if just a few mins at a time.
They in turn become part of your email list, they show up during your live stream shows and give tips for your performance. They Support your Patreon campaign for your next release or music video. This is also the group that will buy the T-Shirts, CD's, etc that you have on your online merch store and when we get back to LIVE music, they will also be the ones that will travel to a venue to see you live.
Conclusion
The concept of Funnel marketing as it applies to the musician would seem to be counter intuitive to how musicians believe that you have to market themselves. You need to keep the lower levels of the funnel populated with content so you have somewhere to convert the upper level of the funnel to.
For example, If you release a single before the album releases, where is the conversion? If they don't like the single you lose them and they more than likely will never have the opportunity to hear the full release. But, lets say you have the full release available on all digital outlets, you use the single WITH a "Production" music video in the "Interest" segment of the funnel with a path to move them into the spotify player of the full release in the "Desire" segment. You can then use a free download from the latest release to entice them to signup for your email list. The Emails you send can offer discounts to members for your merch, inform them of special events, Live streaming Events, personal thoughts on life as a musician during the pandemic, etc.
The key to Funnel marketing is to make sure you have "Content" throughout your funnel. I know this sounds like alot of work, but what better time for you to start creating what you need then now while we are shut down for the Covid 19 Pandemic. Make sure your music is on Spotify. Make sure you have a good website that is up to date and works as a hub to all your social media accounts. Make sure you have a facebook page, Twitter account, Instagram account, etc. Make some great music videos with your cell phone camera or at the very least create a video playlist on youtube of your latest release using the album art as the graphic. The key is populate the your funnel with content.
Then concentrate on just one social media platform at a time. Once you have mastered it, move to the next, etc. Before you know it you will be funneling fans to your content and expanding your fanbase! Just Remember you build the Funnel from the bottom up and use the funnel from the top down.