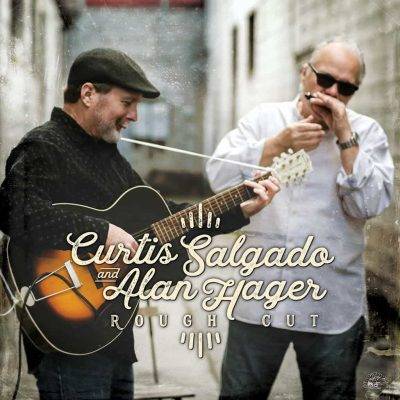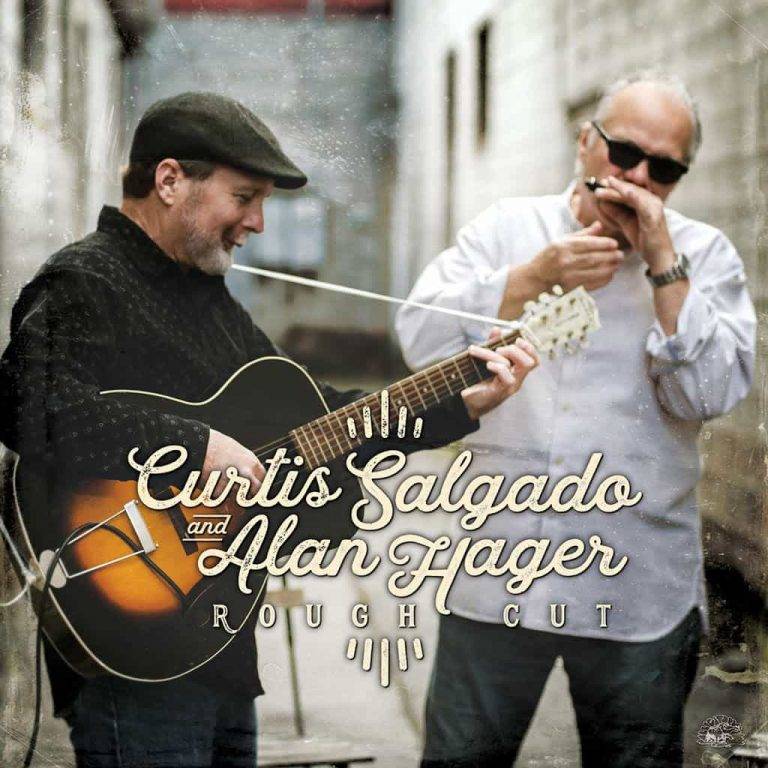 Curtis Salgado and Alan Hager
Rough Cut
Alligator Records
Curtis Salgado was born in Everett, Washington but grew up in Eugene, Oregon. By 1980 he was already a member of The Robert Cray Band and he plays harmonica on Cray's debut recording "Who's Been Talkin". He befriended John Belushi and gave him a transforming appreciation for the blues. He joined "Roomful of Blues" and appears on their 1987 album "Live at Lupo's Heartbreak Hotel". He recorded his own debut album in 1991. In 2001 Salgado received his first Blues Music Award nomination for his fifth album "Soul Activated".
Salgado was diagnosed with liver cancer in 2005 and underwent a successful liver transplant. In 2008 he released the album that almost wasn't made. "Clean Getaway" earned him four more BMA nominations. Salgado went on to win the BMA for "Soul Blues Artist of The Year" in both 2010 and 2012. In 2013 Salgado released his Alligator Records debut "Soul Shot" and won three more BMA's including the highest award possible "B.B. King Entertainer of The Year". Salgado's last album 2016's "The Beautiful Lowdown" earned him three more awards while he was still recovering from quadruple bypass surgery. Overall Salgado has sixteen BMA nominations having won eight times.
Alan Hager was born in Portland Oregon. He studied at Boston's Berklee School of Music under the tutelage of jazz guitarist Pat Metheny. He went on to study classical music at the New England Conservatory of Music. Hager never lost his love for the blues and when he moved back to Portland in 1988 he met Salgado. They have been making music together since 2003. Hager joined Salgado's touring band in 2015 and is featured on slide guitar on "Walk A Mile in My Blues" included on "The Beautiful Lowdown". Hager has appeared with Salgado at festivals all across the country including the 2017 Bradenton Blues Festival held this past December 2017.
"Rough Cut" is a stripped down recording of mostly duo performances. Salgado, harmonica and vocals; and Hager, guitar; have co-written three songs. Salgado contributes two more and Hager another.
On "I Will Not Surrender" Salgado is resilient. Hager's acoustic guitar gives the tune an age old quality. "So Near to Nowhere" is about the spirit that "hoodoo'd" Salgado and placed "tombstone vision inside my head…asking god why I ain't dead".
"I Want My Dog to Live Linger" is just a beautiful musical statement with the underlying truth that we would like our loved ones to live longer especially the dog.
"One Night Only" features Jim Pugh on piano and Jimi Bott on drums. "Hell In a Handbasket" features Salgado on piano. "The Gift of Robert Charles" is an instrumental written by Hager.
The remaining seven songs are well selected covers. "Morning Train" is a traditional tune with the gospel lyric "I'm going home on the morning train". It is sung as a duet with La Ronda Steele who just might be Portland's best kept secret. Brian Foxworth sits in on drums. Also included are Muddy Waters' "I Can't Be Satisfied"; Sonny Boy Williamson's "Too Young To Die"; Son House's "Depot Blues"; Big Bill Broonzy's "I Want You By My Side" featuring some high reedy harp from Salgado; Robert Wilkins' "Long Train Blues", and Elmore James "You Got to Move" the latter featuring the rhythm section of Keith Brush, bass and Russ Kleiner, drums.
Salgado states that he wanted the world to hear guitarist Hager but this is also an intimate look at Salgado that places him in a whole new context. This is highly recommended.
Richard Ludmerer
[amazon_link asins='B07765H5DH,B01CIEPX7A,B007941CNO,B00187PN56,B000008KDK,B01CIEQ43C,B0001CNQ9E,B002SQJUD2,B000002Z6F' template='ProductCarousel' store='maasc-20′ marketplace='US' link_id='7c6f9199-f720-11e7-b8ee-6d4ab47091e8′]
---
Check out these other great articles on Making a Scene