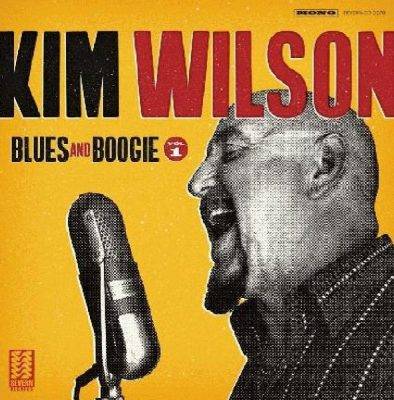 Kim Wilson
Blues and Boogie Vol.1
Severn Records
Kim Wilson is the harp player and vocalist who fronts The Fabulous Thunderbirds. Originally formed in 1974 they had a top ten single in 1986; and won the Blues Music Award for Band of The Year. They have fourteen studio albums, an additional ten compilation albums and two live recordings.
Wilson also has six previous studio albums under his own name and has won six Blues Music Awards. He is the 2004 Contemporary Male Blues Artist of The Year; and three time winner of the award for Best Instrumentalist – Harmonica having won that award in 2008, 2016 and 2017.
This is the first album under Wilson's own name in eleven years. Wilson states that he has hundreds of tracks "in the can". He dedicates this album to James Cotton and the other masters who invented this music. He also credits his fellow musicians.
Four Wilson originals are included. Both "Searched All Over" and "Learn To Treat Me Right" feature a band lineup of Billy Flynn and Big Jon Atkinson, guitars; the late Barrelhouse Chuck, piano; Larry Taylor, double bass; and the late Richard Innes, drums. On the instrumental shuffle "Bonus Boogie" Atkinson and Bob Welsh are on guitar while the rhythm section is Troy Sandow, bass; and Malachi Johnson, drums. The instrumental "Edgier" includes Atkinson and Nathan James on guitars; and Marty Dodson, drums. Wilson has one of the most identifiable voices in blues and sounds terrific.
Selected covers are indicative of Wilson's influences. "Ninety Nine" and "From The Bottom" are from Rice Miller a.k.a. Sonny Boy Williamson II although on the later he uses the alias Willie Williamson.
Little Walter Jacobs played with Muddy Waters from 1947 – 1957. The instrumental "Teenage Beat" features the guitars of Flynn and Atkinson, Wilson is fabulous. "Blue and Lonesome" is also from Jacobs. "You're The One" was written by James A. Lane a.k.a. Jimmy Rogers who was the guitarist who joined Waters and Jacobs in 1947 to form The Muddy Waters Band.
"No Love in My Heart" is credited to Joe Josea which is a pseudonym for Joseph Bihari one of the founders of the Los Angeles based Modern Records and its Memphis based subsidiary Meteor Records. James takes a great guitar solo.
Big Maceo Merriweather wrote "Worried Life Blues" featuring Flynn, Atkinson, Dodson and bassist Kadar Roy. "Same Old Blues" from John Lee Hooker is another great vocal from Wilson with a notable solo from Flynn. Also included are Jimmy Reed's "You Upset My Mind" with some especially nice harp; Magic Sam's "Look Whatcha Done" featuring Welsh once again joining Atkinson on guitar; Elmore James' "Sho Nuf I Do" with Jonny Viau on sax; and Lightnin' Hopkins' "Mean Old Frisco".
Wilson is also a three time nominee for B.B. King Entertainer of The Year having been last nominated for the award in 2014. With thirty six nominations overall Wilson is a perennial.
Richard Ludmerer
[amazon_link asins='B074WDWL27,B00005LVXT,B00DL0AOTI,B00DJLRSD4,B06XNVVBJX,B000005CK1,B00009N1X0,B00KYJHTQA,B07518GDF5′ template='ProductCarousel' store='maasc-20′ marketplace='US' link_id='f2f139a8-b375-11e7-82ee-0d301ed37bd6′]