A Brief History of the International Blues Challenge
by: Mick Kolassa
"You don't have to win the IBC, all you have to do is be in the game, and there's no telling what good things can happen to you, because they happened to me." Watermelon Slim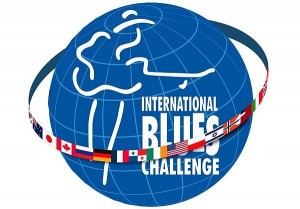 What do Teeny Tucker , Jarekus Singleton, Shakura S'Aida , Bill "Howlin' Madd" Perry, Susan Tedeschi, Matt Hill, Michael Burke, Jeremiah Johnson , Watermelon Slim , Tommy Castro, Tas Cru, Mikey Junior, Lex Grey and the Urban Pioneers, Sam "Bluzman" Taylor, Joe Moss, JPBlues, Oli Brown, Homemade Jamz Band, Jason Ricci, Albert Cummings, Sean Carney, Joey Gilmore, Frank Latorre, Robin Rogers, Arsen Shomakhov, Annika Chambers. Joel Da Silva and Damon Fowler all have in common? Aside from getting regular air play and showing up on stages all over the world, this is just a sample of the stellar artists who participated in the International Blues Challenge but didn't "win" – or did they? As Mikey Junior has said many times: "Nobody loses at the IBC." Every challenge has to have a winner, and there have been some great ones, including Larry Garner, Jonn Del Toro Richardson , Zac Harmon , Dave Keyes, Eden Brent, Mr. Sipp, Trampled Under Foot , Little G Weevil, Little Toby Walker, Delta Moon, Grady Champion, Michelle Wilson and Diunna Greenleaf just to name a few you might recognize. But in the 31 years since the first event (then called the "Blues Amateur Talent Contest") roughly 3,000 blues acts have participated in the challenge, and hundred have gone on to amazing careers as nationally and internationally recognized blues artists, and winning many BMAs along the way. Not a single "loser" in the bunch!

[Best_Wordpress_Gallery gallery_type="slideshow" theme_id="1″ gallery_id="2″ sort_by="order" order_by="asc" slideshow_effect="fade" slideshow_interval="5″ slideshow_width="800″ slideshow_height="500″ enable_slideshow_autoplay="0″ enable_slideshow_shuffle="0″ enable_slideshow_ctrl="1″ enable_slideshow_filmstrip="1″ slideshow_filmstrip_height="90″ slideshow_enable_title="0″ slideshow_title_position="top-right" slideshow_enable_description="1″ slideshow_description_position="bottom-right" enable_slideshow_music="0″ slideshow_music_url="" gallery_name="IBC" watermark_type="none" watermark_link="https://web-dorado.com"]
What the Blues Foundation started in 1984 as a way to help "amateur" blues artists get a foothold has evolved into the largest gathering of blues acts on the planet and the world's greatest search for new blues talent. Blues artists from all over the world compete at the local level for the chance to come to Beale Street and show their stuff. The most recent IBC hosted over 200 acts, requiring over 20 venues and nearly 150 judges. Over 5,000 people came to Memphis for five days and nights of amazing music, camaraderie, and schmoozing with fans, artists, record labels, publicists, and just about anybody who has an interest in blues music and the business of the blues.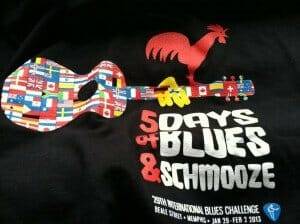 At the IBC, which takes place in late January or early February each year, you will see all-star jams before and after the competition every night. You'll get a chance to see the International Showcase, where the acts for other nations all show their stuff the evening before the Challenge begins. There's also the Youth Showcase, where the future of the blues is on display, and a great regular get together of Women in Blues. There are fundraisers for Generation Blues (The Blues Foundation's scholarship program for young blues artists) and workshop for artists to learn about raising money and planning for recordings. A recently started Health Fair offers free health screenings for everyone in attendance and, oh yeah, did I mention there's a lot of great music?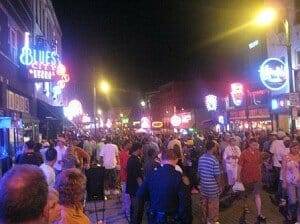 As previously mentioned, the IBC began over 30 years ago as the "Blues Amateur Talent Contest" with the basic idea that up and coming bands could have a place to be discovered. This predated CDs and the home recording boom, when getting a record deal was essential for an artist at the time. The event grew, along with the Blues Foundation, and over time it has evolved into something that could not have been anticipated. In 1984, the first Blues Amateur Talent Contest, the brainchild of Blues Foundation founder Joe Savarin, was held at the New Daisy Theater. The winner that year was a band called "Reliance," from Memphis. They are still playing, but tend to focus on dance music, Hip Hop, and R&B oldies today. Their prize: a gig on Beale Street.
Blues Foundation founder Savin said that during that first year "When the artists came to town, I encouraged them to play with the blues players in Handy Park. You would think I had given them a million dollars." Even today getting the chance to play on Beale can be the event of a lifetime for a young artist, and those who have competed often come back again whether they compete or not – just coming is enough.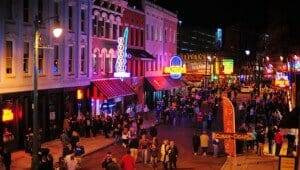 In 1986 the event was renamed the "National Amateur Blues Talent Contest" and 17 bands came in from around the country to compete. In 1988 Larry Garner and the Boogaloo Blues Band won the competition. Two years later there were 35 entrants and the winner, The Dynamics, from Bloomington Indiana, won $500 cash, the Lucille Award for guitar playing, a recording package from Malaco, and a performance slot at the W.C. Handy Awards (now called the Blues Music Awards).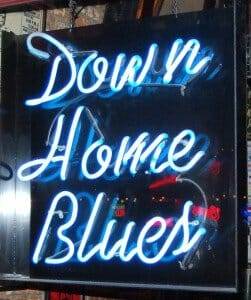 Before 1993 the IBC had a rule that performers had to make less than 50% of their income from performing. This rule was dropped that year and the following year the word "Amateur" was dropped from the name of the event. 1994's National Blues Talent Contest was won by The Hardaway Connection, a band that still works in the DC area. Notably, in that year the second place went to a young woman from Boston named Susan Tedeschi, and third place went to a guy from Arkansas names Michael Burke. Looks like we dropped that "amateur" thing just in time! Note that these two future superstars didn't win the IBC but are proof that nobody loses.
In 1995 the event was renamed "The International Blues Talent Competition" to reflect the expanded demand. Over 40 acts competed that year and first place went to Boston's "The Movers," who won $1,000, twelve hours of recording studio time at the House of Blues Studios in Memphis, and bookings on the "Ultimate Rhythm & Blues Cruise," The Handy Awards and the King Biscuit Festival. Around this time the event was held in conjunction with the King Biscuit Festival and the first day of competition was at the festival itself. Even then, the event was referred to by many people as "undiscovered."
There was no event held in 1999 because the timing was changed, to the current schedule, to avoid conflicts with major festivals. Instead, the first International Blues Challenge (IBC) was held in January of 2000. Fifty four bands competed and the winner that year was the Dave Keyes Band, from New York. Dave has gone on to win multiple BMAs and is one of the most in demand keyboard players around. With the event now held at the beginning of the year, the Blues Foundation also held the ceremony for the Keeping the Blues Alive Awards during the IBC, combining two major events.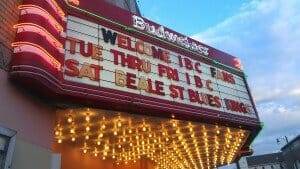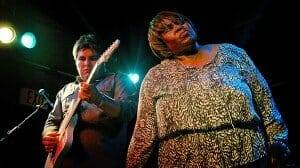 The event continues to grow, with well over 200 acts competing each year. As it grew it was decided in 2002 to split the acts into two categories, band and solo/duo. Since then not only has participation grown but so have the prizes and the overall level of the competition. What began as a contest for "amateurs" has evolved into a massive blues festival, with world class talent showing their stuff. But even as the level of competitors has increased, the experience for the first (and second) time contestant remains the same: a chance to play the blues on Beale Street, where W.C. Handy lived and wrote music, where Rufus Thomas walked his dog, where everybody who was anybody in the blues played. I've seen artists so overwhelmed with emotion at the thought that they cried. John Del Toro Richardson, who competed (and won) in 2005 as guitarist for Diunna Greenleaf and Blue Mercy, had this to say about the experience: "I just wanted to walk and absorb everything and feel and smell it. It was like I was actually walking down Beale Street feeling like I belong here. It wasn't like I was visiting. Now I can come here, and this is like a second home. It's not like a dream place to come and 'ooh' and 'ah.' It was just something that kept coming over me. It was like, 'You're part of me now." Like John, many past contestants come back year after year – to support their friends, to hear some great music, and to just be part of this amazing gathering. Wendy Dewitt and Kirk Harwood competed in 2012, and had such a great time they came back in 2013 just to be there. In 2014 they won the Golden Gate Blues Society's competition again and came back. Because of what they had learned (and the fact that they are amazingly talented) they made it to the finals, playing on the stage of the Orpheum Theater before a sold out crowd.
Mr. Sipp at the IBC Finals
This January Beale Street will be crowded with blues fans and artists – some will be trying to reconnect with friends, some will be there to cheer on their favorites, but all will be there for the love of the blues. There's no telling which acts will "break out" in the upcoming IBC – but I can't imagine not being there to watch the future of the blues unfolding!
Editor Note: For a band to participate in the IBC, they must be chosen by their local Blues society who is an affiliate of the Blues Foundation. Each affiliate society must hold a competition, that is run in the same manner as the Blues Foundation's IBC, to choose who will represent them in the semi-finals. Each band that comes to Memphis has already won in their region and represents their Local Blues Society. If you wish to become part of this process contact your local blues society. If you don't know how to find them you can CLICK HERE for blues societies that are affiliated with the Blues Foundation – Richard L'Hommedieu
NOTE: Previous research done by Zach Glover and Don Wilcock was essential in putting this together and I am grateful for the work they did compiling the history of the IBC.
History of the IBC by Richard Lhommedieu on Mixcloud
Listen to the Podcast of artists that have competed in the Blues Foundations IBC. Some won, but most did not but went on to have successful careers.