Making a Scene Presents an Indie Artists Guide to TikTok
TikTok started out in 2014 in Shanghi China as Musical.ly. The creators of Musical.ly wanted to create an educational app, but quickly found there was little profit in that application. They moved more towards 15 sec videos that allowed users to lipsync to popular songs. In 2017 Musical.ly became TikTok and was available in the US, and since then has been downloaded over 2 Billion times and has quickly become one of the most influential social media platforms. They have also included the option for videos up to 60 Seconds.
If you are an indie artist, TikTok marketing has become great channel for promoting your brand. Even in 2020, there is relatively little competition on TikTok. But you need to think of TikTok for promoting your music much like Instagram Stories. They are not meant to push for direct sales of your music, but rather show a place to show the personality of You/Band and/or your Musical Brand.
We are going to go through some of the basics of using TikTok to promote your "Personality and Musical Brand" on TikTok.
Getting Your Music on TikTok
The fact that TikTok is centered around the use of music makes this a no brainer for you to make sure your music is available on the platform.
One of the fundamental aspects of TikTok is the use of music by the end user to create their own videos. Some of the basic uses for the music are lipsync videos, Dance Videos, Reaction Videos or duet videos that users create to build a following. When a user goes to choose a song for their video production they can either grab a song from a previous video or TikTok, based on their algorithm, will make suggestions on which songs are trending at the current time.
It is through this engagement algorithm some artists have been able to find a way to propel their music into that stream increasing their use on TikTok. One such song was "Old Towne Road" by Lil Nas X, which became a TikTok sensation, sparking millions of videos. This use on the platform is what drove it's popularity not only on other platforms and into the mainstream.
Now, most digital aggregators (CD Baby, TuneCore, DistroKid, Ditto, etc.) allow you to submit your music directly to TikTok for their music library. The one problem that you may run into is TikTok only allows for 60 Seconds of any given song to be available to their users. The part of the song that is made available through most of the aggregators is the first 60 Seconds. As of this writing only Tunecore allows you to set the start point for when you would like that 60 Sec segment to begin. TikTok also allows you to include a 15 sec loop video for each song as part of library as well. Remember – you will get paid for your music on TikTok at a reduced rate because it is only using between 15 Seconds and 60 seconds of your music. Now, remember the only way you are going to get paid is if you use the music that comes from the TikTok library that came from your aggregator. If you upload a video with your own music embedded in it, you will not get paid no matter how many times it is shared. So make sure you use the search function in TikTok to find your music!
TikTok's Algorithm
To understand how TikTok works we first have to understand how it decides what videos are seen and by whom. This is done by a specific set of criteria that a video must meet.
Completion – How much of the video is watched. The more of the video that is watch the higher it ranks.
Re-watched Rate – How many times did a user watch the video again (TikTok Loops the Video after each watch so this can add up quick)
How many Likes, Comments and shares your video gets
The Number of Followers you gained from the video
All of this measures the engagement the users video has, the more engagement a video gets, the more people gets fed that video in their "For You" page.
Basically, when a video is uploaded to TikTok, it is fed to a small group of people. If the video does well (according to the above criteria) it is then fed to more people. This continues until the engagement wains.
What Goes Viral?
Not matter what social media platform you use, an understanding of the "Viral Triggers" is essential to creating content that allows your brand to go "Viral". As an indie artist, you need to look at TikTok as a way to promote not just your music but also your brand as an artist and of course allow others to parody it.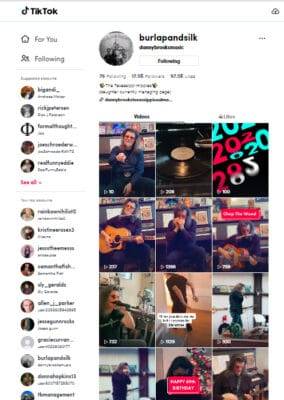 Let's look at the 4 Viral Triggers you can use to create Viral content:
Emotions – There are basically 5 Emotional states you can use in your content to make it go viral. There are 3 positive emotions and 2 Negative emotions.

Amazement – Travel Videos, Science Facts, Magic, or any video that creates a sense of wonder or amazement.
Excitement – Dancing, Extreme movement, Big Announcements, personal achievements such as new skills, body image, etc. One example is a unique gender revel or proposal.
Amusement – Funny Videos that make people laugh or smile. This is pretty much self explanatory, if you have a good sense of humor or if you are naturally funny. This is a good way to go viral
Anger – Politics, Environmental damage, Social injustice, or anything that move someone to anger
Anxiety –  As Strange as this sounds, Motivational speakers create anxiety by creating a mood that makes you want to step up your game or a build up to a stunt that seems dangerous (not recommended) much like the Jackass mentality. Showing People in intense situations can go viral pretty quick if it reaches the right audience.

Value – This where you can bring good advice about your particular expertise whether it's in music, music business, home recording or any other hobby or activity you happen to be good at. Show how to play a particular lick, Review your favorite mic, amp, guitar, or any other gear. Anything that can be of interest and of "VALUE" to someone else. This is one of the reasons simple makeup videos become hugely popular.
Social Status – These are videos that by sharing give you social status. A prime example is the Dance videos, which is one of the staples of TikTok. A dancer will post a video of a particular dance move to a song and other people try to emulate those dance moves in their own videos. If they get recognized by the Dancer/Artist they get a perceived "Social Status" for that Recognition. Another big "social" type posting is the challenge. This is where someone posts a particular challenge that user can then participate in.
Stories – People love a good story, but the story has to be engaging and interesting. You may even want to only post part of the story and invite people to follow you to find out the rest of the story. If you have the right hook, then might have a good viral hook. Another popular device that is used on TikTok is the cliff hanger/Series type story post. You Begin a story, and stop at an interesting point and ask your watcher to follow you if they want to see the next part.
When you are creating content you need to keep the videos short and sweet. You need to find a Hook that grabs the "Swiper" from the onset and a payoff at the end that makes them want to see it more than once.
The Basics of Content Creation
The Basics of Content Creation is pretty simple!
To become a content creator you don't need fancy video equipment or lighting. You can produce some great engaging content with just your cell phone, of course if you have the where with all to add some better equipment by all means go for it. But the reality is, creativity and authenticity are the most important tools you can have when you are creating content. Better equipment is not going to make up for a lack of creativity, innovation and authenticity. They will however give you the ability to expand on them as you move forward and get better at it.
You have to be consistent! You should be posting at least once a day or at a minimum of 4 to 5 times a week. I would not post more than 3 times a day because it can get you banned for spamming. Now, you don't have to break out your video setup every day, you can batch create your content by setting aside a few hours on a Saturday afternoon to create your content for the week. Then upload them on a schedule the works best for you and your brand.
Use TikToks Analytics! One of the options is to setup your TikTok account as a "pro" account, don't worry –  it's FREE. This gives you access to the TikToks Analytics. With this knowledge, you can determine when your followers are most active and most likely to engage with your content. This allows you to schedule your posts to coincide with those prime times giving you the best chance of gaining the most engagement.
When Promoting use the 80/20 Rule! Nobody wants to be constantly hit with a sales pitch. Nor do they want some band or artist begging for them to listen to their music. You want 80% of your content to hit one of the "Viral Triggers" outlined above and no more than 20% promoting your brand. The content has to provide the watcher with something other than a hard sell of your brand. Think of a beer commercial. They have content that shows people having fun, being sexy, being social, etc. They hit you with the perceived social status of their product. The "Brand" or beer is just a prop for the content until the end where they hit you with 20% where the brand is associated with the "Viral Trigger".
Blend your Brand with Current Trends! Ok, I hear you all groan. You don't want to follow the trends, you are an artist you create trends. Well, I will call bullshit on this. You will not be able to create trends until you have a loyal following that WANTS to follow you and your trend. Using what is working to gain that following and expose them to your brand is just smart marketing. Do you think that these large corporations look at a successful marketing campaign and say oh we don't want to piggy back on that because we want to be original. Yea right, trust me they are all over it, as should you.
Don't Cross the Line! TikTok as well as all the other social media outlets have set of rules it uses to govern the type of content that is allowed on their platform. These rules are called the "Terms of Service (TOS)" and they are pretty strict in making sure the content does not violate them. If you violate the TOS you will risk having your account deleted and worst getting banned from the site. Familiarize yourself with the TOS and make sure your content stays within the lines! If you notice on TikTok there is quite a bit of overt sexuality, but it only goes so far. It is more suggestive as opposed to being in your face.
Ways to encourage your followers to use your music
Now, we have a good basis to start making content to help your music go viral. At this point there are a few options you can use on TikTok to kick things off and get your followers to start using your music in their viral videos.
The Duet – Choose one of your songs and create a video where you sing along with own song. Invite your anyone that watches to create a duet with you. When they hit the share button there is an option for "Duet" which sets up a side by side screen and allows them create a video where they are singing along with you. You can even put the lyrics on the video to help them.
The Parody – Invite your watches to create their own version of a music video to your music. Allow them to make fun of or become real serious it doesn't matter as long as your music is being heard  by their followers and hopefully picked up by them. You can make it a challenge to find who can make the best video version of your song, give a prize of some prime merch to the best of the bunch.
Dance Moves – If your music lends itself to dance, create or have someone create a unique dance move to your music and invite your watchers to try and imitate the move. This can be more fun than you may think.
Approach TikTok Influencers! TikTok is so new and so huge it is not unheard of for indie artists to approach TikTok users that have a huge amount of followers to help promote their music. They are pretty easy to find and with a little detective work they can be reached through other platforms or means to see what it would take for them to use their influence for you. Bear in mind when looking for influencers that not all followers are made equal. If their "like" count is not at least 4 times their followers they are not getting enough engagement for you to approach. It is not unusual for an indie artist to pay for a powerful influencer to use their music in their videos or promote them to their followers. If you don't want to start approaching influencers you can always start by shaming your Sons, Daughters, Grandchildren, etc and get them to create some videos using your music. It's at least a good start.
Use your Hashtags! I know it sound strange considering Hashtags are pretty old school. But don't underestimate the power of hashtags. The rule you need to keep in mind with hashtags is don't use too many and don't use too few. I know that is a pretty ambiguous statement, but too many hashtags will flag you and too few will limit you. Look for hashtags that are trending AND relate to your video! Don't just add a hashtag because it's trending. If it does not relate to the video you are promoting you will do more harm to your chances of going viral then good.

Conclusion

Even though TikTok is barley 3 years old and in that time was dominated by Gen-Z, it has caught the interest of not only the music industry, but corporations of a wide variety of products. You are finding more and more diversity in age groups using TikTok, from Gen-Z to the Baby Boomer generation. Artist from the new generation of R&B and Hip-Hop to Roots, Americana and Blues finding a home promoting their art on this influential platform. If you have been hesitant to jump into the TikTok pool I hope that this article gives you the courage to put your toe in the water and add your creativity to this expanding social media platform. There is definitely room for everyone here!

---

---
Help Support Making a Scene
Your Support helps us pay for our server and allows us to continue to bring you the best coverage for the Indie Artists and the fans that Love them!
Make a one-time donation
Make a monthly donation
Make a yearly donation
Choose an amount
Or enter a custom amount
$
---
Your contribution is appreciated.
Your contribution is appreciated.
Your contribution is appreciated.
Donate
Donate monthly
Donate yearly
Subscribe to Our Newsletter