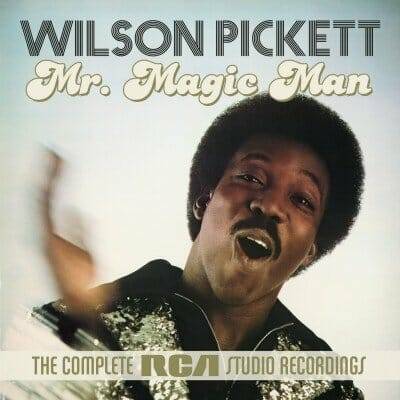 Wilson Pickett "Mr. Magic Man: The Complete RCA Studio Recordings" (2 CD's) www.RealGoneMusic.com
This two CD box-set encompasses Wilson Pickett's four RCA albums: "'Mr. Magic Man," 'Miz Lena's Boy," "Pickett in the Pocket," and "Join Me and Let's Be Free" from 1973 through 1975 with four previously unreleased CD singles. The best tracks were recorded at Muscle Shoals. Forty-two tracks comprise this two disc set.
Disc one: Pickett previously had a powerful run of hits at Atlantic but with changes at the label Pickett needed to reinvent – it was time for a stylistic makeover that prompted a move to RCA for a smoother sound on 1973's "Mr. Magic Man." These tracks are mostly ordinary produced by Brad Shapiro and Dave Crawford. For his sophomore RCA LP, the label dumped Dave Crawford but somehow retained Shapiro for Pickett's "Miz Lena's Boy" (also released in '73) co-produced by Pickett. Occasionally this LP had an edgier vibe especially on the Marvin Gaye influenced "Take a Closer Look at the Woman You're With" co-authored by Pickett and Shapiro. But the reggae treatment given to Chuck Berry's "Memphis, Tennessee" falls flat on its face as does Kris Kristofferson's "Help Me Make it through the Night." Also misguided is the cover of "Never My Love," (made famous by the Association, covered by Wicked Pickett – really)??? Yet the sparks finally fly on the tri-authored Don Covay, Pickett and Shapiro "You Lay'd It On Me." "Take the Pollution Out Your Throat" (unsuccessfully co-authored by Pickett and Shapiro) is another example about how a previous top-notch hit-maker lost his way, portraying (all-too-often) how often the mighty fall in the tough music business. The two (so-called) bonus tracks are mono takes of "Take a Closer Look at the Woman You're With," and "Soft Soul Boogie Woogie." Both of these bonus-babies appear earlier on this disc in stereo.
Disc two: First focuses on 1974's "Pickett in the Pocket" LP that was also produced by Shapiro and Pickett; returns to Muscle Shoals in hopes to catapult Pickett back on top of the charts. The opening "Iron It Out" authored by George Jackson hits right between the wickets proving that lightning can strike twice at the famed Alabama studios with support from the legendary Swampers session players and the equally potent Memphis Horns. Jesse Winchester's "Isn't that So" connects solidly for Pickett and company – proving that the move down south sparked the needed rejuvenation for Pickett's career. The potential radio hits keep-on with Clyde Otis' "Take a Look" sparkles with dynamic horn charts and female background vocals. Barry Beckett co-authors with Pickett and Shapiro and exhume the Blues on "I Was Too Nice" that's a solid workout for Pickett who's having a blast especially when the Memphis Horns kick-in. Old-school soul/blues oozes on the Doc Pomus/Phil Spector penned "Young Boy Blues." Pickett gets righteous and funky with the Paul Butterfield/Bobby Charles "Take Your Pleasure Where You Find It" as the Muscle Shoals session players fire squarely in the pocket, where my only complaint is that this groove/jam should have been extended. The remaining songs are taken from Pickett's RCA swansong – 1975's "Join Me and Let's Be Free" produced by Yusuf Rahman, a complete departure from "Pickett in the Pocket" making me wonder why didn't RCA stick with the twice-proven Pickett Muscle Shoals/Memphis Horns connection? Perhaps because the Muscle Shoals "Pickett in the Pocket" didn't sell or chart well, even though it should have reconnected Pickett back towards his '60's classics fan-base. Long story short Pickett's last RCA endeavor is long forgotten. As an example note "Smokin' In the United Nations" you need not know anything more about Wilson's RCA finale: "Join Me and Let's Be Free." The two bonus tracks "Isn't That So," and "Take Your Pleasure Where You Find It" are mono takes of the stereo versions that appear earlier on this second disc.
The Muscle Shoals album "Pickett in the Pocket" is easily the best of this four-album quartet – it tapped into the Southern soul-funk that was the cornerstone of his '60's emergence and popularity. Interestingly: "Pickett in the Pocket" never felt like a rehash of Wilson's Atlantic smash hits, a nifty trick that unfortunately didn't ring the cash-register or offer additional notoriety for Pickett who definitely deserved a second-chance dance at fame. Long story short: Pickett's four LP run at RCA never came close nor rivaled his lofty '60's chartbusting days at Atlantic. But having this two-disc release (at times) portrays Pickett's early to mid '70's potential that should have reignited his career. Title this as; (previous) buried treasure and enjoy.
For 17 years Bob Putignano has been pivotal at WFDU with his Sounds of Blue radio show (Wed. & Fri. 9am-1pm) www.SoundsofBlue.com – http://wfdu.fm Previously a contributing editor at Blues Revue, Blueswax, and Goldmine magazines, currently the Music Editor for the Yonkers Tribune www.YonkersTribune.com & www.MakingAScene.org Bob was also the 2003 recipient of the "Keeping the Blues Alive" award (given by the Blues Foundation in Memphis) for his achievements in radio broadcasting. Putignano can be contacted at: BobP@SoundsofBlue.com