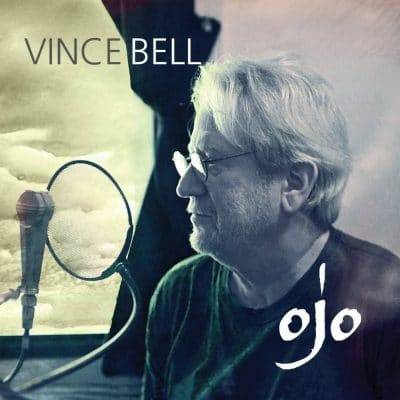 Vince Bell
Ojo
Mulatta
When a Texas singer-songwriter is produced by Bob Neuwirth, one does not likely guess it would be a spoken word jazz album. Bell is a poet and his version of the spoken word resembles the early Beat era in San Francisco with artists like Kenneth Rexroth. Yet, the musical concept of this album goes beyond much of what we associate with spoken word jazz. This is a unique approach for Vince Bell's Ojo.
Bell, from the Houston area, used to pal around with Townes Van Zandt and Guy Clark when they were in town, as well as folks like Ray Wylie Hubbard and Stephen Bruton when he got to Austin. He was part of the circle of artists that made venues like Sand Mountain Coffeehouse and Anderson Fair legendary. Neuwirth produced Bell's breakthrough album Phoenix In 1974 and relates this in the liner notes to Ojo – "While working on Phoenix I imagined a spoken word/concept album with Vince leaning more toward avant-garde jazz…some twenty years later I enlisted the help of Dave Soldier (Soldier String Quartet) to help produce that album."
In those intervening twenty years, in fact in 1982, Vince was recording an album in Austin when his car was broadsided by a drunk driver. The recording, which included guitar work by Stevie Ray Vaughan and Eric Johnson, would never be released. Bell was so severely injured that he was mistakenly reported as dead by local press in Austin. He woke from a month-long coma with massive injuries to his brain, spine and right arm, and began a pain-staking, decade-long journey to recovery. He had to learn to handle the guitar again, creating new ways to pick and strum with his changed right hand. His great voice, a bit weathered now, remained intact. Bell returned with his acclaimed Texas Plates in 2004 and issued conventional singer-songwriter albums in 2007 and 2009. That brings us up to this release.
So, as momentum began to build for this project, the French composer, Renaud-Gabriel Pion supplied some music, executive producers Sarah Wrightson and Charles Blaichman signed on and located a studio in New York. Then they found a brilliantly talented eclectic range of musicians to provide the music to Bell's poetry. Flamenco master guitarist Pedro Cortes, percussionist Valerie Dee Naranjo from the SNL band, jazz bassist Ratzo B. Harris, keyboardist Rob Schwimmer, flute wizard Robert Dick, pianist/clarinetist Renaud-Gabriel Pion and versatile string man David Mansfield were aboard for most of the sessions. In addition, Satoshi Takeishi can be heard on drums and percussion on four tracks. Americana vocalist Laura Cantrell harmonizes with Bell on three selections. Patrick Derivaz, the third co-producer engineered and mixed.
The beautiful meshing of this mix of instruments paired with Bell's deep resonate voice and often haunting poems, makes for a unique listening experience. These are not songs – just rather intriguing, not overly complex musical pieces. There's beauty in both the music and the words. Bell can be both deep and especially skilled at casting obvious observations in a different light. He provides his lyrics in the album jacket. Here's an excerpt from "Gypsy," which he wrote for Townes Van Zandt – "Took a gypsy like you to make a gypsy like me/I'll live with what I can't change/'til I change what I can't live with."
Delve in. Every single piece has a different array of musicians. Just get lost in the words. They are provocative. As Bell says, "The hardest thing to do is nothing at all."
[amazon_link asins='B07BNKT5PQ,B001VG2RY4,B00BW2JK0Q,B00000IL09,B000PLCMLO,B001OJKNTY,B00CC3XRA8,B000002OGY,B001I2L1PW' template='ProductCarousel' store='maasc-20′ marketplace='US' link_id='06cef123-9fc1-11e8-b827-512fcf7c0a63′]