Three New Releases from Hendrik Meurkens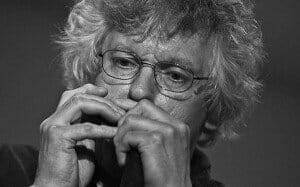 German born Hendrik Muerkens now lives in upstate New York. Originally a vibraphonist in the tradition of Milt Jackson and Bobby Hutcherson Meurkens was inspired by the sound of Toots Thieleman's harmonica. Today the self taught Meurkens is considered the most important jazz harmonica player since Thielemans.
Meurkens was so moved by Brazilian music that he moved to Rio in the 1980's to totally absorb samba and bossa nova. Meurkens already has to his credit fifteen albums as he has recorded with Charlie Byrd, Jimmy Cobb, Monty Alexander, and others. Some of the notables he has toured with include The Ray Brown Trio, Paquito D'Rivera, Herb Ellis, and Herbie Mann.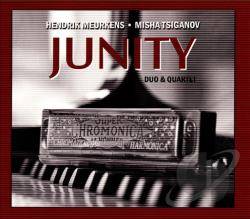 Meurkens has just released three new recordings. "Junity" is a collaboration between Meurkens and Russian born pianist Misha Tsiganov. Meurkens states that "Junity" is a play on words. The English word "unity" is combined with the Brazilian word "junto" which means together. On half of the tracks they perform as a duo and on the other half they add Oleg Osenkou, bass; and Willard Dyson, drums. Meurkens states that the harmonica "likes small settings" thus the performances are "Duo and Quartet". Meurkens has composed the title track and "Menina na Janels". Tsiganou contributes "Olena", written for his wife; and "Scriabin". "Blackbird" and "Norwegian Wood" are from Lennon and McCartney and they are performed beautifully. Antonio Carlos Jobim's "Luiza" and Wes Montgomery's "West Coast Blues" are also reconstituted. Among the other tracks are compositions from Sonny Rollins, Thelonious Monk and others. This is the first imprint on Meurkens' own HMS label.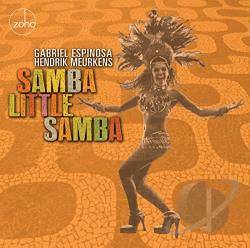 Tsiganov is also the pianist in Meurkens' Samba Jazz Quartet and they appear together on 2009's "Samba To Go!" on Zoho Records. In 2012 Meurkens' and bassist Gabriel Espinosa released "Celebrando" also on the Zoho label. On "Samba Little Samba" the ensemble is Espinosa, bass; Meurkens, harmonica; Tsiganov, keyboards; and Antonio Sanchez or Adriano Santos, drums. The album opens with the title track composed by Meurkens and reprised here but with new lyrics from Hong Kong based singer Angelita Li. It is sung by featured vocalist Allison Wedding along with Espinosa. Guest artist Anat Cohen plays clarinet on "A Song For Ray" composed by Espinosa. Meurkens' "A Night in Kakarta" is also reprised from his "Live at Bird's Eye" recording and this time Cohen plays tenor sax. Tierney Sutton is guest vocalist on "Besame Mucho". The remaining compositions are by Meurkens, Espinosa or Tsiganov.
On "copaVILLAGE" Meurken's is featured with Brazilian pianist Antonio Adolfo. Adolfo was the pianist on the celebrated album "Elis & Toots – Auarela do Brasil" featuring legendary Brazilian singer Elis Regina and Toots Thielmans. The ensemble here is Carol Saboya, vocals; Meurkens, harmonica and vibraphone; Adolfo, piano; Claudio Dpiewak, acoustic and electric guitars; Itaiguara Brandao, bass; Adriano Santos, drums; and Andre Siqueira, percussion. Copa Village refers to Rio De Janeiro's Copacabana sector, in the late 50's and early 60's this was the a musical breeding ground as important to Brazilian jazz as New York City was to the Bebop era. Included here are five tunes from Antonio Carlos Jobim. The album opens with the iconic "Girl From Ipanema", originally sung by Astrud Gilberto, Saboya does a remarkable job of making the song her own. "Aqua de Beber" which means "Water to Drink" opens with a funky samba. The remaining six tracks are composed by either Adolfo or Meurkens except for the title track "Copa Village" which they co-wrote. On Meurkens' "Shoe de Bola" we get to hear him play the vibes. This fun recording is set to be released on February 10th, 2015.
Meurkens is making exciting music. Harmonica enthusiasts should be enthralled.
Richard Ludmerer