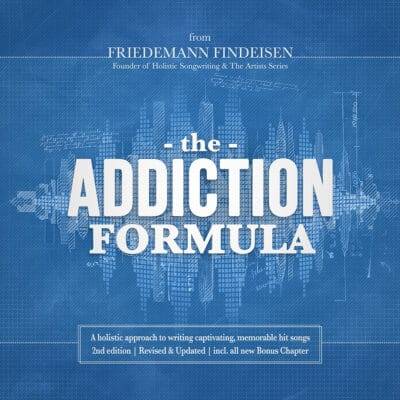 The Addiction Formula
Friedemann Findeisen
Albino Publishing
If you are having trouble writing songs that pull the listener in from the first time they hear it, Friedemann Findeisen's The Addiction Formula is the perfect guide not only for those just beginning, but established musicians as well. This easy to read book provides a holistic approach to the songwriting process with insight on how arrangement, production, lyrics, rhythm, etc. work together in a song. Writing can be very overwhelming at first glance when you are striving for a song that will resonate with people, but Findeisen makes a difficult process as clear as it can be. He provides the reader with a problem-to-solution way of thinking while making it clear that it is okay to bend the rules as long as it works.
While this book does focus on popular music, the tools can be applied to any genre. The purpose of Findeisen's methods are simply to captivate an audience and give them something that compels them upon the first listen. One of my favorite aspects of this book is how the author gives examples of very well-known Billboard-chart songs throughout the reading so you can go back and listen and see how his rules were applied to it. He uses the psychological principles of addiction to structure the song and set energy levels where it will best fit. If you give the audience a good story they will stick around, and most songs we hear on the radio today use emotions, moments, and things to tell a story instead of the classic transparent storytelling method.
The Addiction Formula uses the three tools of hype (relative energy), tension (gradual energy), and implied tension (superimposed energy) while writing to ultimately drive undivided attention to the song. The book is broken up into 3 parts : energy curves, elements, and application. Findeisen shows us why certain song structures work better than others, how to set hype and tension, making your harmony, rhythm, and lyrics melt together, and how to put everything together to make a song that works.
The Addiction Formula is worth the read for any artist looking to better the art that is songwriting. Whether you are an experienced artist or someone who has never learned music theory, this book will guide you through the process with ease. Having this knowledge in your toolbox will inspire the reader to dig deep, and the audience will thank you later!
Jessica L'Hommedieu