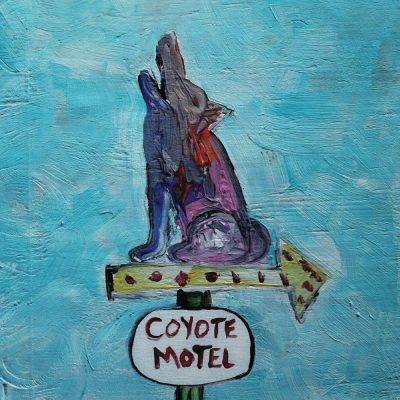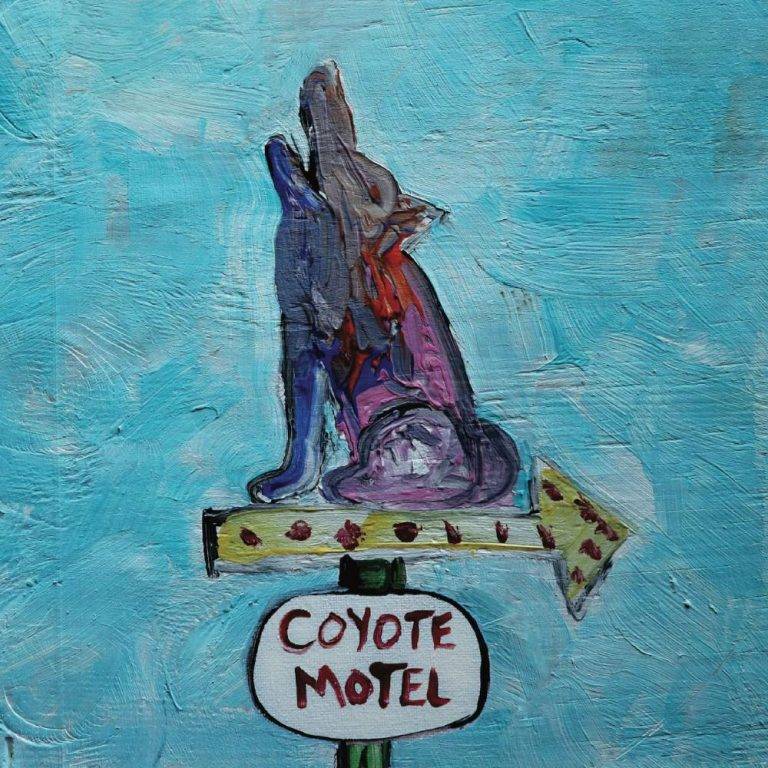 Coyote Motel
Ted Drozdowski
Rock and roll is alive and well. To make my point I introduce you to Coyote Motel. This newest album from Ted Drozdowski has a real vintage feel to it. Ted Describes it as Evolutionary Cosmic Roots Music. It's both sonic and soulful. It's a good description. From the first needle drop the vibe is instantly familiar and totally new.
Coyote Motel got its name from the band. You might be familiar with Ted's other band Scissormen, same great music but different. As Coyote Motel, the band recorded the album in Nashville. Ted co-produced the album with Sean Zywick. Sean and Mark Robinson engineered and Mike Purcell mixed. This entire album was funded by fans. There's a lot of love in these grooves. Coyote Motel is Ted Drozdowski: vocals, guitars, diddley bow, lap steel, percussion, coffee cup, (which is a completely different sound from a tea cup) and trash-can lid. Sean Zywick: bass, ambiant bass. Kyra Curenton: drums, bongos, percussion. Guest artists include: Laurie Hoffma on keyboards, Pete Pulkrabek on drums, and Luella (Melissa Mathes) providing additional vocals.
Ted Drozdowski is a multi-instrumentalist known for his fully charged live performances. Ted's shows are truly fun to witness. One of the things that holds true always is that the music is really good. Ted writes great songs and backs them up with powerful guitar and great vocals. The ten songs on Coyote Motel stand witness. The haunting opening track, "Still Among The Living", (due in part to the sparse drum beat and Luella's ethereal vocals), speaks to living with abuse. And it has a kick-ass guitar solo which sets the stage for a cosmic journey. The groove continues with a loose bass line on the protest song "Josh Gibson" which tells the story of one of the hardest hitters and catcher in the history of the Negro baseball league. He played ball by his own rules, he's no white man's fool. Josh Gibson was the second player inducted into the Baseball Hall of Fame. Another protest song "Jimmy Brown" is accentuated with highly charged guitar riffs and if you're not on your feet at this point, "Trouble" will get you there. It has a driving groovy bass line that the guitars just spiral around. Listen for the electric one stringed diddley bow. Musically this song captures the spinning out of control nature of the world as we know it.
The cool rambling groove of "57 Flavors" will help ease your mind. The actual song title is "57 Flavors of Shit Gone Wrong" and it's just enough to get an explicit warning flag. That's what you get sometimes when life deals too damn many for one damn song. Not to worry though, this isn't a case for the blues. Ted Drozdowski has a humorous side. "Los Alamos" has a funky guitar riff throughout and has fun with an imaginative second coming. Jesus is coming and he's got a grudge and the last man standing has a vodka martini. Then there's "Frog Alley" with its surfers vibe, twelve bar blues, and three chords that tell the tale of the opioid crisis without getting dark.
"Down In Chulahoma" simply rocks! The lyrics paint a scene of North Mississippi as the guitar reflects the musical influence of heroes R.L. Burnside. Jessie Mae Hemphill, Junior Kimbrough, Sam McClain, and Sonny Sharrock. Rock is steeped in the blues and Coyote Motel would be remiss without the deep mournful rock you to the core blues on "My Friend", written for valued friend and soul singer Sam McClain mentioned above. "Tin Pan Alley" written by Bob Geddins, is the only song not written by Ted Drozdowski. This last song is a long slow blues that you can get lost in. Your last cosmic adventure, unless you hit replay, which I did repeatedly. Enjoy!
[amazon_link asins='B07L49ZY1P,B07L4BBVZP,B07L4B2HVH,B00ZSABEWU,B00ZSACYRO,B00ZSACH6M,B00ZSABMIG' template='ProductCarousel' store='maasc-20′ marketplace='US' link_id='62f289e0-f1f3-4967-b3ef-94b8938090f9′]