Whether you are doing your own radio promotion, or you have hired a professional radio promoter and you are working towards RMR Reporting stations. It is a good idea to sign up for an RMR account, where for less than $10, you can search for who is playing you (or any artist for that matter) and how many times a song has been played on that station. This could help you in the future in identifying stations and DJ's that liked your music enough to play it on their radio show.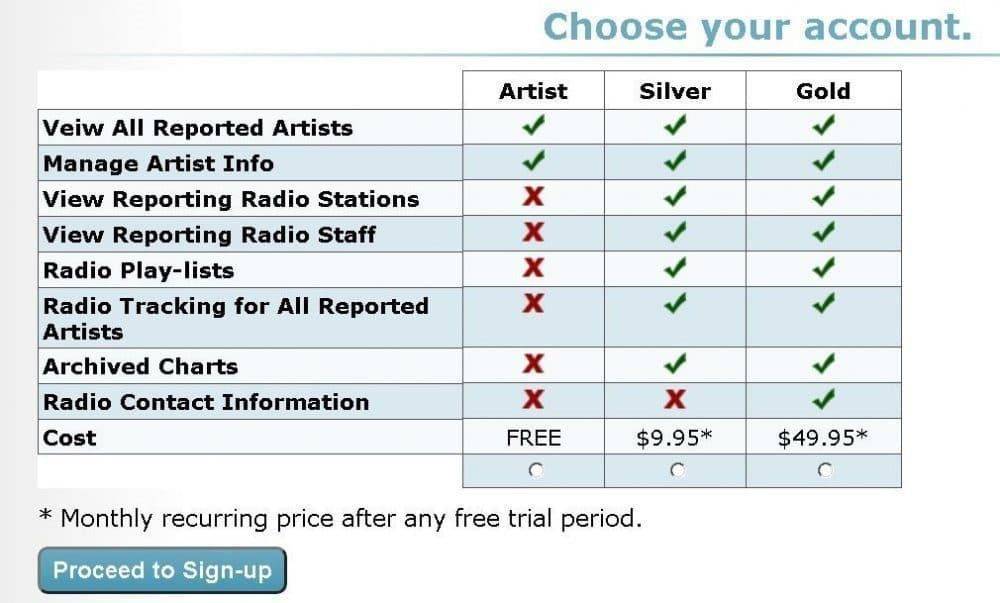 Go to Roots Music Report and sign up for their $9.95 a month account (you can cancel anytime). What this does is give you access to not only edit your CD's Entry in the database, but give you access to search any artist to see what stations are playing them, and how many times they are played. This can be an invaluable amount of data
Once you have your ID, Sign in and choose "Tracking" from any of the RMR Pages.
In the field type in your band name (or any other band or artist). Now sometimes you will find multiple entries for the same artist. Since there is a wide variety of DJ's entering data into the charts, they can misspell or extend or shorten a band name. For example, Muddy Waters can show up as The Muddy Waters Band, Muddy Waters band, Muddy water, etc. For the purpose of RMR each of these is looked at as a separate artist. This is where having this access, it gives you the opportunity to contact RMR to merge or fix any discrepancies in your bands reporting name. You should check your listings weekly for any errors to make sure all your reported spins are counted.
So let's take a look at the data that you can get from this and how you understand what is going on with a particular artist or CD. Let's stay with Muddy Waters as an example. So do a search for Muddy Waters in the Tracking field.

Once you choose the artist you get a panel that will give you the basic information on the artist. The City/State/Country of the artist and the Genre/Sub Genre the artist is most listed in. If you click on the profile you will get more detailed information on the artist.

Clicking on "Track this Artist" you will get the spin counts and stations that are playing that artist. This can go back several years!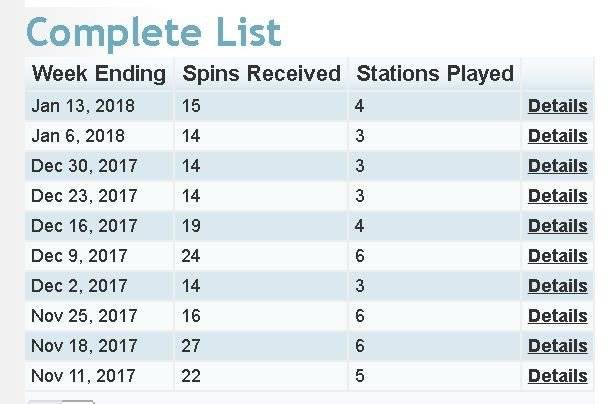 Clicking on the details will give you a list of the stations and the amount of spins per song each station gave the artist.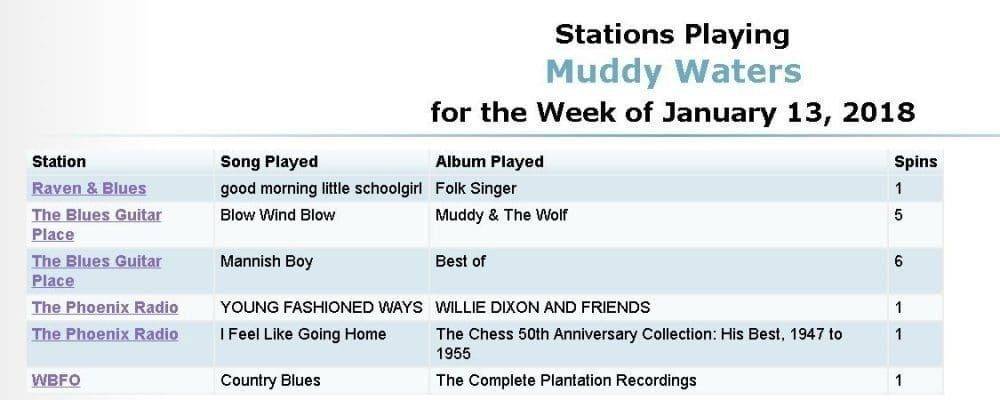 You can also see the "History" of a particular Release going back a few years ..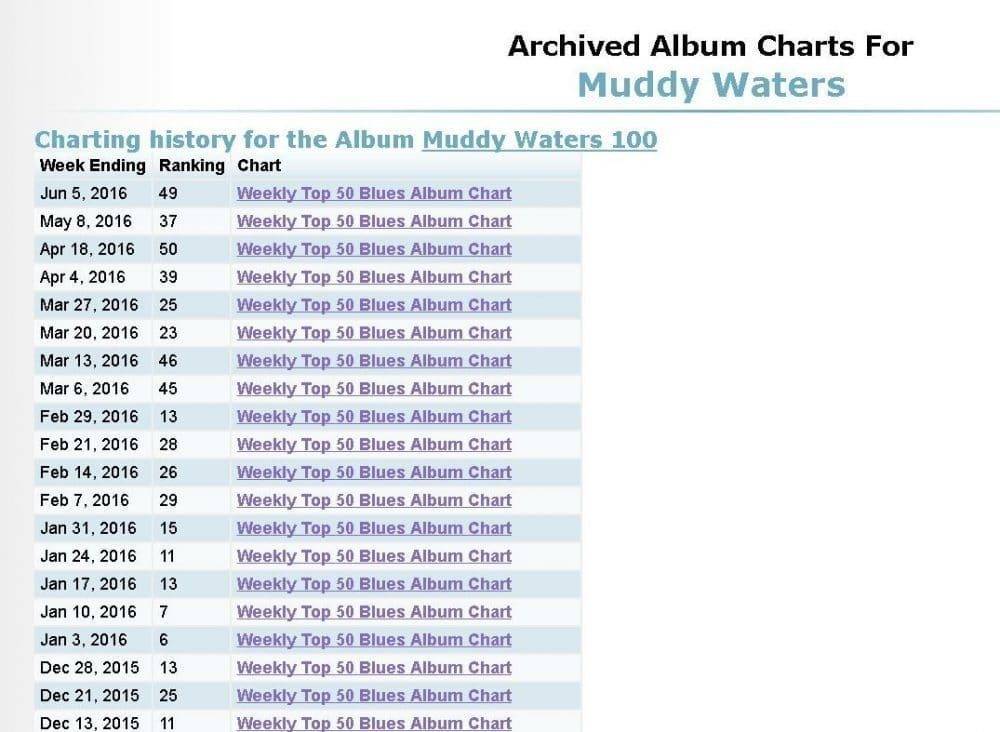 Using this data you can get a real look at what is happening with the charts. For example: For Week ending 1/13/2018 the number 50 CD on the Main Blues chart has only 18 spins from 9 stations. With only 18 spins that CD charted at #3 on the RMR "Jazzy Blues Chart". If you look at the #21 CD on the RMR "Contemporay Blues Charts" you will see that CD has only two stations playing the CD for a total of 41 spins for that week and it did not chart on the Main Blues Chart. In addition, The number #21 CD on The RMR "Blues/Rock Chart" has three stations playing the CD with 19 spins, it is not on the Main Blues Chart.
The Bottom line is "Knowledge is Power", For about the price of a Starbucks Coffee you can have 30 days of REAL information about your release, who is playing it, how many times it's being played and why it is or not on any particular chart. The benefit of being able to look up more successful artists that are doing the same style of music you are and finding what stations and DJ's that are playing them is in valuable! A smart independent artist can take this information and determine the best course of action to take on their next radio promotion.
Also keep in mind that many in the industry also recognize the value of this knowledge, and more than understand which charts are important to an artist and which ones don't have that much of an impact. With this basic account you can check on any artist and their airplay as can anyone in the industry.
EDITORS NOTE: Making a Scene is not affiliated with or have any financial connection with the Roots Music Report. The information in this article is purely for your information and any transaction you make will be strictly between you and Roots Music Report.