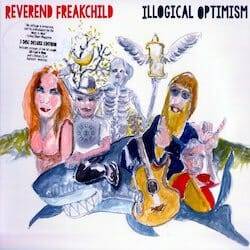 It's hard to think how to even start reviewing Reverend Freakchild's Illogical Optimism. And not because I don't like it, I love it.
This is a 3-disc set. The first disc contains an eclectic mix of 15 songs. The second consists of a dozen radically different versions of the Reverend's popular song, "Everything Is Now." That sounds boring, but trust me, it's not. The third, by Ramblin' Jennings, is much less eclectic but very solid contemporary Christian gospel blues.
By now you realize that Reverend Freakchild is an unusual character. But don't let that fool you into thinking he is not a talented musician, because he is, or that he doesn't sing uplifting, enjoyable songs, because he does. Although most of the songs on the first disc are covers, these arrangements are completely different from any other you have ever heard, yet they work extremely well. For instance, John Lennon's "Imagine" is my favorite song, and I love the Reverend's version. Some of the other songs on here you might think you are familiar with are "Hey Pocky A-Way," "Who Do You Love?", "All Along The Watchtower," Woody Guthrie's "Pretty Boy Floyd," "Hellhound On My Trail," Lennon and McCartney's "Yer Blues," and "See That My Grave is Kept Clean." But you are not at all likely to have ever imagined any of them (with the possible exception of the very Dylan-esque version of "Pretty Boy Floyd" ) like this. Please don't be thinking that I man these are parodies. They are not. They are very different and very sincere tributes.
Disc 2 takes "Everything Is Now" and turns it into a variety of different songs, including hillbilly, French, German, New Age, and more. It is just something you have to hear, but you will be amused.
Disc 3, by Ramblin' Jennings, is a total change. These 19 songs deliver a gospel message, but in an entirely non-preachy blues style and with some excellent guitar and harmonica. All o the songs aer originals except for thhe much-loved "John the Revelator."
Reverend Freakchild is talented, imaginative, and completely different from but never disrespectful of his sources. For me, he is another artist who will turn up on a "best of the year" roundup, without a doubt.
Atlanta fans: Yo will have a chance to see Reverend Freakchild for yourself at Darwin's in Marietta on Tuesday, June 14.)