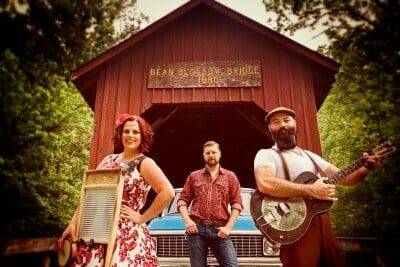 I remember seeing Rev. Peyton and His Big Damn Band open for Flogging Molly in 2008. I was completely befuddled: "What is this?" But by the end of the kinetic set I was loving it. That has not changed with the release of "So Delicious.'
Rev, Peyton's Big Damn Band is not like any other band in the country. In the first place, it is a pretty damn big band for just three people, because Rev. Peyton himself equals about five regular musicians From his distinctive growl to his completely new fingerstyle slide guitar to his lightning fast acoustic picking, he is a wonder to hear. But wife Breezy's washboard and percussion is also very important in creating the one-of-a-kind sound of the group. And on this album, for the first time, the husband and wife are joined by a drummer (and bucket pounder) who fits perfectly, Ben Bussell.
Breezy Peyton also inspired the title of the album and one of the most endearing songs the and has ever recorded, "Pot Roast and Kisses." It is her pot roast that is "So Delicious," and the recipe is even in the liner notes.
The music might best be called punk Americana, stripped down country blues influenced by musicians like Charlie Patton and Bukka White. Patton even recorded for the same label the Big Damn Band released this album for, Yazoo.
Peyton's voice is similar to that of Jim Dandy of Black Oak Arkansas, only darker and with a more punk attitude. The band is obsessed with authenticity and the lyrics reflect that. The Peytons live in a cabin in Nashville and record with older equipment because they just think it sounds better. They are not about glitz and neither are their songs. Just look at the titles : "Raise a Little Hell," "Front Porch Trained," "Dirt," and "Pickin Pawpaws" help you understand the sort of life and values the Rev. is preaching about.
But this is a band that has been constantly touring for a decade, That takes daring, and songs like "Let's Jump a Train" and "We Live Dangerous" reflect that willingness to take chances and embrace risk. Add to that the deep respect for family, friends and music that fuels most Americana and can be found in "You're Not Rich" and "Music and Friends."
Homespun values and Hell-raising, pot roast and train jumping. It all works together and so does this music and this band. It may take a listen or two, if you're new to the band, to get used to the combination of that voice and that music, but when you do listen a time or two, you are likely to be completely hooked.