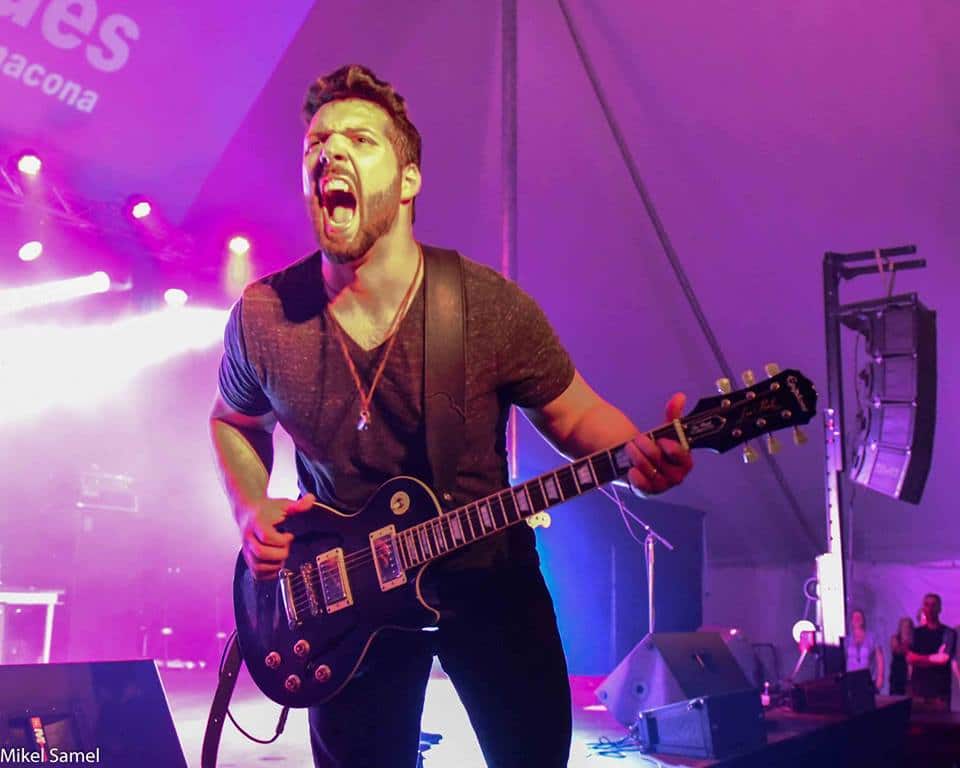 Making a Scene Presents "On the Road with an Indie Blues Band – Part 3" – The John Pagano Band
When we left off in Part 2 The band made it back to Long Island NY and had the day off for rest and Recuperation. We had a few Gigs in the NY Area before we made the big push on the last leg of the tour.
This slideshow requires JavaScript.
Day 15
Today we head to the Jones Beach Bandshell, which is near the famous Field 4. The Bandshell is booked by an old friend of mine Rick Eberle, who also runs a PR firm for up and coming artists. The band was booked to open for the "Belairs" which seems to be a strange pairing, but what the hell, we are at the bandshell on the Jones Beach Boardwalk. Beautiful sandy beaches and waves, is what you look over as you are on the bandshell. This is a free event as people stroll the boardwalk with a lower area where you can sit and enjoy the music and if so inclined dance. We arrived at around 6pm, to load in and we were pleased to learn that the band after us is letting us use their drumset, so all we need to bring up is Guitar Amp, Bass Amp and cymbals.
The band began at 8pm and went through a 45 min set. We had a great crowd and you can see many of the people that were strolling the boardwalk stopped and stood at the railings to watch the band. The band always does well when there is a large stage. When you give Tony lots of room, he tends to use all of it!
All in All it was a good gig, John had a lot of friends and family come by and to hear the band. After the gig was over, we packed up and headed back to Riverhead for our last night there.
This slideshow requires JavaScript.
Day 16
Today we play the Rockwood Music Hall in NY City, which is one of the best showcase venues to play as an emerging band. We drove to Bethpage to John's Fathers house and unloaded the equipment we did not need to use. Let's face it you don't want to park a van full of music equipment on the streets of NY. Not one of the better ideas. Now, if you are not familiar with NY venues, you would get these visions of grandiose spaces with huge stages and massive amount of people. Nothing can be further than the truth! As a rule New York City Venues are small, cramped spaces with small stages and limited space for patrons. The stage we were playing (they have 3), had amps and drums available, but the stage had an old grand piano on it, so the drums had to be setup on the floor Next to the stage and there was only room for the guitar and bass on Stage.
Now our time slot was set for 7pm. We figured it would be a good one because people would be getting off from work and looking for a place to hang. Well that might have been the idea for a few people, but it seemed that the attendance was not close to what we expected. John Young, who was the original bass player for John when he formed his first band (JPBlues), came down. John Young is now a producer in NYC and works with Ryan Leslie as a producer and bassist. On a side note, it is great to see someone who started out recording at the Midnight Circus take the passion to a new level and make a successful career out of it. He brought his new wife with him, and it was good to see him make good.
Now, here is the strange thing, as soon as we finished our set and the clock struck 8pm, 30 people waked into the door and the place was packed! Go Figure!! It seems that this section of Manhattan comes ALIVE after 8pm, like a surge of 20 somethings. One of the interesting things I notice as I got myself a Falafel, the little nothing store that sold them took "Bitcoins" as payment!? I tend to notice these things.
There was also this art showing next door to the venue, to be honest I just did not get. I did find it amusing though. It seems the "Artist" took a bunch of pictures with an old polaroid camera and blew them up to huge poster size. Now I am all for art, but watching these 20 somethings all dressed up drinking wine as they pondered the meaning of blurry Polaroid pictures seemed a bit surreal to me. Then all of a sudden I felt real old.
After the gig, John Young, Rick Vasquez (another good friend of John Pagano), along with the band went to a bar down the street to catch up and have a few drinks. Now, John Young is famous for prodding people into getting drunk. He did not disappoint as he made it a point to buy numerous drinks for Shiloh, Tony, John and the rest of the crew. By the time we left Manhattan, everyone (with the exception of me, I don't drink) was wasted.
On the 1 hour ride to John's house, I was subject to a litany of drunken "Love you Man"s from Shiloh and Tony. Which made the drive just a bit longer, during the ride John got a text from the Rockwood Music Hall asking if he would like to rebook with a better time slot and stage. Apparently they loved him at the Rockwood!
We arrived at Johns father's house and Shiloh decided he had to pee really bad. We are talking REALLY BAD! We pulled up in the driveway and he jumps out. Now, let me preface this next part by stating that a NY Italian and his lawn are a sacred thing. Add his "Brickwork" to the mix and you have the sacred grail that shall not be violated. Well, Shiloh violated both! Next thing you know John's father is out there with jugs of water washing down his bricks and Lawn.
This slideshow requires JavaScript.
Day 17
We woke up the next morning to some good NY bagels and coffee. We spent most of the morning reminding Shiloh of where the bathroom was, which everyone, but Shiloh found very funny. It was time to pack up the van again and head for Sellersville Theater in PA where we are opening for Albert Cummings.
The drive was grueling to say the least, not thinking I took a route that caused me to go back into Manhattan to the Holland tunnel to New Jersey. What should have taken us 4 hours took us 6 hours to make. But, we arrived at the Sellersville theater in plenty of time and met the theater manager who set us up in the green room and we unloaded our equipment.
Now, so far the tour has been pretty much flawless. A prudent person would start to become suspicious of this, and I guess I should have. Soundcheck went without a hitch, we had a great platter of sandwiches in the green room where we relaxed and got ready for the gig. I had wifi, so I worked on Making a Scene.
IT was time to hit and the band started off on their 25 min set! Yea, 25 mins, 4 songs, in and out. The First song Tony Hossri's Bass cuts out on him right in the solo! A Few Mins later he is able to get it back and finishes the song, the Second song, right at the solo, yep the bass cuts out once again! Tony Pulls his wireless out and goes with a hard wire. Then on the third song what happens, well Tony's strap breaks on his bass! Fortunately the last song was problem free! The Crowd gave them a rousing ovation and during the intermission he sold a ton of CD's and was crowded by people who were impressed on how the band powered through all the problems. And they loved the sound of the band!
After the show we got together with Albert Cummings, who remembers John Pagano from when he was MUCH younger. When John was around 12 years old, Albert toured through a venue called Paula Jeans on Long Island. Albert brought the young player up to play with him. It seems that he has been telling this story for years, about this young kid who came up and played with him. As he tells his band, "Hey, this is that Kid I told you about!" "This is the kid with the fedora, that came up on the stage and says "Youse Guys want to play some Bloose"". Everyone got good laugh out it, and of course there is an instant connection. Who knew that same kid would be opening for him one day.
It was a 1 hour drive to Pottstown PA to get to our hotel. As hotels go, this one was not one of the "Good ones". The AC didn't work very well, There is a shady group of people hanging out at the front door smoking and socializing. But, it was a place to sleep and we were tired, so we slept.
This slideshow requires JavaScript.
Day 18
We got up and hit the road early. The Plan is to get to Washington DC, Load into Madams Organ, head to the band house and I would sleep for 4 hours and get up and head to the gig. We have to drive through the night to get to Raleigh by morning because we have a noon loadin at the Pour House that next day. So we get into town, do the loadin and setup, John and I head to the band house to get some sleep while Tony and Shiloh do some sightseeing and head to the "White house". I have to say I was a bit worried about those two loose in Washington DC and had visions of the secret service taking away the rhythm section.
Madams Organ is one of our favorite places to play, the staff and crowd at this venue is the best. If you have never been there, you have to make it a point to hit this place up on a weekend night. To say that this was a high point of the tour, is an understatement! Madams Organ did not disappoint!
The venue is situated in an area called "Adams Organ" in DC. This seems to be an area that is party central. At around 8pm the police setup in the safety zone in the middle of the street and scoot around the area with segways. By 10pm the streets are crowded with Millenials and GenZees moving from bar to bar, restaurant to Restaurant. Now, on the side note, once again I find another indicator of a changing time or new trend. Next the Madams Organ stood an ATM that allowed you to purchase and cash in "Bitcoins". It seems that this new generation is embracing of this new currency. I found it interesting.
There is always a line to get into Madams Organ, which is 3 stories high with a bar and stage for the band on the first floor. On the above floors is a DJ, lounge and roof top seating. Because you are in DC, the diversity of the crowd always amazes me. You have people from all over the world that converge in this area to have some fun.
By Midnight and the second set kicked in, the place was wall to wall packed and people were dancing, screaming and fueling the band. By the end of the second set, the crowd wanted more. The Soundman looks over at me and says "These guys are Bad MF's!" Like I said, Madams Organ Never Disappoints.
The Last set I head to the van put the seat back and catch another hour of sleep. Not that it was easy with all the activity happening around the street (the van is parked right in front of the venue). But, I had to make it happen.
At the end of the night we load the equipment back in the van and even at 3:30am the streets are still hoping. We need to make the drive to Raleigh NC. I stop and get a couple cups of Coffee and put on an audio book Called "The Hitmakers – How to Succeed in the age of Distraction" a book on the science of popularity to keep my brain functioning. The rest of the band fell asleep as I headed down the highway sucking down caffeine and listening to the voice in the speakers talk about neophobics and neophiles and how you must have both to achieve popularity. For me I found it really interesting and I had to pay very close attention to "get it" which kept me awake. After 2 hours on the road I had this Hunter S Thompson Moment (yea, you genzee's google that reference!). I am 64 years old, traveling 3 weeks on the road with an Indie Blues Band, running on little to no sleep driving from DC to Raleigh NC to get to the next gig "Too weird to live, too rare to die"!
This slideshow requires JavaScript.
Day 19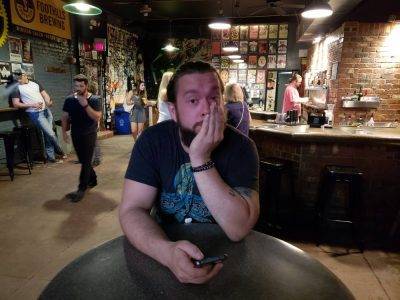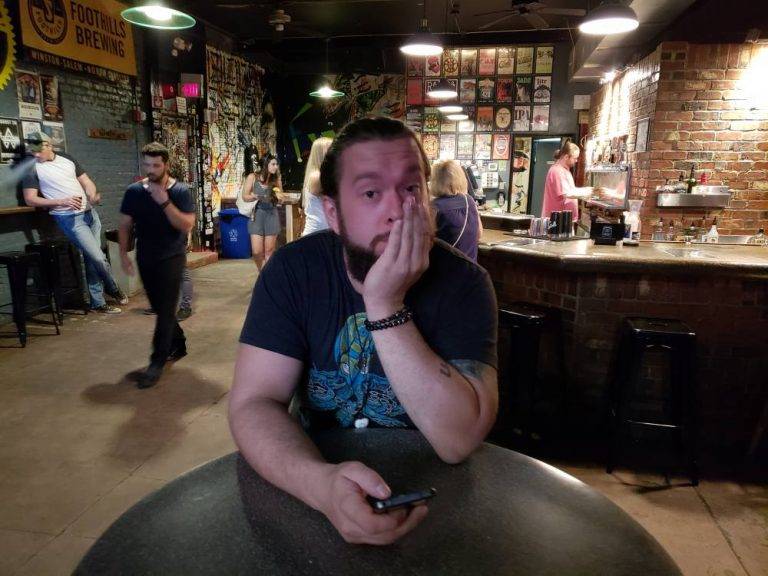 We pull into the driveway of John's Inlaws at around 7:30am. I will be honest I don't remember much once I got into the room I was sleeping in. I do believe I was asleep before I hit the pillow and stayed that way till around 10:30am when I was awakened by John to get ready to head to the venue "The Pour House".
We get to the venue on time and load in and set up for a Sunday afternoon 2pm start. We are fueled by the fact that this is the last gig of the tour. After this we get to sleep and drive home.
The Pour House is a great venue and the band put on a performance that did not give you any idea of how long they have been on the road. That is the part of the Job, you don't bring the road on the stage. You always give everyone that comes to a show and pays their hard earned money for a show, a show! No Exceptions.
Now, because it is the last show, you have to have that one more problem to deal with. Tony Hossri's bass once again cuts out on us and he broke another strap. I took the bass and notice the passive to active switch was smashed in. I borrowed a soldering iron and some solder from the soundman and took the bass apart and did a quick bypass of the switch. We did not have any more problems with the bass for the rest of the gig.
Tony had a long time childhood friend and his wife come to the gig. He is a sergeant in the Army and apparently they made Tony the godfather to their daughter. They wanted to take him home that night and promised to have him back by morning. so we sent him on his way. After we finished the gig the venue said it was one of the best sunday afternoon gigs they have had. John, Shiloh and myself headed back to Paul and Lynda's and had a great meal, watched a little TV and went to sleep.
Day 20
Today we head home, I stoke up my audio book on the science of popularity and we start the 6 hour trip back home. We arrive around 3:30pm and unload the van. The Tour is finished! We traveled over 3700 miles, almost 100 hours driving time for 23 hours of stage time. We met new friends and spent time with old friends. For many of the people that go to a show they spend little time thinking about what it takes for that band to get there. Not that they should, because let's face it, they are there for the show, the illusion. But, when you do go to a show, remember that this band is working hard to bring this show to your. So, buy a CD, a T-Shirt and help them continue to do what they do.
If you are looking to be a musician, be aware that THIS IS the Job. If you are not spending more time in your van than on the stage you are doing something wrong. If you think that you are above this then you need to pay heed to the words of Albert Castiglia "Stop your bitchin and get your ass in the van"
[amazon_link asins='B074FCMZH4,B06XJB7Q3Y,B074FF13H9,B0789R234G,B074FH7KGR,B074FGMNFJ,B074FGCVKJ,B074FDWH8X,B074FDJN9C' template='ProductCarousel' store='maasc-20′ marketplace='US' link_id='a67e554c-a628-11e8-b464-adc82fe450b7′]
[amazon_link asins='B0042J9YRU,B00T52QRM4,B00MFXNSQS,B00DVNLHSC,B00DVNLRVY,B00DVNLGEW,B00DVNLSHC,B00DVNLLRE,B00DVNLII6,B00DVNLFN4′ template='ProductCarousel' store='maasc-20′ marketplace='US' link_id='cf9bb226-a628-11e8-b0a0-8fb2d43bd3b1′]
On the Road with an Indie Blues Band – Part 1
On the Road with an Indie Blues Band – Part 2