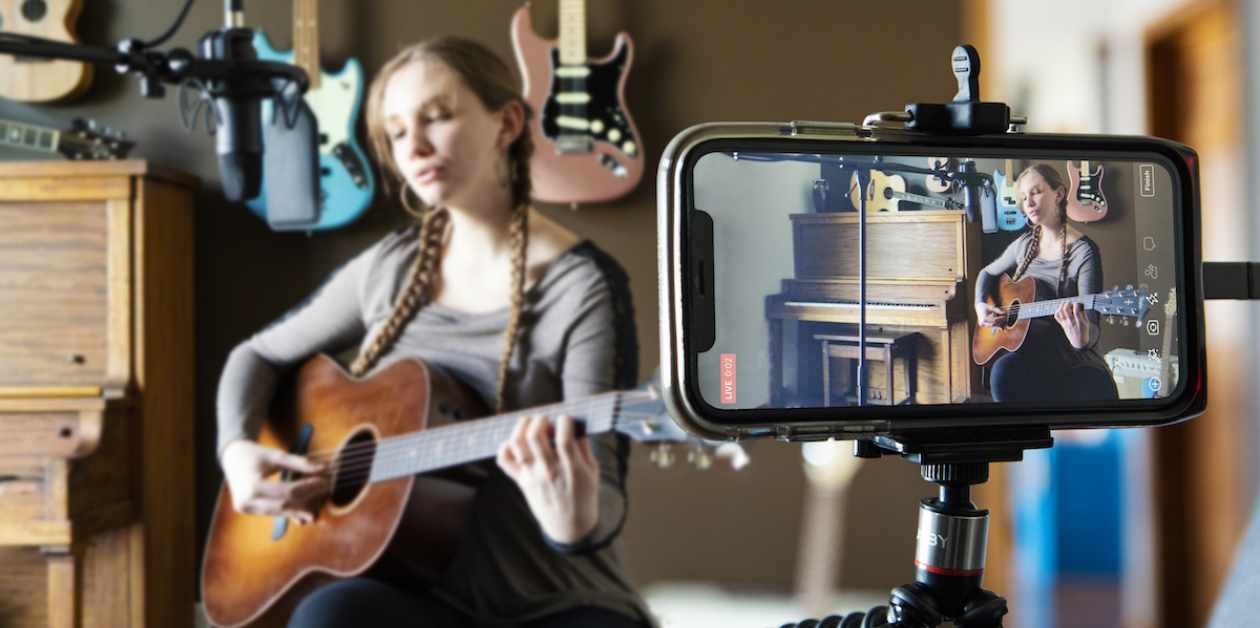 Making a Scene Presents A Musicians Guide to Live Streaming!
Let's face it, we are in strange times. For all intensive purposes 2020 is a wash for touring and the gig economy for the indie artists. In response, many indie artists have turned to online live shows on Facebook, instagram, Stageit etc. On facebook, online venues such as Americana Highways and our own Making a Scene, are starting to pop up giving the fans of indie music a destination where they can find a scheduled selection of artists performing. These Virtual Venues are giving artists the opportunity to perform and generate income through Venmo and Paypal.me .
If you have not taken advantage of doing an online streaming show, this is article is going to be a good primer for you to use to get you online and streaming quickly. If you have been doing it, you may find tips in this article on how to up your game and provide your listener with a better audio and video experience.
Getting Online
Ok, let's start at the basics! If you have a smart phone, tablet or laptop with a built in camera you are already setup to go live and create your own shows. This is the basic setup and is more than capable to start producing your own online shows today. So how do you get online and start broadcasting.
Let's start with Facebook, the most popular online streaming platform so far. It is recommended that you either create your own facebook "Business page" which is different than your "Profile". Your Profile is the account you use to log into facebook and is restricted to 5,000 friends, your "Page" is something you create within your facebook profile that gives you unlimited friends/fans and is a place where you can promote your music, band and Image. You should use a facebook page for your live streaming shows. Using a laptop is pretty straightforward, go to our page, choose "LIVE" which takes you to your content creator page and click on "Camera". If your laptop is setup with a camera and microphone they should populate and show you a preview on the page. From there you just go live and your are on the way.
The mobile app, is a bit more involved but the video below will help you get online quickly.
Now there a few tips you need to know to make your online video a better experience for your fans:
Make sure you have a good internet connection and Wifi Signal. If you are using a laptop, try and use a hard wired internet connection. Do some test runs to make sure you have a good stable connection and your video looks good when you are streaming.
Setup your Tip/Donation Jar. You can use your Venmo account or create a Paypal.me. Make sure you post a link to either or both of these to allow your fans a way to send you money or purchase merch from you during and after the show!
Use a Tripod and camera Mount to stabilize your phone. You don't want someone sitting there holding the phone and sending out shaky video, or worst have the phone fall on the floor during a performance.
Frame your shot! There is nothing worse than watching a video that is framed to either stare up the crotch or up the nose of the performer. Frame your shot around eye level and get just enough background to give your fans some perspective of where you are. In other words social distance from your phone during your performance.
Set your scene! Pick a good location that looks good, is personable but yet does not reveal too much personal information to fuel a stalker. Don't have your dirty laundry hanging about, remember this is also part of your image so treat your scene as such! Make sure your location will be free of distractions! Keep the crying kids, Howling dogs and screaming Wives/Husbands at bay. Sure you can include all of the above, but make sure they are well behaved and understand that this is part of your business and image.
Lighting is Important! Having good lighting is probably one of the most important aspects of creating good video. LED Ring Lights have become a standard now for online video production, but there are many inexpensive LED light solutions available. A good light scheme for your videos can make all the difference. Some things to keep in mind when looking to purchase one or more of these are the ability of adjusting the light intensity, Size of the Ring and the ability to apply light filters or adjust for different color temperatures and if you can have LED lights that allow you to change actual colors.
Audio
The Microphones on today's smartphones have been designed with built in compression to make sound of livestreaming pretty decent. But, you still have to contend with room ambience, unbalanced sound between instruments and vocals, etc. Ideally you would want to have more control over your audio. On a Laptop there are many options such as audio converters that connect via USB to allow you the ability to connect a mixer into your system to broadcast a stereo signal. Our smartphones unfortunately only have mono mic inputs (Yes we will get into that in a min) and they are difficult to access and connect to your audio gear if you don't know how.
Some Mixers and just about all Analog to Digital converters have USB outs to connect to your computer. Believe it or not you can use that USB output to connect to the external microphone output of your Phone. The android phones it is as simple as using an adapter that converts from the USB cable you have to the type of cable required by your phone. For the Iphone you can get a "Camera Kit" adapter that allows you to input USB audio and use that as a way to access the external mic. If you have a more old school mixer there are XLR to USB adapters that has a built in preamp, volume controls and even phantom power to send to your phone/laptop. Of course IK Multimedia has a great IRig Series that Allows you to send audio into your phone or tablet for both recording and live streaming.
Remember your phone/tablet input is Mono, so if you are mixing your band keep this in mind and be aware of any phase issues that might come up from mic placement. Also be very aware of your gain staging. Try not to over drive the input to your phone.