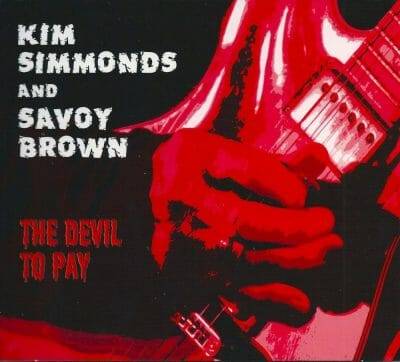 Back in the 60's, a lot of British groups were playing blues…Fleetwood Mac, The Rolling Stones, Led Zeppelin…and Savoy Brown. How many of them are still playing the blues?
Well, a case could be made that the Stones sometimes do, but the one indisputable group still playing the blues is Savoy Brown.
True, the group has gone through a lot of changes in 50 years. These days, they are recording as Kim Simmonds and Savoy Brown and they are a trio, consisting of Simmonds on guitar,harmonica and vocals, Pat DiSalvo on bass, and Garnet Grimm on drums, but they are still playing powerful, straight-ahead, original blues numbers.
For the latest CD, "The Devil to Pay" they start things out with a slow,smoldering, moody "Ain't Got Nobody,," before kicking into the hard-driving "Bad Weather Brewing," that showcases Simmonds stellar guitar playing, and the autobiographical "Grew Up with the Blues.""When Love Goes Wrong" is another rocking number and "Oh Rosa" lets Simmonds show his prowess on the harp. "The Devil to Pay" and "Watch My Woman" show they know how to shuffle, and "I've Been Drinking," "Whiskey Headed Woman," and "Stop Throwing Your Love Around" dexterously handle the time-honored subjects of booze and cheating women. The instrumental "Snakin'" lets the guitar shine. "Got An Awful Feeling" gives us one more slow blues and "Evil Eye" lets the three musicians prove they can sound like a great big band.
Simmonds wrote all of these songs and produced the album so it makes sense that he gets special billing on the front, but never doubt that this is a band who work together as a whole, or that after 50 years, Savoy Brown still has a lot to offer, and they prove it with "The Devil to Pay."