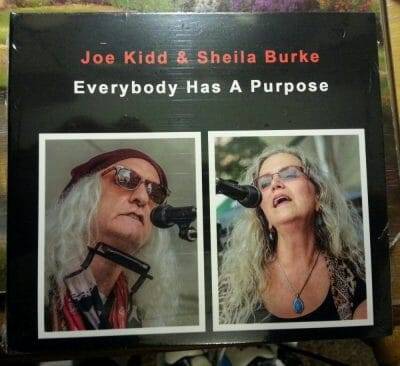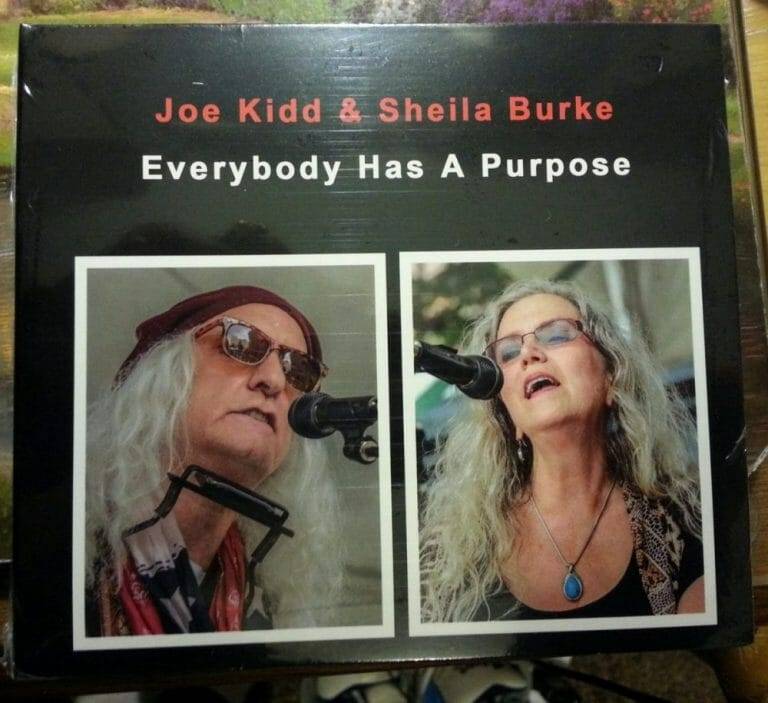 Joe Kidd and Sheila Burke's album is called Everybody Has A Purpose, and it is clear from the first listen that they believe this, and also that every word and note also has a purpose. From the haunting "Veteran's Song," sung by Burke alone in her pure, soaring voice and telling a story about the cost of war that is truly timeless, to the ode to the working man that is "Grandpa Was a Coal Miner" to the more personal "Sad Too Long" and "Just Want to Be Myself," these are thought-provoking songs that most of all, touch the heart.
There are not a lot of musicians out there making true acoustic folk music these days but Burke and Kidd do that. These songs are influenced by , Appalachian folk music and 60's folk, bluegrass, country , Celtic and gospel. Most of the songs feature their exquisite harmonies, which are especially impressive on "They Call It Romantic," which reminded me forcefully of the early Everly Brothers (my highest compliment.) They also take turns taking verses before joining together on the mystic and mesmerizing "Shadow At The End of the Road," a perfectly constructed country song which also features some tasty guitar. "Everybody Has A Purpose," the title song, is an uplifting number that makes effective use of harmonica as well, while "Waiting For the Flower to Bloom" makes very good use of the auto-harp.
Other highlights of the CD include "Soldiers in the Army of Mercy and Peace and the gospel bluegrass "When the Secret Is Revealed."
Themes on this album are struggle, love, ad redemption. These are universal themes indeed and Kidd and Burke deliver them with tremendous grace, musicality and style.
Joe Kidd contacted me on Facebook about this album and he and Sheila subsequently sent it to me for an honest review. I am happy to honestly say that it is a treasure, an important record, and one that you will be happy to own.