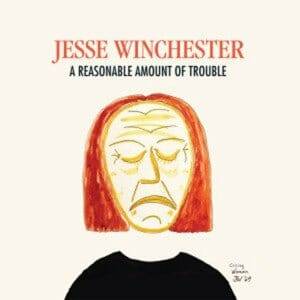 Jesse Winchester
A Reasonable Amount of Trouble
Appleseed Recordings
In 1970 Jesse Winchester released his debut recording on the short lived Ampex Record label. He recorded a total of ten studio albums. This last recording was completed shortly before his death on April 11th, 2014.
Winchester grew up in Memphis, Tennessee but as a conscientious objector moved to Canada during the Vietnam War. Unable to tour in the states he became known as a songwriter. That first album contained "Brand New Tennessee Waltz", "Yankee Lady" and "Biloxi". His sensitive songs were covered by everyone from Patti Page to Jimmy Buffet. The cover of this new album is a painting Winchester completed in 1969. In 1977 President Carter granted amnesty to Winchester. That same year Winchester released "Nothing But A Breeze" on Bearsville Records. The title track was released as a single and it reached Billboard's Top 100. In 2002 Winchester moved back to the states. In 2007 he received a Lifetime Achievement Award from the American Society of Composers, Authors, and Publishers.
Winchester was a cancer survivor and completed this album during his remission. The band includes Winchester, lead and backing vocals, acoustic guitar, and keyboards; producer Mac McAnally, lead guitar, keyboards, and backing vocals; Roscoe Beck, bass; and Eric Darken, percussion.
There are many highlights on this album. Winchester's vocal is beautiful on "All We Have Is Now". Jerry Douglas plays lap steel guitar on "She Makes It Easy Now" and on "Never Forget to Boogie" which also features Joel Guzman on accordion. "A Little Louisiana" features both Guzman and Stuart Duncan, fiddle. "Ghosts" which was written for Winchester's mom back in 1969 is reprised. The icing on the cake however is "Everyday I Get The Blues" and "Just So Much" both of which are especially moving. Also included are three "oldies". The Cascades "Rhythm of The Rain"; The Clovers "Devil or Angel" and The Del Vikings "Whispering Bells" the later two featuring Jim Horn on saxophone.
Winchester took the album's title from the movie "The Maltese Falcon". Humphrey Bogart plays private detective Sam Spade and he utters the words "a reasonable amount of trouble".
Winchester was a beautiful man. Elvis Costello summed it up the best when he said of Winchester "the word that comes to mind is grace". Winchester will be missed.
Richard Ludmerer