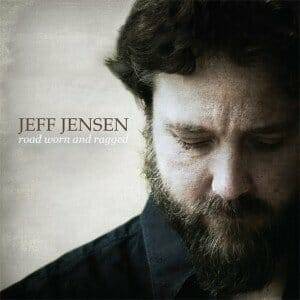 Recently, I had the opportunity to see The Jeff Jensen Band live at Darwin's in Marietta, GA. I got the opportunity to talk with Jeff briefly before the show and he gave me an autographed copy of his CD, Road Worn and Ragged. This is my review of that CD.
Road Worn and Ragged is Jensen's third studio album with his self-named band, which for this outing included harmonica wizard Brandon Santini, with whom Jensen has recently toured, bassist Bill Ruffino, drummer Jim Cunningham, and pianist Victor Wainwright. Santini and Wainwright are popular contemporary blues musicians in their own right, and Jeff stated at the show that Ruffino has been playing with him for 10 years, so it is no surprise that the music is consistently top-rate throughout the CD. (For the record, Ruffino was the only musician aside from Jensen who is present on the CD and was also present at the live show.)
From our brief encounter and Jensen's interaction with the audience at the show, I got the impression that he is an open, honest person who also happens to be a ball of energy and a guitar-playing wizard and this CD seems to confirm that impression. (The fact that he sent me email on Facebook to thank me for the review of the Darwin's show also speaks well to the man's character.) All of this seems relevant to me as a reviewer because this is such a powerful, emotionally revealing let never depressing musical project.
The CD starts with "Brunette Woman," which showcases the talents of the band and Jensen's guitar wizardry and sets the honest tone of Jensen's original material with its story of heartbreak and the disorientation it brings: "When I look in the mirror, I don't even see myself."
The next song, "Goodbye Portland," has a peppy, New Orleans-flavored tune and is a hopeful song which acknowledges loss but embraces the need for a change. Jensen is moving on in this song and you will be happy to travel with him.
"Heart Attack and Vine" is a blues-rock warning about the dangers of the Hollywood lifestyle. It i followed by the instrumental "Pepper," just to give the listener a chance to relax a bit and groove.
Next on the CD is my favorite track, "Gee Baby Ain't I Good To You," a traditional number produced by Victor Wainwright. It's slow, jazzy, heartfelt and romantic.
By contrast, "Little Red Rooster" is a delightful rendition of the well-loved Willie Dixon tune, and gives Jensen a chance to show off his hot guitar licks. It's a great party tune and is amusingly paired with Muddy Waters' "Crosseyed Cat," just to prove that Jensen and his band can absolutely play the bona fide blues. It benefits tremendously from Santini's fierce harmonica playing.
"Raggedy Ann," co-written by Jensen and Wainwright, once again mines Jensen's history for this tale of a man who is a bit "tattered and torn" but still hopefully "looking for my Raggedy Ann." It's a sweet stroll musically, with a satisfying guitar solo and some tasty piano from Wainwright.
Changing moods again, Jensen then gives us "River Runs Dry," a slow, thoughtful ballad with a husky, weary vocal and emotional lyrics that let us into the soul of the singer for the duration of the song. The quiet accompaniment of guitar, steady drumbeat, and evocative piano, perfectly underscores this very touching song.
The CD ends with "Thankful," a song that acknowledges both the hardships of the musician's life and the blessings. It's a direct message from Jensen to his fans and supporters and as real and honest as the man himself reveals himself to be throughout this project.
Jensen and the band he surrounded himself with for this project deserve a place on your playlist. This CD not only is full of honest but never depressing emotion and truth about life transitions, acknowledging good times and bad, but it's really fine music too and, more than that, it leaves you feeling you've met a friend. Only the most special musical projects can do that. Jensen does.
Parts of this review also appear on Blogcritics at http://blogcritics.org/music-review-the-jeff-jensen-band-road-worn-and-ragged/