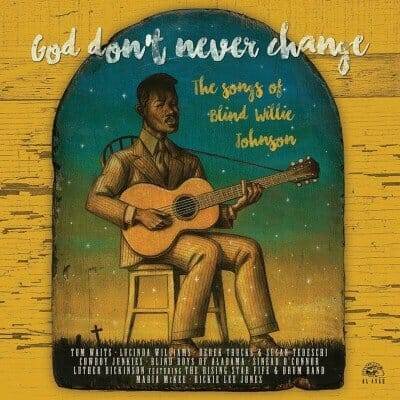 God Don't Never Change
The Songs of Blind Willie Johnson
Alligator Records
"The Soul of a Man" is the song written by Blind Willie Johnson that opens this tribute. It is also the name of a 2003 documentary film which was part of a series on the Blues produced by Martin Scorsese. This was the first many of us had ever heard of Blind Willie Johnson.
The film was directed by Wim Wenders, narrated by Laurence Fishburne, and the role of Blind Willie Johnson performed by Chris Thomas King. The musical soundtrack included performances from Blues and roots musicians including Lucinda Williams; she is mentioned because she is also one of the musicians included on this cd.
Blind Willie Johnson was born in Pendleton, Texas in 1897. Besides being a musician he was also a preacher. Therefore his lyrics were religious and his music derived from gospel traditions. Johnson was signed to a recording contract with Columbia Records. In 1945 the Reverend W.J. Johnson operated the House of Prayer out of his home at 1440 Forrest Street in Beaumont, Tx. In 1945 his home burned to the ground but he continued to live in the wet ruins. Johnson contracted malaria and died September 18, 1945.
Producer Jeffrey Gaskill developed an interest in Johnson shortly after producing 2003's "Gotta Serve Somebody: The Gospel Songs of Bob Dylan"; which resulted in Gaskell receiving two Grammy nominations.
Highlights include "Keep Your Lamp Trimmed and Burning" performed by Derek Trucks and Susan Tedeschi; "Motherless Children Have a Hard Time" sung by The Blind Boys of Alabama"; and "Dark Was The Night, Cold Was the Ground" by Rickie Lee Jones. Two songs are sung by Tom Waits including the title track; two are sung by Lucinda Williams including "It's Nobody's Fault But Mine"; and one each is sung by The Cowboy Junkies, Sinead O'Connor, and Maria McKee.
There is an 18 page booklet included which elaborates on the life of Johnson. The beautiful packaging in itself is deserving of an award. If you like compilations or tribute albums this will be of interest to you.
Richard Ludmerer
https://youtu.be/cSkAbqNxHyI