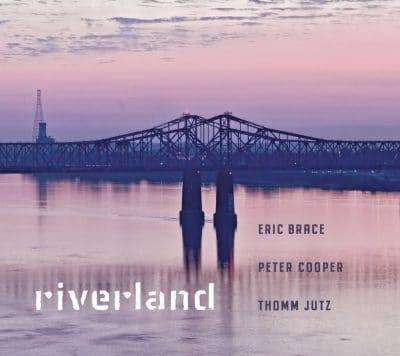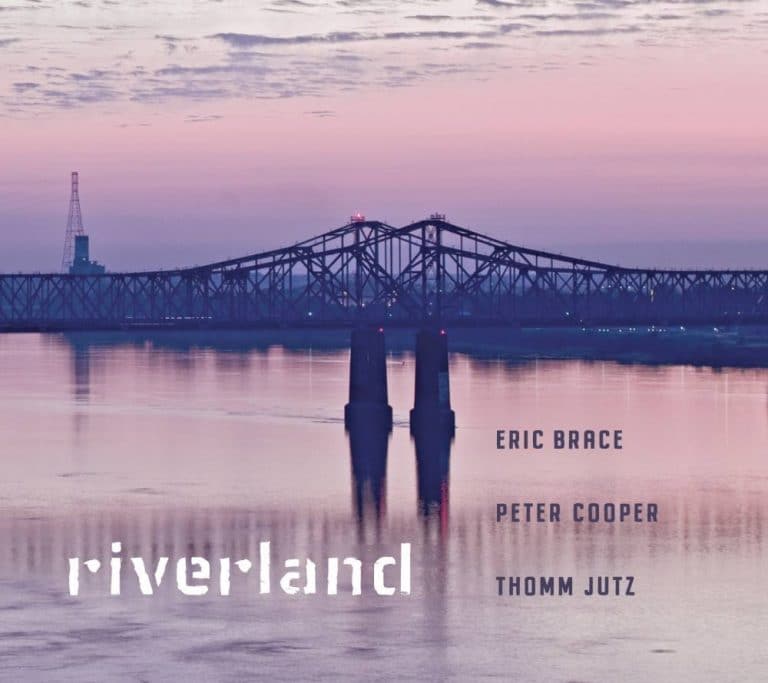 Eric Brace, Peter Cooper, Thomm Jutz
Riverland
Riverland is a place, and a people, and a history. Just like the mighty river and tumultuous state, this album is a source of beauty, and pain. Mississippi is the birthplace of America's music. Blues originated in the Mississippi Delta and is the only music recognized as truly American. Blues born from the history all too familiar to Mississippi, blues that birthed folk, country, bluegrass and ultimately americana. The stories derived from this region are wider than, and mired deep in, the river that give these lands their name. The fourteen songs from this album, Riverland, capture Mississippi for what it is, and does so masterfully.
Packaged with the album is a lovely booklet and it alone is worth the cost of admission. But you're going to want to listen as you read along with the music. You have to love this nod to a time when listening to music was a full sensory experience. I've come to know these artists best by their written word so I'm happy to explore the melding of lyrics and flawless harmonies. There is an authentic vintage feel to this album.
The first true American music was pure fingers on steel. Played on fiddle or banjo or thin bodied guitars, Riverland continues this tradition, it is refreshingly unplugged. Eric Brace, Peter Cooper, and Thomm Jutz each plays acoustic guitar and vocals with Thomm adding resonator guitar. Mark Fain plays upright bass, Lynn Williams plays drums, Mike Compton plays mandolin, Tammy Rogers adds fiddle, and banjo is played by Terry Baucom and Justin Moses.
The songs of Riverland are all written with Brace, Cooper or Jutz. John Hadley co-pens "River City" (the album opener which has a casual rolling feel driven by upright bass and guitar), and "Southern Mule" (which will have you kicking your hoofs with full sounding harmonies, resonator melody, upright bass with a real southern swing vibe). Reverend Will D. Campbell is given credit on "Mississippi Magic", a song that tells of the activists visionary support for civil rights. The song begins with a narrative that draws you close. It's a good message. Fiddle player Tammy Rogers co-wrote "Mississippi, Rest My Soul" (a beautiful fiddle and perfectly stated banjo compliment to the lyric). "Mississippi, Rest My Soul" closes the album. The song is as melancholy and calming as Mississippi.
"King Of The Keelboat Men" struts onto the album full of bravado for a way of life that is disappearing. "Down Along The River" has a Jim and Jesse vibe to it as it tells of the town surrendering to Grant during the civil war. "Drowned And Washed Away" is the sad lament of an already washed out riverfolk losing whatever's left to the flooding river. A bright little bluegrass song that tells of good buddies driving around on the tour bus and sipping their homemade whiskey. This story of "Tom T. And Brother Will" is acted out by Thomm Lutz playing Tom T. Hall and Peter Cooper playing Reverend Will D. Campbell.
As I stated earlier, Thomm Jutz, Eric Brace and Peter Cooper are songwriters and together wrote "In The Presence Of The River". The river is a muse and the three swapp verses like three friends drawing energy from that river and pulling from a bottle.
… And the river rolls like sorghum over cotton

Like time passing with a bottle of sour mash.

It draws me in, it pulls me under

It makes me weep, it makes me wonder

Don't know 'bout you, but I quake and shiver

In the presence of the river….
Another of my favorites from this album is Eric Brace's "Fort Defiance" who's descriptive lyrics have you sitting at the confluence of the Ohio and Mississippi counting the boats that pass by.
… We've got a dozen notebooks filled at home now in a stack.

We love the simple pleasure of simply keeping track

Of the ships that keep on passing through reflections of the day

And as soon as we write 'em down they're bound away…
Riverland wouldn't be complete without a song from the perspective of Mark Twain. "To Be A Steamboat Man" does so in the form of a drinking song. Oxford Mississippi native William Faulkner is brought to life in the songs, "As Far As I Can See" and "It Might Be Hollywood". These two songs honor the beauty and beast that is Mississippi, and explain why Faulkner lived exactly where he needed to be. Another famous Mississippian, Jerry Lee Lewis is brought into a new light in "Uneasy Does It"
If you've read this far I thank you, I've done my job. You've also figured out this is a concept album. Like the Mississippi, Riverland just rolls along. I find it very soothing. The songs on Riverland tell the history of a place and its people without preaching. You'll fall in love with Mississippi, and love over hate wins every time. Enjoy!
[amazon_link asins='B07MXX88V1,B07MXZ8H3R,B07MXZ2G21,B07MXYL6X3,B07MXYCXWM,B07MXY8V7G,B07MXY7CL5,B07MXY47PW' template='ProductCarousel' store='maasc-20′ marketplace='US' link_id='400bd708-c6cb-4f94-ac0b-82d779105686′]