Saturday night, New Year's Eve, was Darwin's last night in its Marietta location. The little house was full, mostly with people who had been coming to the club since before Lindsay and Aiken took it over. We all felt nostalgic, I believe, thinking of all the memories and bands we had heard there. But we were comforted to know that Darwin's is not closing, only moving to a bigger building with more parking some miles away in Sandy Springs.
So in this mix of fond looking back and excitement for what comes next, hey, it was New Year's Eve and Little G Weevil( "G") and his band were in the house! That always means a good time, and this time G, guitarist Danny Vinson, and bassist Lex Luther, were joined by guest drummer, the legendary Yonrico Scott. They were all at the top of their game, with G not only singing and playing, but sharing personal anecdotes and bits of blues history, joking and inciting the audience to dance, yell, and clap.
G said we should forget about band here and audience there, and just have a house party, and so we did! People danced, drink flowed and got spilled (a friend at our table had two knocked over!) and it was all good fun. At one point, G jumped on our table to sing, knocking things every which way. (No harm was done.)
Then it was time. Lindsay, Aiken. and the staff handed out free champagne, we counted down, and it was 2017! Everybody toasted and hugged and wished each other Happy New Year, and for the last time, we left the house that has represented the blues in Marietta for so many years. Now Darwin's will continue the tradition at the former Steve's Live Music in Sandy Springs. And Little G and his band mates will, separately and together, keep making people happy with their music.
Happy New Year!
Some Past Moments from Darwins Burgers and Blues!
Help Lindsey and Aiken continue to bring LIVE "Indie Blues" to Atlanta!! Click Below!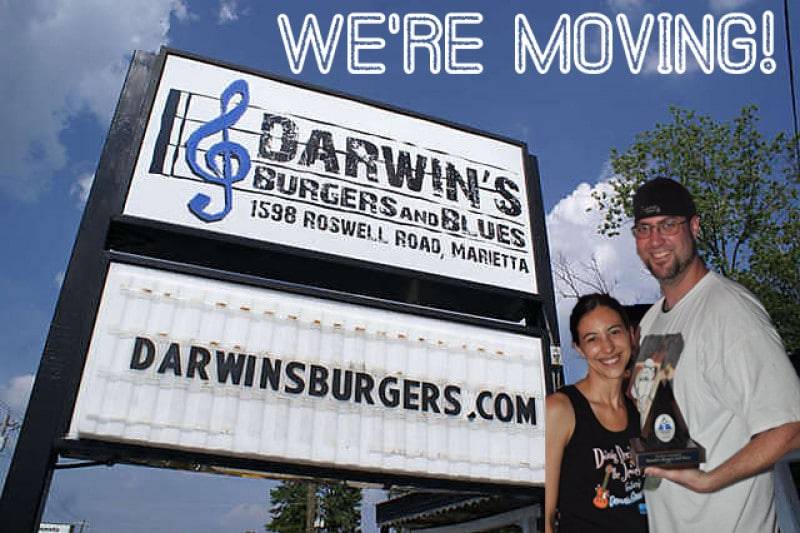 Past Interviews with Lindsey and Aiken
The Biggest Little Indie Blues Club in Atlanta
Darwins Burgers and Blues – Goodbye to the Little House