Biggest Little Indie Blues Club in Atlanta!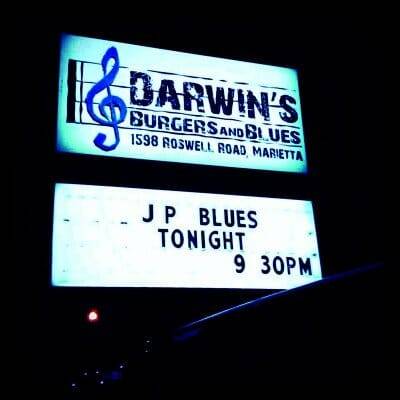 An Exclusive Interview with Jonathan Aiken from Darwins Burgers and Blues!
Like them on Facebook!
An Interview with Aiken from Darwins Burgers and Blues by Richard Lhommedieu on Mixcloud
In a small ramshackle house nestled between a couple of Car Dealers on Roswell Rd in Marietta Georgia is a Blues Club that has a history that is known throughout the world. Since the early 1980's this small juke joint has been a Blues bar that attracted some of the biggest names in the business and it quickly became one of the places to see when you came to Atlanta. But it's history has not always been rosey.
In the 2000's The club was sold and passed several hands over the course of 10 years and it eventually deteriorated to the point that the building was condemned in 2010. It was looking like it was the end of an Atlanta institution and a gem on the Blues Touring circuit.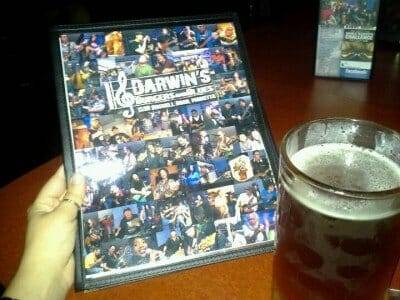 In 2011 Lindsay Wine and Jonathan Aiken were looking to leave the corporate world and open a Food Truck Business. Then the unlikely thing happened, they ran into an opportunity to buy Darwins! As soon as Lindsay walked through the broken down back door she was in love with the place and it's vibe. "It had some kind of weird vibe, we were both taken aback by the place" Wine Said.
Along with several backers, Raymond Chang, Thomas Samples and Michael Harper, Lindsay and Aiken Began the task of bringing the building back up to code so it can once again become what it once was. A great Blues Club. So after $75,000 in renovations it was ready to go.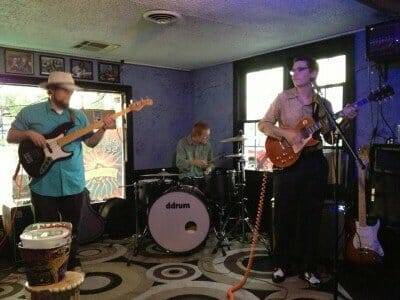 They didn't change much. Wine designated the place non-smoking, and Akin put in a kitchen and planned out a lunch and dinner menu, but the couple left most of the history in place. The hardwood floors are covered with small tables and chairs, often filled with a mix of locals and visitors from across the Southeast. If there is a show you want to see, you have to make sure you get there early, because the capacity is only 73! But don't let that fool you, when this place gets rocking, it gets ROCKIN! It is not unusual that not only is the club full, but the back deck is packed as well! And if you think about it, with such a small place, the fact that they are able to bring in national Indie Blues artists, and make it profitable. Proves they must be doing something right and it can work, no matter how big you are!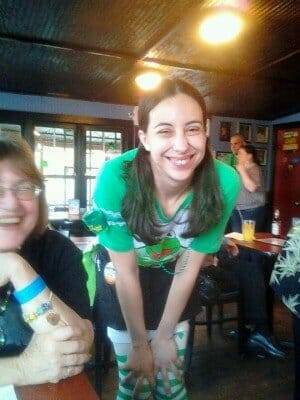 With Lindsay taking care of the bar and the booking of Bands and Aiken taking care of the kitchen and managing the day to day operations. They began to make Darwins one of the MUST stop places on the Blues Touring Circuit! What makes Darwins really unique is they always seem to be on the cutting edge of what is hot in the touring blues artists. Lindsay has become very in tune to what is happening on the Indie Blues Scene and has a great knack of finding the right band that will pack the house every weekend. So good in fact, that most people know that no matter who is playing at Darwins, it is going to be a great show!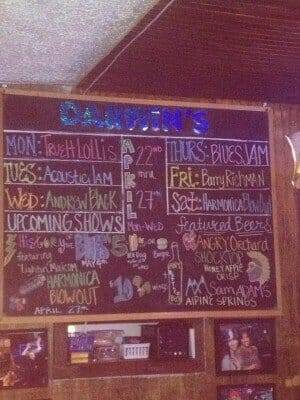 Darwins has music 6 days a week (they are closed on Sundays) with Atlanta's Favorite Truitt Lollis on Monday nights, Bill Sheffields Acoustic Jams on Tuesdays, John McKnight Pro Blues Jam on Wednesdays, Open Blues Jam on Thursdays and some of the top touring independent blues acts in the country stopping in on Friday and Saturday Nights! From Victor Wainwright to JP Soars, From Bruce Katz to Damon Fowler, From Bryan Lee to JP Blues (who recorded his "LIVE at Darwins" CD, which reached #1 on the Blues Rock Charts at the club!)! Just to name a few! They come not only because they are treated right by the club, but because they know they are going to have a good time with the people that come to Darwin's. Under Lindsay and Aikens ownership, Darwins has once again became world famous for great music and now GREAT Food!
You can't talk about Darwins without mentioning their food. Their burgers have become famous in the their own right! Check out the video with Fox 13's "Burger Guy" as he digs into one of Aiken's signature burgers! FOX 13 News.
From the moment you walk in the door you immediately get the feeling that you are at home. The staff is friendly and go out of their way to make you feel comfortable and that they are really glad to have you there. This is one of those MUST do experience if you are into music of any kind. The crowd is a great mixture of new young fans discovering "Indie Blues" and the more seasoned blues fans, who are excited about hearing new artists.
So if you are in Atlanta, stop into Darwins and say Hi to Lindsay, sit down, have a burger, some tater tots, glass of beer and get ready for A GREAT MUSIC EXPERIENCE!
There is no wonder Darwin's Burgers and Blues is the
Biggest Little Indie Blues Club in Atlanta!
AJ Ghent Band At Darwins!

Selwyn Birchwood At Darwins

JP Soars at Darwins
"Darwin's is a great, intimate room with an awesome staff, great sound and a very supportive group of music lovers" -JP Soars

Bryan Lee