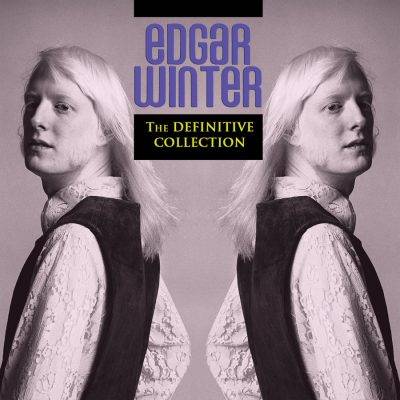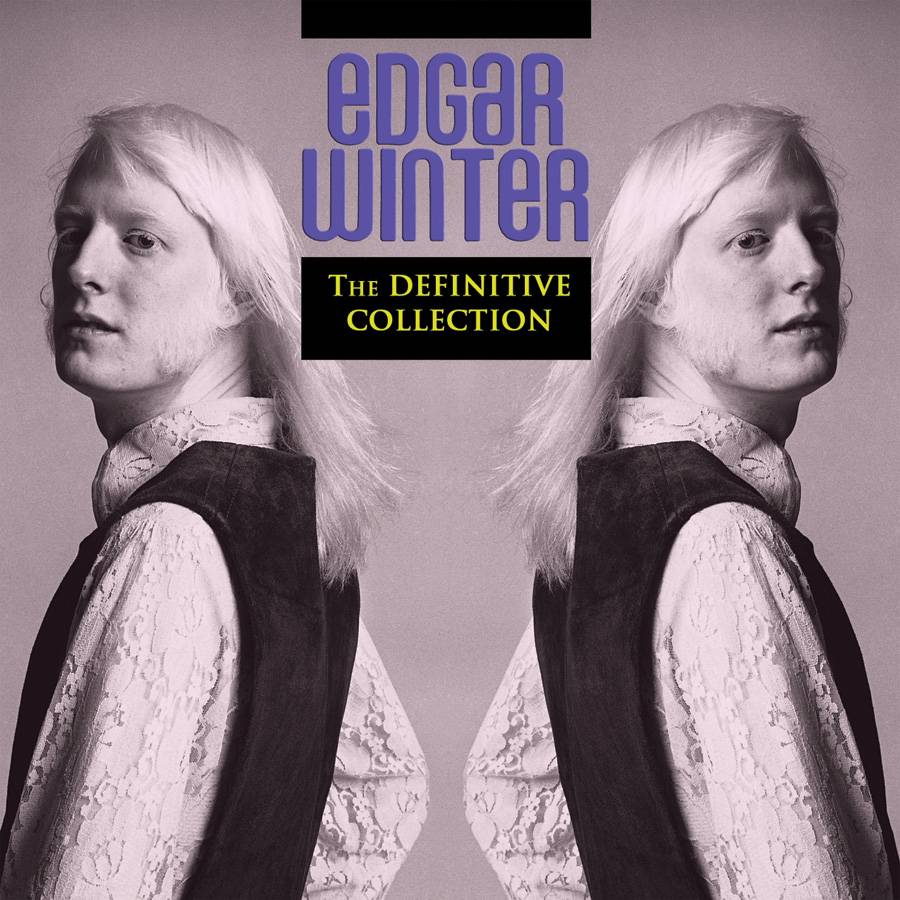 Edgar Winter "The Definitive Collection" (2CD's) www.RealGoneMusic.com
Taken from eleven different albums Real Gone Music's "The Definitive Collection" serves up thirty Edgar Winter tracks (previously released on Epic Records; from 1970 through 1980.) These thirty tunes are equally distributed on two-CD's. Interesting factoid: It was none other than Clive Davis (then with CBS/Columbia/Epic) who offered Edgar his first recording contract.
Disc one: Starts with Edgar's appropriately titled "Entrance" album with John D. Loudermilk's Blues classic "Tobacco Road" backed by Edgar's brother Johnny and his then band with drummer John Turner, and bassist Tommy Shannon who are all firing mightily here. The title track changes the band and style with the spacey "Entrance," the following two tracks also come from Edgar's debut, but I didn't have any recollection of either song – probably because they aren't memorable. "Give It Everything You Got" authored by Edgar and Jerry LaCroix takes a page from Sly Stone's Soul/Funk songbook complete with horns from the Rick Derringer produced "Edgar Winter's White Trash." From the same "White Trash" collection is the hit "Keep Playin' that Rock 'n' Roll" finally with Derringer's fleet-fingered guitar expertise, plus additional vocal support from Mike McLellan and Jerry LaCroix. Edgar and LaCroix co-author the Gospel tinged "Fly Away," and the final "White Trash" inclusion "You Were My Light" also has a Gospel touch but is also very soulful. Legendary New Yorker Steve Paul of Steve Paul's Scene takes over production on the live "Roadwork" recording, Paul also keeps Derringer's guitar and adds the fine sax work of Jon Smith. "Roadwork" opens with more Gospel grooves on Edgar and LaCroix's "Save the Planet," note the post "glory hallelujah" vamp near the ending, and the bluesy conclusion with dueling vocal rants from LaCroix and Edgar that are endless and excessive. No more Gospel, but from the same live session is Derringer's hit "Rock & Roll, Hoochie Koo" that reunites Edgar and Johnny Winter and reconnects Johnny Winter And band with Rick Derringer for blistering on-stage guitar eruptions. Back to the studio with Derringer at the controls for the megahit "Free Ride," no need for details – we all know it well, and it still sounds great especially with author Dan Hartman's guitar duels with another guitar-God: Ronnie Montrose from "They Only Come Out at Night" recording. Lifted from the same sessions; Edgar's "Round & Round' sounds like it could have been featured on an early Eagles record. Hartman's and Edgar's "Alta Mira" has a Caribbean beach breeze, then rock out on the concluding (disc one) rocker (by Hartman and Edgar) "We All Had a Real Good Time," covering many bases on their fourth and mostly successful Epic releases.
Disc two: Edgar Winter shoots and scores with his monumental instrumental "Frankenstein" a forever classic with Derringer's production skills and the stellar guitar team of Hartman and Montrose from "They Only Come Out at Night." From the album "Shock Treatment" is Hartman's "Some Kind of Animal" Hartman also sings and it isn't pretty. From the same album "Someone Take My Heart Away" authored by Edgar is a lighthearted rocking ballad, Hartman's bluesy "Easy Street" is better but is light and trite as is Edgar's sax solo. Almost at the halfway point; two more from the "Shock Treatment" LP; Edgar's "Animal" leaves little to be desired and Hartman's River's Risin'" with Hartman's (again) vocals is a straight forward rocker that actually works fairly well. Derringer stays employed as producer/guitarist for the "Edgar Winter Group with Rick Derringer" album that features the instrumental mishmash "Chainsaw" which is kind of fun but reminiscent of "Frankenstein" with its undertones and riffs. And from the same album is Edgar's "Good Shot" brings back the funk with misguided Dan Hartman's strings, and odd background .vocals. Three songs from "Jasmine Nightdreams" all written by Edgar start with the odd "Hello Mellow Feelin'," "Keep on Burnin'," doesn't burn at all, ah but "Solar Strut" is a delightful instrumental surprise that's also jazzy with a succinct twist of funk. Hold onto your hats as both Winter's and Derringer head back to the stage for a "Rock & Roll Medley" from the "Together" album. The medley includes "Slippin' & Slidin'," "Jailhouse Rock," "Tutti Frutti," "Sick & Tired," "I'm Ready," which is where Johnny Winter explodes with a speedy guitar blasts, than onto Chuck Berry's "Reelin' and Rockin'," and "Blue Suede Shoes," "Jenny Take a Ride," finally closing with a rush on "Good Golly Miss Molly." Good golly indeed – whew! Edgar Winter produces his "Recycled" album with a very different band that doesn't include Johnny Winter or Derringer but brings back Jerry LaCroix and Jon Smith on saxophones and vocals on his disco flavored "Stickin' It Out," and it truly grooves smartly. Edgar co-produces with Tom Moulton under Steve Paul's direction for "The Edgar Winter Album" (with another different studio band.) Edgar's "It's Your Life to Live" is sampled from a similar Brooklyn dancefloor as "Saturday Night Fever," with Bee-Gee's like high pitched background vocals – I wasn't impressed. The final track is taken from Edgar's "Standing on Rock" (perhaps in search of new sounds with yet another new studio band.) Edgar authored "Tomorrowland" unceremoniously bringing down the curtain for this two CD set, and his decade long run at Epic Records.
Personal observation – draw your own conclusions: The disc one's fifteen tracks are taken from Edgar's first four albums; the remaining fifteen songs on disc two were derived from Edgar's seven recordings for Epic. Just do the math or put the two discs on the album count scale.
Nice touch; Bill Koop's liner notes are not only insightful they're also informative and inline for what we've become accustomed to (but should not be taken for granted) on compilations such as this one from Real Gone Music. Not many (if any) reissue labels go the extra (appreciated distance) on compilations such as this from Real Gone Music. But I just cannot understand why many reissue labels fail to note track-times? Not only could I not find the length of songs in the liners, or on the physical CD's, but the track times were also nowhere to be found on www.RealGoneMusic.com Is this too much to ask? So the only place I had to go was to my PC to observe the track's time durations.
Nonetheless: This is two CD box-set is probably the closest Edgar Winter fans will ever get to a collected box set of Edgar Winter songs, and for this we are grateful for the efforts of compilation producers Matt Quigley and Timothy J. Smith as well as executive producer Gordon Anderson who extended a well-deserved thank you to Edgar Winter on the back liner.
For 17 years Bob Putignano has been pivotal with his Sounds of Blue radio show. Hear new Homegrown Sounds of Blue internet radio shows: https://soundsofblue.com/radioshowsmp3.htm
Sounds of Blue can also be heard every Wed. at John Sinclair's www.RadioFreeAmsterdam.com Previously a contributing editor at Blues Revue, Blueswax, and Goldmine magazines, currently the Music Editor for the Yonkers Tribune www.YonkersTribune.com & www.MakingAScene.org Bob was also the 2003 recipient of the "Keeping the Blues Alive" award (given by the Blues Foundation in Memphis) for his achievements in radio broadcasting. Putignano can be contacted at: BobP@SoundsofBlue.com