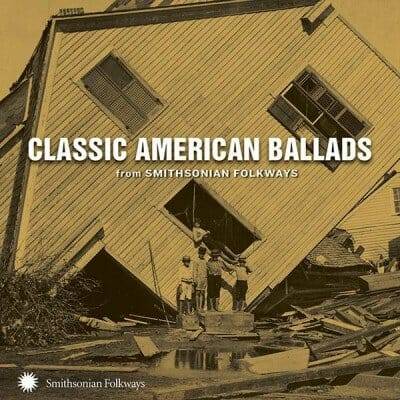 Classic American Ballads
Various
Smithsonian Folkways
This is the twenty-fourth installment in the Smithsonian Folkways award winning Classic series which began in 2002.
The old English traditions of "broadside" ballads were adapted by American musicians as they carried the news of the day in the form of narratives. These songs were written between 1836 and 1947 and were usually about "calamitous or scandalous" events, which make it fun listening.
Starting with "Banks of The Ohio" a classic murder ballad performed by Doc Watson, vocal and guitar; and Bill Monroe, vocal and mandolin. It was recorded on May 17, 1963 at the Ash Grove in Los Angeles by music historian Ralph Rinzler.
There are two gems from Pete Seeger. "Blue Mountain Lake" is located in the Adirondacks in northeast New York State. It is about a fight that broke out in a lumber camp and appeared on Seeger's 1954 78 rpm disc called Hudson Valley Songs.
Seeger's other song "Young Charlotte" was originally adapted from a poem called "A Corpse Going to a Ball". It appeared in an 1840 newspaper and was about a young woman who froze to death because she didn't want to cover her "ball dress". In 1850 you could purchase a porcelain doll called a "frozen Charlotte". The dolls were made until the 1920's and were often bath toys.
"Cole Younger" is by Dock Boggs, vocal and banjo. Younger was a Confederate guerilla who conducted attacks on Union troops during the Civil War. After the war they found that they had a price on their heads and they began a life of crime in order to support themselves.
"Duncan and Brady" is sung by Leadbelly. It is about James Brady, a St. Louis policeman, who was shot and killed by bartender Harry Duncan in 1890. "Billy The Kid" the outlaw is by Woody Guthrie, vocal and guitar. "Jesse James" is sung by Agnes "Sis" Cunnigham. "John Henry", performed by John Jackson, is about the digging of the Big Bend Tunnel when the Chesapeake and Ohio Railroad were being built in 1872.
"The Titanic" was a song about the sinking of the British passenger liner in April of 1912. Also known as "When That Great Ship Went Down" I learned the song at summer camp in 1961. It is performed here by Pink Anderson, vocal and guitar. "Tom Dooley" is sung here by a quartet featuring Glen Neaves, vocal and guitar; and Ted Lundy, banjo. Lundy went on to record as Ted Lundy and The Southern Mountain Boys. The song was about a soldier who gave syphilis to two women. It was popularized by The Kingston Trio; and thus began the folk music revival of the early 1960's.
There are twenty-five songs included. The accompanying booklet was compiled, produced, and annotated by Grammy-winning archivist Jeff Place. It includes many rare and historical photographs. This is highly recommended listening for those interested in the songs and their origins.
Richard Ludmerer