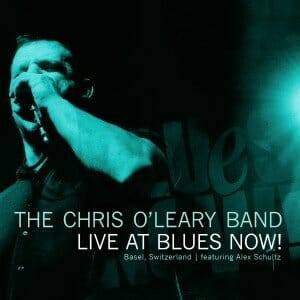 The Chris O'Leary Band
Live at Blues Now! Basel, Switzerland
Fidellis/Vizztone
Chris O'Leary spent his early career as a vocalist for Levon Helm and The Barnburners. The Chris O' Leary Band's first cd "Mr. Used to Be" received a 2011 Blues Music Award nomination for Best New Artist Debut. They won the Blues Blast Award that year in the same category. In 2012 they released their follow up recording "Waiting for the Phone to Ring".
The band on this new recording consists of O'Leary, vocals and harmonica; Chris Vitarello, guitar; Andy Stahl, tenor sax; Chris DiFrancesco, baritone sax; Matt Raymond, bass; and the newest member Jay Devlin, drums. Alex Schultz guests on second guitar. The album is dedicated to their late drummer Sean McCarthy.
This live set includes eleven O'Leary originals culled from his first two albums and one new cover. "I Wish You Would" is a Chicago blues classic written by Billy Boy Arnold. From "Mr. Used to Be" are the title track; "Walk The Walk"; "Water's Risin" co-written with Levon Helm; the low down "Blues is a Woman"; "King of The Jungle", and the New Orleans infused "Tchoupitoulas" which metamorphosis's into "When The Saints Go Marchin' In".
From "Waiting for the Phone to Ring" are it's title track with the lyric "if I'm too low for your standards, what say you lower your standards"; "Give it"; "Trouble"; "Louisiana Woman"; and "History" with its New Orleans second line beat. This live set was mastered by Dave Gross at his Fat Rabbit Studios in Glen Ridge, NJ.
O'Leary is a great vocalist who sometimes sounds a bit like Kim Wilson. I also love O'Leary's Chicago styled harp with the saxes of Stahl and DiFrancesco. This is a great band playing exciting music. This live set will do until there is something new.
Richard Ludmerer