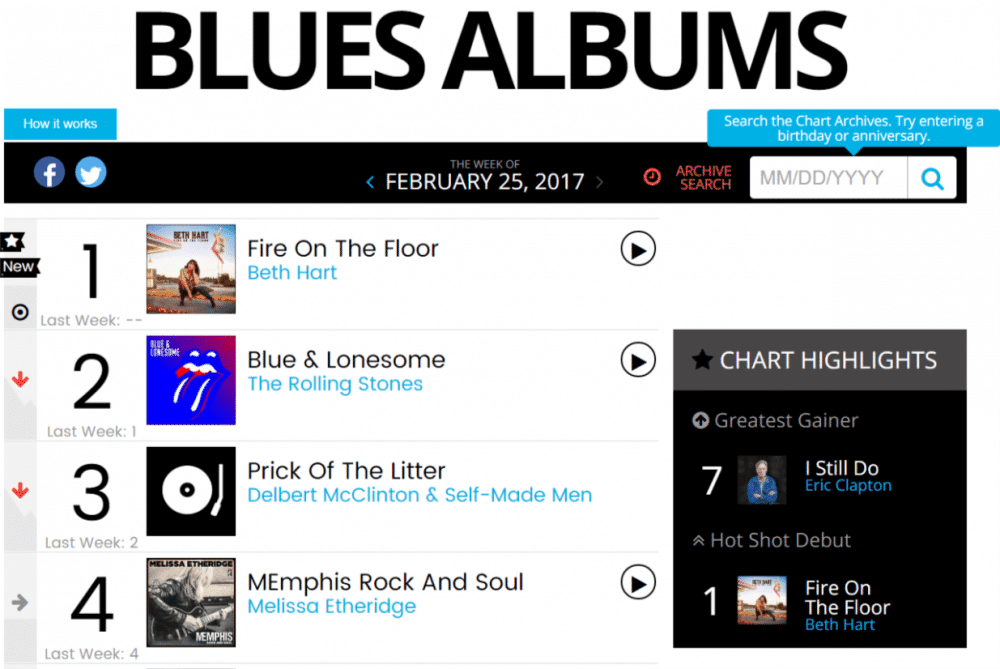 Even though this article concentrates on Blues, the information on the RMR charts is relevant to all the genres and Indie Musicians the RMR Charts report on.
The Blues World in particular spends a lot of time on Radio Charts. Unfortunately, many don't understand the facts behind the charts and how they work.
What makes the Living Blues Charts and The Main RMR (only) Blues Chart valid?
The simple fact is that just about every Blues CD released is trying to make these charts. Every Blues Radio promoter and publicist submits to these same stations. The end result is that the CD's that makes these charts are the ones most chosen by DJ's for airplay. There is no special list that any one promoter or publicists has, in fact Living Blues makes it public. All you need to do is buy the latest copy of Living Blues magazine and the stations that report to the chart are listed.
The music does the talking 95% of the time, and if the music is really good, in the Blues World it will get played whether you hire someone or do it yourself. Now, don't confuse the Blues World with the rest of the Music World. Think about it, how do you work a record, when 99% of the DJ's are only on once a week. You have to remember that the Blues Radio world is run mostly by part timers. Saying you are in rotation when you are played once a week on one station, is stretching it a bit.
Now this is not to say that hiring a radio promoter is not a good idea. You have to do your research, because different radio promoters/publicist are a better fit for certain artists then others. It all depends on your goals and finances when hiring someone to do your radio promotions. A good Radio Promoter may make it easier for you to get airplay.
These two charts are usually a good indication of what's being played everywhere. Living Blues gets it right about 90% of the time, RMR about 80%. With all that said, Living Blues reporting stations represent less than 10% of all stations, RMR less than 5% of eligible stations. Living Blues has about 90 active reporters around the world, while RMR has hundreds of registered radio promoters that is for all genres, and on a weekly basis you are lucky if 30 report to the Blues Chart. In the end though, any new release has a limited lifespan. Within 3 or 4 months, it's time for the next batch of releases and your release has passed it's expiration date.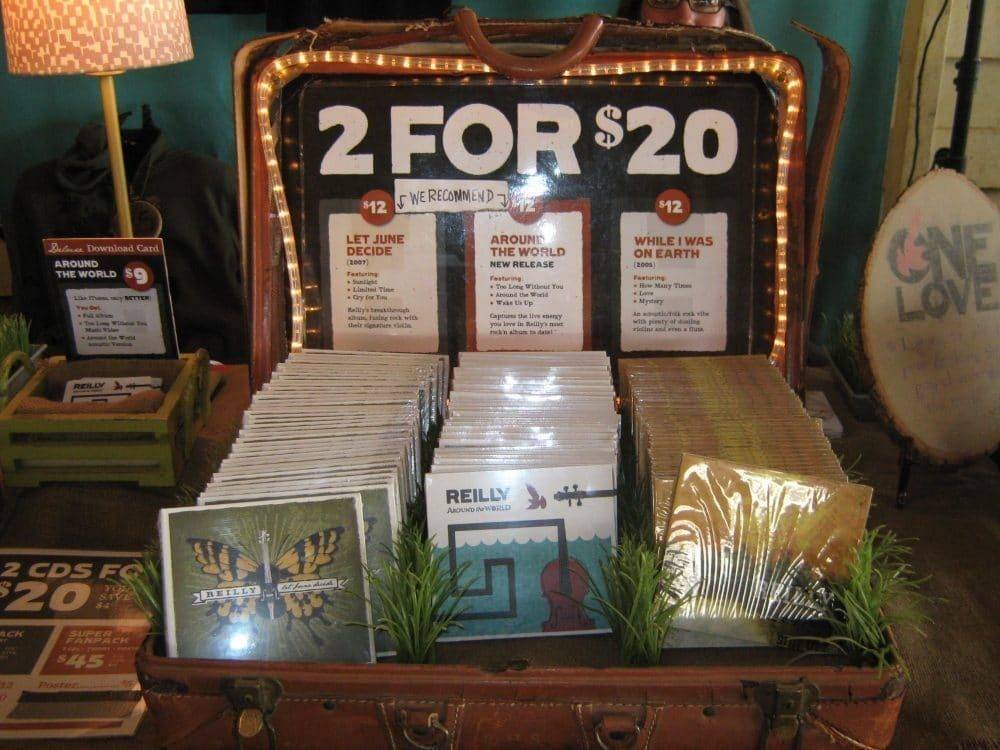 Street talk is that folks like Bruce Iglauer don't spend a lot of time Looking at the Living Blues or RMR Charts. Why, Because, they are running a business, and you make money with sales not radio airplay! In the Music industry, the reflection of a release's Sales is reflected in the Billboard Charts. Both Living Blues and RMR are based on Radio airplay and have no relation to a CD's actual sales. If you think that radio airplay will result in more sales, compare the Billboard Blues Charts with the radio airplay charts (RMR or Living Blues) and you will notice there is little correlation between them.

Billboard Blues Chart – https://www.billboard.com/charts/blues-albums
Living Blues Chart – https://livingblues.com/category/radio-charts/
RMR Blues Chart – https://www.rootsmusicreport.com/charts/view/album/genre/blues/weekly

If you are looking to attract Labels, Agents, Managers etc., the reality is they are more interested in total sales numbers and tour history then radio airplay position.

If you are indie artist or label and you want to report your sales, you should:

1) Register Your CD With SoundScan – https://titlereg.soundscan.com/soundscantitlereg/

2) Report your Venue Sales to SoundScan This method will cost only about $10 per month – https://atvenu.com/soundscan
NOT ALL CHARTS ARE THE SAME
Of the two "Radio Airplay" charts, Living Blues is clearly the most important. In The Living Blues charts, they treat all stations as equal, and only allow traditional terrestrial radio stations to report to them.
RMR on the other hand allows both Terrestrial and Internet stations (and shows) to report to them. One of the problems RMR has had, is every so often a station crops up and tries to manipulate the chart by reporting false or inflated numbers (some even have been known to charge artists for large spin counts). More Often then not they get caught, because RMR does work hard to look for stations that report inflated numbers. But despite their best efforts, there are instances where such false reporting does slip through the cracks. Also, not all stations are treated as equals with RMR. A spin is not counted the same for internet stations as they are for traditional radio stations. There is a formula (that is not available to the public) on how a each station station is pro-rated. Some stations are given lower rate per spin then others. Even among the same type station (internet or terrestrial) there may be different spin count pro-rate applied to them. So the artist with mores spins doesn't always chart higher.
Here is a quick example. For weeks Tommy Castro has been #1 and Albert Castiglia has been #2 on the Main RMR Blues Chart. As you can see below, although Albert has more spins and more stations, he is not #1. This is not a knock on either Tommy or Albert, this is just how RMR works because of the Pro-rating of spin counts.

Don't be a Pretender!
Now, we get upset when politicians, or sports figures, or companies lie or stretch the truth (at least we should). But, unfortunately in blues, there are some artists who use some of the chart information to over inflate their position in the genre. It is important serious artists to learn how things work and the Blues artist should not be any different.
Another problem with RMR, is the fact that there is a Blues Chart for just about everyone! The only valid chart is at is the Main Blues Chart. As you get into the sub genre's and State charts the competition for slots diminishes. In fact with some of the charts there are so little competition they have a hard time filling them out with artists. So essentially you can get 1 spin on 1 station and end up on one of these charts if you set your sub genre up right or you are in a state that has very few artists listed as being from there.
The State field is rarely filled in because most DJ's (who do most of the filling in) don't take the time to either find out where an artist is from or they just don't feel it's important to fill it in. This leaves the State charts mostly useless and at best unreliable!
Sub Genres Blues Charts include (but not limited to)
Blues/Rock, Contemporary/Blues, Acoustic Blues, Soul Blues, Electric Blues, Jazzy Blues, Chicago Blues, Jump Blues, Classic Blues. Then you have the 50 "State" charts on top of them. This also holds true to the other genres on the RMR charting system.
Think about this, when the #50 CD on the "Blues" chart was played 11 times, and had 7 stations playing them and you get some artist who posts a thank you to all the DJ's around the world for playing Their CD because it ended up on a Sub Genre chart or state chart (when only four stations Played the CD), shows that they either know little about the details behind that chart or they are trying to inflate their true standing. I'm sure many don't realize what they are doing, but some certainly do know.
What this really means, and this is FACT not an opinion, is if you are not in the top 50 of the Main RMR Blues Chart and you appear on one of the State or sub genre charts you have less airplay than the #50 Blues CD on the Main Chart.
The last Royal Southern Brotherhood CD, did amazing on Billboard, Living Blues, RMR, and Jam Band. It was released in June of 2016 so it's run ended many months ago. The group hasn't been together in over a year. The week of Dec 23, 2017 they had 4 stations playing them with 62 spins, yet they are number #15 on the Blues/Rock Chart this week. This is the 79th week on the Blues/Rock chart, it is meaningless. It also means that the CD's #16 – #50 on the Blues/Rock chart have even less airplay.
Singles
When was the last time there was a real true Blues single that was a hit (20 years ago ?). Some artists really think they have 4 singles in the Top Ten, and yet don't make the Top 50 CD's. It's mathematically impossible. So why does it happen?
Because the SINGLES chart is missing a ton of airplay reports because some stations don't report the track name and instead report UNKNOWN. This skews the results of the chart and renders it pretty much useless.
CONCLUSION
If you a new artists wanting to make it, and you are looking to get some radio airplay. I strongly suggest you examine your goals and business plan. If you decide to hire a publicist or a radio promoter, you should discuss your goals for the CD with them . Listen to what they tell you. The good ones will give you a real idea of what your expectations should be.
If you insist on going into the project and your expectations are to get: Thousands of CD's Sold, Higher Paying Gigs, A National Tour or an agent or record company beating down your door. Well, you are wasting your time and Money.
The bottom line radio airplay is only one part of the equation to help get your name out there. There is so much more that you need to do and a good radio promoter on your team will help guide you to what you have to do. But, if you are not willing or able to support your airplay with the hard work that come with touring and creating a fan base one town at a time. Then you are not serious, and nobody will see you as anymore than a vanity project.