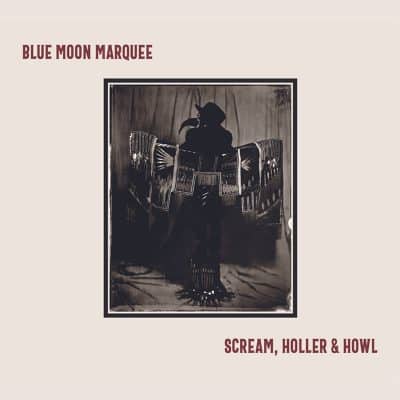 Blue Moon Marquee
Scream, Holler & Howl
Blue Moon Marquee Music
Okay, based on several reviews in the past few weeks, this writer is a bit humbled as traditional blues releases are more plentiful than originally indicated. Here's another, this time with an augmented duo. Blue Moon Marquee is a Canadian Gypsy blues duo with all mostly original material. They are A.W. Cardinal (vocals and guitar) and Jasmine Colette (upright bass/foot drum/vocals). The guests are Darcy Phillips (keys), Gerry Cook (tenor and bari sax), Matt Pease (drums), Bonnie Northgraves (trumpet), Paul Pigat (guitar), and Senor Erik (tambourine) with producer Duke Robillard adding his guitar to six tracks. Many of these same musicians appeared on the duo's previous release, 2019's acclaimed Bare Knuckles and Brawn. Like most vintage recordings, this one was done live in studio.
Robillard describes the sound on this, their fifth full-length album, as "…an amazing genre-bending ride through American blues and folk, gypsy jazz, Native American themes, jump blues, swing and more." A.W. Cardinal sings in his hoarse, weathered Tom Waits-like voice "Going down to the honky tonk…going down to the local dive" in the opening title track to a swinging bassline, punctuated by Cook's sax solo and Phillips' swirling B3. Cardinal pays a sweet ode to his ride in the mid-tempo "Thunderbird" with Robillard delivering a trademark solo. Hints of rockabilly infuse "Hounddog on a Chain," Jasmine Colette's first vocal with Cardinal and Phillips in high energy support. Robillard returns, exchanging guitar riffs with Cardinal on the haunting, wildfire inspired "Thick As Thieves" – "This smoke is a thick as thieves/Pouring out like/Water on the ground/Til There is nothing left to bleed." Colette is sultry in the late-night jazzy "Lowlands" featuring strong turns from Northgraves on muted trumpet while "Come On Down" heads toward the low end as Colette again takes the lead, in another sensual performance, highlighted by Cook's baritone sax solo and Cardinal's tremolo guitar.
"Long Black Train," sung by Cardinal, is one of two Lonnie Johnson tunes and it's highlighted by stellar soloing from Phillips on B3 and Cook on bari sax. The other, "Another Night to Cry" is the closer and features Cardinal singing to the accompaniment of Robillard on acoustic guitar while he plays electric, both soloing brightly while Phillips opts for piano in this Delta blues styled rendering.
"Country Man" is a soft shuffle with spirited guitar interplay between Robillard and Cardinal while "My Wild Rose" lies somewhere between vaudeville and rockabilly with guitarist Paul Pigat picking brilliantly. Cardinal claims to be the cure for all ills as he swoons through "Medicine Man," taking the guitar parts himself on both electric and acoustic as Colette walks a steady bass line and Phillips keeps it bouncing on the piano. Colette returns for the slow burner, "Old Alberta," seeking some quiet time by the river while Cardinal (electric), Robillard (acoustic), and Phillips (piano) soothe her on her journey. Instrumentation stays intact as Cardinal roars through the evocative blues of the impending storm in "Red Dust Rising." This one's down and dirty, a standout Howlin' Wolf-like track, invoking a touch of Native Americans in "I got my war paint on/saddled up and ready to ride."
As this writer concluded on this previous effort in another outlet, the following statement holds. Blue Moon Marquee has harnessed the best of vintage music that's practically a century old and brought it into modern times. It's part haunting, part joyous, and sneakily infectious. And, we'll add that it's just a tad better this time with Robillard's guidance and guitar.
—Jim Hynes
Help Support Making a Scene
Your Support helps us pay for our server and allows us to continue to bring you the best coverage for the Indie Artists and the fans that Love them!
Make a one-time donation
Make a monthly donation
Make a yearly donation
Choose an amount
Or enter a custom amount
$
---
Your contribution is appreciated.
Your contribution is appreciated.
Your contribution is appreciated.
Donate
Donate monthly
Donate yearly
You can donate directly through Paypal!
Subscribe to Our Newsletter