Making a Scene Looks at Bandlabs new Aquisition "AirBit"
Introduction
Bandlab has  been quietly (or maybe not so quietly) acquiring indie music assets since 2015! They started by purchasing the Cakewalk DAW Software product SONAR from Gibson and released it as a FREE download (which now they plan to release a new version as a paid for DAW). They then purchased Reverbnation, one of the largest EPK/Social Media Platforms for Indie Artists, and now they have added "Airbit" a Beat Marketplace for producers and artists to sell and purchase beats.
In addition Bandlab itself is a powerful creation, Collaboration and social media platform that includes loops, a FREE Online DAW and so much more. Definitely worth signing up for a free account and join the over 60 Million users on the platform!
BandLab's vision is simple: A future where there are no boundaries to making and sharing music. Founded in 2015, BandLab is the next-generation social music creation platform on a mission to break down the technical, geographic, and creative barriers for musicians and fans. Free-to-use, the mobile-first cross-platform DAW and social network, unites the entire creator journey into one place, boasting a suite of features and tools for creators to make music, share their music with fans, earn a living, and even top the charts.
AirBit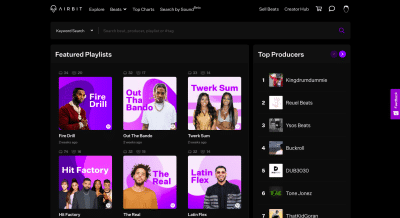 Airbit is a seamless and trusted global music marketplace providing creators and producers with everything they need to advance their artistic freedom and success. To date, Airbit has paid out over $50 million to its network of producers around the world
BandLab, is proud to announce exciting new integrations with Airbit, a leading global beat marketplace, that enables Airbit users to seamlessly share their beats to BandLab's worldwide audience of creators. With a unified commitment to amplifying the reach and potential of music creators, this collaboration not only enhances the connection between beat creation, sharing, and promotion but also bridges the gap between sellers and buyers.
Rolling out today, users can embed their beats directly in BandLab posts from Airbit. This integration lets Airbit creators amplify their beats to a broader audience and also benefit from using BandLab Boost to promote their posts to trending feeds. With Airbit embeds on BandLab, producers can effortlessly share their beats with a broader audience, tapping into BandLab's vast community of over 60 million creators.
Beyond native embeds on BandLab, producers on Airbit will also have the ability to natively "Share to BandLab" any beat on Airbit's catalog of over 1 million beats available to license or purchase. Once clicked, BandLab will open with the beat already embedded in a new post, making the process even more seamless for producers looking to promote their creations. Native embeds will only be available on web upon initial release, with mobile compatibility to come in future releases.
This integration builds upon Airbit's recent announcements of eliminating platform Marketplace commissions, enhancing its free Basic plan, and the ability for users to register with and log into Airbit using their BandLab account, similar to how one would sign in with other third-party platforms.
BandLab Technologies acquired Airbit earlier this year, a union that was followed by a successful $25M Series B1 funding round that elevated the company's valuation to $425M post-money.
"Our goal has always been to empower creators by providing tools to amplify their voice and vision," says Meng Ru Kuok, CEO & Co-founder of BandLab Technologies. "This is just another step in bringing Airbit's expansive beat marketplace to BandLab's passionate community and a testament to our dedication to creating a seamless and rich ecosystem for creators worldwide."
Wasim Khamlichi, CEO & Founder at Airbit, added, "This is a monumental step for both Airbit and BandLab. Our objective remains clear as we continue to integrate — providing creators a platform where their work gets the spotlight it deserves."
To learn more and explore these new integrations between BandLab and Airbit, visit bandlab.com and airbit.com.
To find out why over 60 million creators love and use BandLab, visit bandlab.com or sign up for free on the App Store or Google Play.
Help Support Making a Scene
Your Support helps us pay for our server and allows us to continue to bring you the best coverage for the Indie Artists and the fans that Love them!
Make a one-time donation
Make a monthly donation
Make a yearly donation
Choose an amount
Or enter a custom amount
$
---
Your contribution is appreciated.
Your contribution is appreciated.
Your contribution is appreciated.
Donate
Donate monthly
Donate yearly
You can donate directly through Paypal!
Subscribe to Our Newsletter