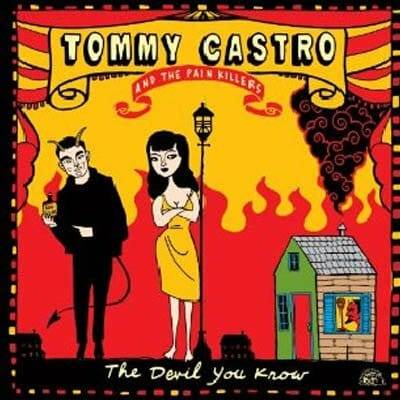 Tommy Castro & The Painkillers
"The Devil You Know"
Alligator Records
Tommy Castro's last four albums have all been nominated as Blues Album of the Year at the annual Blues Music Awards. Overall he has received twelve Blues Music Award nominations and won six ties; not a bad percentage. Castro's first Alligator Records release, 2009's "Hard Believer," garnered him this and three other awards including Entertainer of the Year. His 2011 nominated release was: "Tommy Castro Presents The Legendary Rhythm & Blues Revue – Live!"
This new album features The Painkillers, a smaller and more rockin' unit than previously. Guitarist/vocalist Castro is re-united with bassist Randy McDonald and added Byron Cage (formerly with Joe Louis Walker), drums; and James Pace, keyboards (from Ana Popovic).
Castro has written or co-written nine songs. His ability to collaborate is one of Castro's hidden talents. Always a perfectionist, Castro has honed his skills as a songwriter, bandleader and performer. Also included are many highly skilled guest artists, whose participation is a tribute to Castro's work ethic but also to his overall contribution to our music community.
Guest artists include guitarists, Tab Benoit, Joe Bonamassa, Samantha Fish and Mark Karan (of Ratdog). Keyboardists include Marcia Ball, Mike Finnigan (from The Phantom Blues Band), Jimmy Pugh (of The Robert Cray Band), Mike Duke (from Delbert McClinton) and songwriter Bonnie Hayes. Magic Dick guests on harp, while background vocalists include The Holmes Brothers.
Tommy's powerful guitar opens the title track; while Pugh's organ sets up his vocal on "Second Mind" with Leah Tysse and Vicki Randle (of The Tonight Show Band) on backing vocals. Pace's organ highlights "Center of Attention."
Castro covers J.B. Lenoir's "The Whale Have Swallowed Me," Andre Williams' "Mojo Hannah" and Wet Willie's "Keep On Smilin." My favorite on the album is "She Wanted to Give It to Me." The album closes with "That's All I Got" and "Greedy;" two songs formerly released on a limited edition 45.
Look for Tommy Castro to own the relatively new Blues Rock category at next year's Blues Music Awards.
Richard Ludmerer