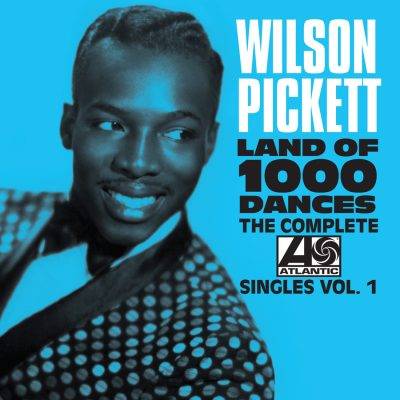 Wilson Pickett "Land of 1000 Dances – The Complete Atlantic Singles Vol. 1" www.RealGoneMusic.com
One of the most significant sixties soul superstars; Wilson Pickett invented some of the most ardent dancefloor favorites of all time. Pickett also originated the early sounds of southern Soul co-authored with well-known session players in Memphis and Muscle Shoals. "Land of 1000 Dances – Complete Atlantic Singles Vol. 1" collects twenty-two of Pickett's earliest and soul defining signature hits that began in 1964 (and on Vol. 1) conclude in 1967.
The Don Covay/Pickett authored "I'm Gonna Cry" from '64 opens this recording and it sounds dated as is "For Better or Worse," both are from the same year. From '65 are "Come Home Baby" and Pickett's "Take a Little Love" duets with Tami Lynn. But it wasn't until Steve Cropper and Pickett hooked up with "In the Midnight Hour" that they blew the doors off when Pickett screamed to number one on the R&B charts, and twenty-first overall on the pop charts. The flipside (also by Cropper and Pickett) "I'm Not Tired" swung with a good deal of early Soul and Blues influences but (it sadly) flew under the radar – though it's a really solid tune. Cropper and Pickett went on a roll with "Don't Fight It" also from '65 charting to number four on the R&B hit parade and fifty-three overall. The now inseparable team of Cropper and Pickett released the Gospel tinged "It's All Over" in '66 with little fanfare, but that same year Cropper connected with Eddie Floyd sprinting to the top of the R&B charts with "634-5789." They followed with the Cropper-Floyd-Pickett classic "Ninety-Nine and a Half (Won't Do)" immortalized with Cropper's superb guitar riffs; peaking at number thirteen. Cropper and Pickett continued their collaborations with the underappreciated "Danger Zone" also from '66.
During the mid-part of '66 the burgeoning Pickett smartly shuffled over to Muscle Shoals, Alabama at the legendary Fame Studios and erupted with a (previous 1962 minor hit) authored by the New Orleans based Chris Kenner "Land of 1000 Dances." Pickett hits an upper-deck grand slam with yet another number one R&B hit for himself and for Kenner. Pickett and company would remain at Fame during the remainder of '66 into '67 striking with Sir Mack Rice's "Mustang Sally." Don Covay's and Ronnie Miller's Bluesy and appropriately titled "Three Time Loser" didn't chart but is very notable. They did hit gold again in '67 with Pickett calling out the great Solomon Burke on Burke's powerful "Everybody Needs Someone to Love." Its songwriter heaven with Bobby Womack's "Noting You Can Do" didn't chart but is a solid and deeply soulful tune. Pickett delivers the goods on the Falcons smoldering soul grooves of "I Found a Love" parts 1 and 2. Pickett collaborates with producer Jerry Wexler on the groove oriented "Soul Dance Number Three" and skates on the concluding "You Can't Stand Alone" by the same author who gave the Rascals "Good Lovin'" Rudy Clark; that also includes a riveting Spooner Oldham organ solo. * Note: it only took four days for Pickett to laydown ten tracks at Muscle Shoals and four were mega-charting hits. But the best was yet to come.
These twenty-two original mono mixes were previously unavailable on CD. Joe Marchese's five-page liners are very informative, as are the detailed track descriptions that reveal songwriters, and the year each song was released. Track-times cannot be found anywhere in the booklet, back-liner or CD. Why? I don't know. Marchese also alludes that there will be subsequent Wilson Pickett editions – stay tuned.
** Additional note: For completest needing more checkout: "Funky Midnight Mover: The Atlantic Studio Recordings (1962-1978)" box-set. Pricey but its nicely packaged with an elaborate booklet and boasts six CD's. But the extensive six CD box does not include the twenty-two "mono" tracks included on Real Gone's "Land of 1000 Dances – The Complete Atlantic Singles Vol. 1." These mono tracks are very much worth the price of admission and more.
For 17 years Bob Putignano has been pivotal with his Sounds of Blue radio show. Hear new Homegrown Sounds of Blue internet radio shows: https://soundsofblue.com/radioshowsmp3.htm
Sounds of Blue can also be heard every Wed. at John Sinclair's www.RadioFreeAmsterdam.com Previously a contributing editor at Blues Revue, Blueswax, and Goldmine magazines, currently the Music Editor for the Yonkers Tribune www.YonkersTribune.com & www.MakingAScene.org Bob was also the 2003 recipient of the "Keeping the Blues Alive" award (given by the Blues Foundation in Memphis) for his achievements in radio broadcasting. Putignano can be contacted at: BobP@SoundsofBlue.com