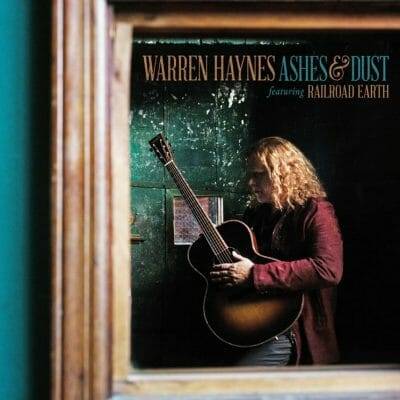 Warren Haynes has strong Southern roots and he uses them all on his new album,
Ashes & Dust
, which will be out July 24. He has long been a favorite in the Atlanta area and has performed here many times.Haynes is best known for his 25 years with The Allman Brothers and his long career with Gov't Mule, as well as for touring with the remaining members of The Grateful Dead as The Dead. For this CD, he very successfully joins with Railroad Earth to create a CD that perfectly captures Southern culture and experience in sensitive songs that draw on blues, country, and folk to evoke a thoughtful storytelling mood."Company Man" especially resonated with this reviewer because I grew up in a company town and my father worked for the mill all his life, as did nearly everyone else in town, until it closed. Haynes does a wonderful job of capturing this pivotal element in the lives of so many generations of Southerners.Another favorite on the album is "Blue Maiden's Tale," a ballad firmly rooted in Appalachian folklore but with a twist.The most surprising favorite for this writer is"Gold Dust Woman," featuring Grace Potter as Haynes' duet partner. Not being fond of Stevie Nicks as a vocalist has sometimes kept me from appreciating this admittedly well-written song, but this version is just spectacularly good.In fact, all of these songs are exceptional and the music is perfect. The fiddle throughout, provided by Tim Carbone is particularly effective, while John Skehan's mandolin and Andy Goessling's banjo and National steel guitar also provide just the right mood with Haynes' electric, acoustic and slide guitar. Then there is that marvelous harmonica provided by guest Mickey Raphael on "Wanderlust," which also benefits from sensitive harmony vocals by Shawn Colvin. Other guest musicians include Oteil Burbridge on bass on"Spots of Time"and Marc Qinones on drums and percussion on "Spots of Time" and "Beat Down the Dust."
It is amazing, really, that a performer can record and tour for decades and still sound as pure and strong as he did when he started, and Haynes' writing has never been better. Railroad Earth is an ideal backing band for him as well. This album is as strong as anything in Haynes' extensive catalog and belongs in the colletion of any lover of roots and Americana music.
https://open.spotify.com/artist/73iWh9WUMf0xK6cRkNJK4h