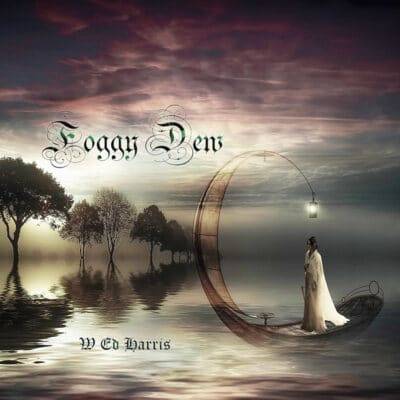 W. Ed Harris
The Foggy Dew
Independent
Ed Harris has just released album number nine and again he managed to add another masterpiece to his vita.
Based in North Carolina, Ed started making music at the tender age of 5 and then discovered his love for Celtic music, which has been his focus for over 30 years. As a multi instrumentalist, he has already received numerous awards and you can rightly say that every single one of them is well deserved.
The new album "Foggy Dew" combines traditional reels, featuring fiddle, banjo, mandola and other instrumentation … A brilliant mix of ballads, fascinating guitar solos and a very personal song that he dedicated to his brother.
Songs full of feeling, some instrumental, others with Ed's haunting voice like the title track "Foggy Dew", a ballad with an almost calming effect and a wonderful melody.
"John Barleycorn", another ballad with a touch of country music, great lyrics and a melody that catches your ear, crowned by the really outstanding voice of Ed.
"The Frieze Britches", traditionally Irish, an instrumental where it is difficult to keep your feet still, an impressive interplay of the instruments that the singer has mastered more virtuously than almost any other.
"The Water is Wide" is a Scottish Ballad which he heard first when he was a teenager. In the 80s he met a gal who was a brilliant vocalist and they decided to record it and they played James Taylor, who was always an inspiration, to do a demo tape. The song appeared on the 1991 album "New Moon Shine" and it is not known whether it was a coincidence or whether James Taylor was really inspired by this recording. In any case, the song is a tribute to a time in Ed's life that was full of ambition.
"Williams Song" is the piece he dedicated to his late brother and his way of coping with grief. His younger brother died last year of complications from Covid and Ed has always looked up to and adored him. What a wonderful and soulful tribute!
"A New Dawn" is another original tune that deals with the difficult time last year and the hope for a better and easier time for all of us.
This is just an excerpt from the absolutely brilliantly successful album and will make your mouth water for more.
Ed Harris knows how to bring tradition and modernity together like no other. One of the most versatile artists that I know and that I would like to see live, because even while listening, a very special atmosphere becomes tangible … and how great it must be to hear this musician on stage! While listening to this masterpiece I already can't wait for the next…that's what Ed does…he takes the audience with him and he captivates us with his incomparable style.
Help Support Making a Scene
Your Support helps us pay for our server and allows us to continue to bring you the best coverage for the Indie Artists and the fans that Love them!
Make a one-time donation
Make a monthly donation
Make a yearly donation
Choose an amount
Or enter a custom amount
$
---
Your contribution is appreciated.
Your contribution is appreciated.
Your contribution is appreciated.
Donate
Donate monthly
Donate yearly
Subscribe to Our Newsletter
Find our Podcasts on these outlets