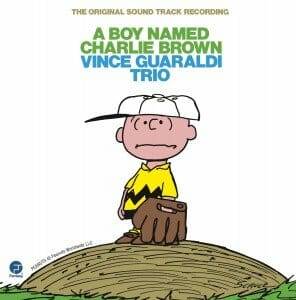 The Vince Guaraldi Trio "A Boy Named Charlie Brown" Fantasy – www.ConcordMusicGroup.com
The background storyline here is almost as fascinating as the music contained. "A Boy Named Charlie Brown" was written for a 1964 TV program, but it never saw the light and never aired on television. Equally fascinating that very same year of 1964 Fantasy Records went full steam ahead and issued "Jazz Impressions of a Boy Named Charlie Brown" the album sold well, but Fantasy never received the marketing bump it anticipated had the TV program aired on national television. So fifty years afterwards we now know the story behind the story. Which is wild: especially considering the subsequent success of Charles M. Schulz's Peanuts. Furthermore it was on this same recording that "Linus and Lucy" (often called the Peanuts theme song) made its debut, and in fact was the catalyst that resulted in Guaraldi getting the gig to become the musical director for successive Peanuts episodes. By the way Guaraldi's "Linus and Lucy" reached a wider audience when CBS-TV televised "A Charlie Brown Christmas" on December 9th, 1965.
Even though most of us will relate back to our childhood days watching and listening to Peanuts, these recordings are not just children's songs. Guaraldi's penned tunes truly brought to life the whimsical Peanuts gang characters, it was a marriage made in heaven that almost did not happen. Director/producer Lee Mendelson's third choice was Guaraldi. Dave Brubeck was first contacted by Mendelson, but he was too busy. Next a call to vibe player Cal Tjader, but he too was busy. Years later both Brubeck and Tjader were quoted saying they wished they weren't busy at this time… So Guaraldi's trio with bassist Monty Budwig and drummer Colin Bailey were inserted. And they must have had a ball backing the cartoon characters, and they probably also obtained comfortable financial success above and beyond most of their jazz musician peers.
"A Boy Named Charlie Brown" might be Guaraldi's best work. It is a great album of piano jazz that also supports the fact that Guaraldi was also a brilliant composer who was able to provide the perfect backdrop to the entire Peanuts characters. Bonus tracks include a lengthy cover of "Fly Me To the Moon" which isn't memorable, and an alternate take of the previously unreleased "Baseball Theme." The CD packaging is high quality, the recent 2014 Derrick Bang's liners are enlightening, plus the original liners by Ralph J. Gleason are delightful. Joe Tarantino's audio re-mastering proves (once again) that he's one of the best in the business.
Note: A limited edition fiftieth anniversary vinyl reissue of the original 1964 "Jazz Impressions of a Boy Named Charlie Brown" is also available in a gatefold jacket that houses the LP in "orange" vinyl. Also included are 8×10 reproduction lithographs of the Peanuts crew.
For fifteen years Bob Putignano has been pivotal at WFDU with his Sounds of Blue radio show: www.SoundsofBlue.com – Previously a senior contributing editor at Blues Revue, Blueswax, and Goldmine magazines, and Music Editor for the Westchester Guardian. Putignano can be contacted at: bob8003@yahoo.com