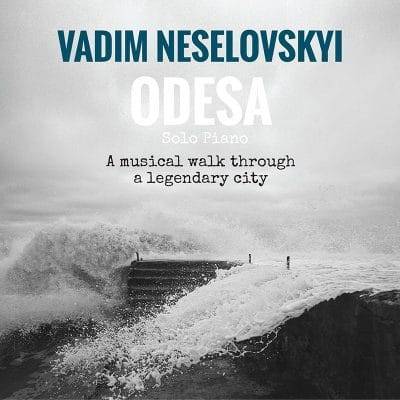 Vadim Neselovskyi
Odesa: A Musical Walk Through a Legendary City
Sunnyside
The images of Ukraine that we see today are of war-torn cities while press reports and video clips praise the resilience of its people. Pianist and composer Vadim Neselovskyi gives us an artful, insightful musical tour of one the countries most famous cities, Odesa, in this highly inspired solo piano recording. Proceeds and concerts related to the work will benefit Ukraine humanitarian efforts. What some may not realize is that Ukraine has undergone more than its fair share of strife since the pianist's birth in 1977. The country was part of the Soviet Union then under Brezhnev and later Gorbachev, until the pianist saw the federation collapse in 1991 as a 14-year-old. The pianist was a child prodigy, the youngest ever accepted in the Odesa Conservatory. Beginning with classical, he became attracted to jazz, and furthered his studies at Berklee in Boston. The pianist regularly returned to Ukraine to perform at the height of the Crimean conflict in 2014 and following the downing of a Ukrainian aircraft at Berklee's Concert for Ukraine in 2015. So, in recent periods his work has been associated with political causes. Here, he chooses a different route, painting images of his home city.
In his own words, "I was born and raised in Odesa, Ukraine –a gorgeous harbor city on the Black Sea. I know that in Western Europe and also in the US almost everyone has heard of Odesa, and yet not many people really know much about it. Some have heard of this city because of Eisenstein's film "Battleship Potemkin" …Many know Odesa as a very important center of Jewish life at the beginning of the 20th century…In my new project I want to tell my personal story about this city. In a way I am inspired by Modest Mussorgsky's "Pictures at an Exhibition" …My new piece, "Odesa – A Musical Walk Through a Legendary City, takes the listener on an imaginary tour around my hometown, filled with memories, historical references, flashbacks, dreams…"
Seldom has a musician so brilliantly conveyed visual and aural imagery through his music. Immediately, there is no doubt that the listener is at a railway station in his opening piece which paints the bustle and energy of passengers arriving and departing rumbling and roaring trains. As the melody takes hold, it slows to symbolize the derailment of a train, only to rise and gather again. The placid "Winter in Odesa" is its musical opposite, played with carefully chosen spare notes to depict the beauty of the ice-covered city. "Potemkin Stairs" goes in a rollicking direction, as the pianist captures the city's most famous landmark, featured in the aforementioned film. The decrescendo toward the end, marks the stairs leading to the oft-ferocious Black Sea, depicted on the CD cover art. He then again moves from his energetic, percussive style to the most delicate in "Acacia Trees," evoking the white acacia, the symbol of Odesa. By the way, his superbly written enclosed booklet shares more insight into each of these pieces and helps to further your understanding of how deeply personal this project is.
"The Waltz of Odesa Conservatory" naturally has more classical motifs as the pianist recounts his shifting moods at the Conservatory as its youngest student ever. The next three pieces are essentially a suite within a suite as he honors the Jewish population that transformed the city into what it is today. "October 1941" is rather naturally a somber piece, replete with both stunning violent crashing keys, then a silent pause followed by mournful, bleakly sedate passages tracing to Hitler's genocidal acts while the "Intro to Jewish Dance" and "Jewish Dance" is polar opposite celebratory, recalling a lullaby that remembered by his mother. He sped up the tempo to paint the image of a lively dance, his fleet fingers and command of dynamics with both left and right hand are especially dazzling here.
Following a brief interlude, he recalls his first introduction to popular music in "My First Rock Concert," having witnessed a concert by legendary Russian rock star Victor Tsoy, who was a voice and symbol of change in the late '80s. Echoes of Tsoy's anthem "Blood Type" arrive in the climax of the piece. Another interlude sets the stage for the final composition, a prayer of sorts, "The Renaissance of Odesa," in the hopes that the city will continue to rebuild and endure after the tumultuous periods of the past 80 years, including the current threat. It begins pensively and continues that way, punctuated by very somber chords, one heavily dissonant one followed by just a few upper register notes to express hope.
While readers of these pages may not easily embrace solo piano recordings, save a Keith Jarrett or a Chick Corea that may reside in one's collection, Vadim Neselovskyi offers a very accessible, visually and emotionally expressive work here that is must listening. You owe yourself a listen. It will likely lead to repeats.
Jim Hynes
Help Support Making a Scene
Your Support helps us pay for our server and allows us to continue to bring you the best coverage for the Indie Artists and the fans that Love them!
Make a one-time donation
Make a monthly donation
Make a yearly donation
Choose an amount
Or enter a custom amount
$
---
Your contribution is appreciated.
Your contribution is appreciated.
Your contribution is appreciated.
Donate
Donate monthly
Donate yearly
You can donate directly through Paypal!
Subscribe to Our Newsletter