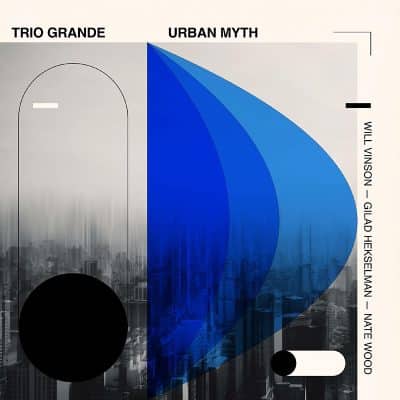 Trio Grande 2.0
Urban Myth
Whirlwind
We brought you the first foray of Trio Grande with their eponymous 2020 album featuring co-leaders guitarist Gilad Hekselman and saxophonist Will Vinson (also on synths and Wurlitzer). For that date they had Grammy-winning drummer Antonio Sanchez. That was their only showing as the pandemic precluded any chance of performing live as a unit. So, now we have a reformed version of the trio with multi-tasker Nate Wood on both drums and bass simultaneously. While that may be difficult to envision, there is a YouTube clip of Wood singing while also playing bass, drums, and keyboards simultaneously. So, amazingly he culled it down for this session. All three of these musicians have their hands in other genres such as rock, and folk so this music goes from searing jazz-fusion to soothing ballads without missing a beat. It's really three musicians acting the part of three or four as last time out Hekselman assumed the bass role via an octave effect routed to his lower strings. Similar electronic effects come into play here as well, mostly through Vinson on synths.
The album opens with the title track, combining Hekselman's love of the English electronic dance band The Prodigy and his love of Balkan music. Taken casually, it's a form of jazz-fusion and interestingly, this writer had it in rotation with Miles Davis's Dark Magus and except for real drums versus the hand percussion on Miles' album, the segue was relatively seamless. Hmmm!  Yet, as explained while we might be teased into a fusion album, we get one that's much more varied sonically. These compositions with two exceptions were penned by either Hekselman or Vinson. The first of Vinson's three is "Ministry of Love" with the saxophone and guitar sounding clean, flowing over a conventional jazz but slightly blues-tinged structure. Guitarists such as John Scofield, Pat Matheny, and Bill Frisell get far more recognition but by almost any measure Hekselman belongs in that conversation due to his creativity, and versatile familiarity with other genres. The two co-leaders are both inspired in their improvisational turns here.
"Navanad" is the second of four Hekselman compositions, a yearning piece steeped in folk, featuring the composer on acoustic guitar with the clear-toned Vinson blowing beautifully and Wood in restraint with especially judicious zephyrs of cymbals complementing both the articulation of the melody from both co-leaders. The tune quietly eases out as we move to the late Roy Hargrove's burning jam, "Strasbourg St. Denis,' full of sharp rapid-fire lines from Hekselman and Vinson individually and in heated dialogue, leaving space for Wood to make a statement as well. Back and forth we go, with Vinson's balladic "Olive Tree" very much resembling the tone of "Navanad" and the cover of Nik Kershaw's "Dancing Girls" sharing some of the opener's funky qualities, as Wood's bass line drives the club-like piece. Undoubtedly every trio member is using one or more pedals in this one.
The sublime blend of Vinson's horn and Hekselman's guitar shine brightest on Hekselman's "In My Head" that moves along languorously, ever so gradually gaining momentum, reverberating exquisitely, and culminating rather unexpectedly in a rousing climax. Vinson delivers the alternately ethereal, mysterious, and stately "Chorale," featuring yet another invigorating conversation between the two co-leaders. Hekselman's closing "The Gift" nods to Israeli guitarist Shay Chen and plays rather simply and triumphantly compared to the others with the guitarist in saxophonist in unison as if singing a gospel hymn until Hekselman takes a bluesy lead which Vinson builds on in his own turn.
Trio Grande remains on top of their game, as melodic as can be in one moment while igniting the dance party the next. One gets the sense they can play virtually anything as they take us on an exhilarating, intriguing ride.
Help Support Making a Scene
Your Support helps us pay for our server and allows us to continue to bring you the best coverage for the Indie Artists and the fans that Love them!
Make a one-time donation
Make a monthly donation
Make a yearly donation
Choose an amount
Or enter a custom amount
$
---
Your contribution is appreciated.
Your contribution is appreciated.
Your contribution is appreciated.
Donate
Donate monthly
Donate yearly
You can donate directly through Paypal!
Subscribe to Our Newsletter