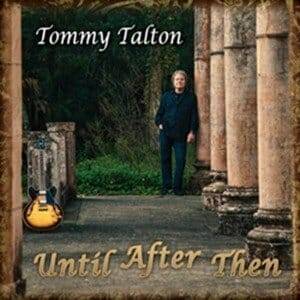 Tommy Talton
Until After Then
Hittin' The Note Records
Tommy Talton is from Orlando, Florida. He picked up the guitar at the age of eight and by the time he was sixteen he was in a local band. In 1969 Talton and Scott Boyer formed the Jacksonville based "Cowboy". Duanne Allman recommended them to Capricorn Records and in 1970 they released their first album "Reach for the Sky". The follow up album, 1971's "Five'll Getcha Ten", was a fabulous understated country rock album which still is a collector's item.
Johnny Sandlin, a producer for Capricorn, began to use Talton, as a songwriter and guitarist, and in 1971 Talton appeared on albums by Alex Taylor, and Livingston Taylor. Talton then began a long term relationship with Gregg Allman by appearing on his 1973 "Laid Back" debut, and on the live "The Gregg Allman Tour", both of which were co-produced by Sandlin.
In 2006 Talton formed The Tommy Talton Band. Talton's last album was 2012's "Let's Get Outta Here" also on Hittin' The Note Records. The eleven tracks on this new album were recorded between May 8th and August 25th, 2014.
"Until After Then" is the fabulous ska based groove that opens the album. Talton's guitar is perfect but I forgot how much I love his voice. He is joined here by Matt Slocum, organ; Frankie Nattola, bass; and David Keith, drums.
"Mr. Love" and "My, O, My" both possess a Sgt. Pepperish or Beatles type production. The band is the same as above except that Kenny Head has replaced Slocum on organ. On "You Got A Friend" the band becomes a trio sans the organ.
"Real Sugar" has that Southern rock feel. Talton is joined by Kelvin Holly, guitar; Billy Earheart, electric piano; David Hood, bass: and Bill Stewart, drums. The horn section of Brad Guin, sax; and Ken Watters, trumpet, complete the sound. This unit also plays on the beautiful "That Distant Light", and on the still relevant "I Keep My Mind On You".
"Love U A Little" is a syncopated children's tune featuring Talton on dobro; NC Thurman on piano and harmony vocal; Rick Hirsh, guitar, Frankie Nattola, bass; and Pete Wehner, drums.
Talton plays acoustic guitar on "The Man from Down Near Waco". He is accompanied by Kenny Head, piano; John Jackson, bass; David Keith, drums; and John Kulinich, electric guitar. The band is basically the same on the beautiful "She Was There" except Brandon Peeples is on bass. They close the album with a bit of surf rock on "Surfin' The Levee".
Talton's talent is displayed across a variety of genre's on this thoroughly enjoyable new album.
Richard Ludmerer
Tommy Talton – Until After Then from 11 Squared Films on Vimeo.