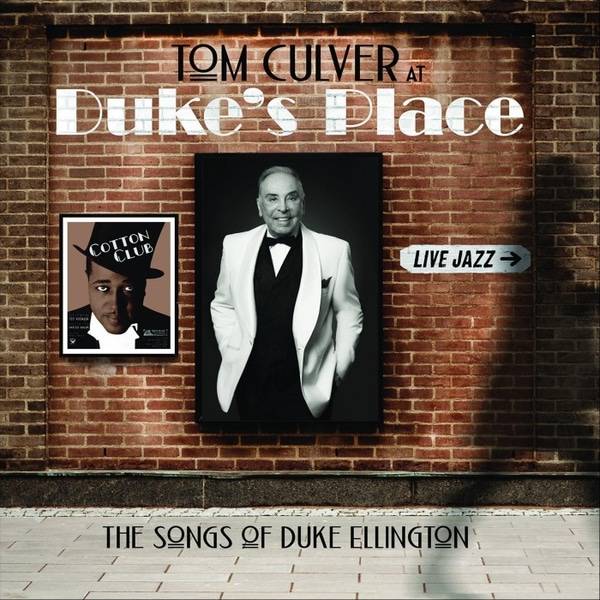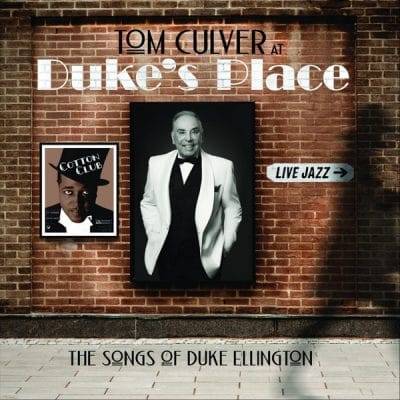 Tom Culver
Duke's Place
Café Pacific
Leveraging his acclaim from Tom Culver Sings Johnny Mercer, I Remember You, Culver now digs into the Duke Ellington's songbook on Duke's Place. These are songs that are certainly familiar, sung by an artist who clearly loves singing. Culver's enthusiasm is comparable to that of Tony Bennett's and while he doesn't quite match up to Bennett in phrasing or vocal nuance, (who does?) he's quite capable for an artist who is now delivering just his fifth CD. Ellington was master of blending sophistication, humor, and a 'don't take me too seriously" attitude. Culver does a great job of reflecting that in this set.
Culver didn't grow up as a vocalist, but he's seen plenty of bright lights as a three decade Hollywood wardroom man for stars on shows like The Love Boat and Murder, She Wrote. He knows all about elegance, fashion, and the fraudulent "putting on airs" attitudes too. Under the direction of esteemed vocal coach and producer Mark Winkler, Culver doesn't fake a thing and instead delivers a straight-ahead rendition of Ellington's tunes in such a way that one can envision Duke smiling down from above.
Calling on noted arranger-pianists Josh Nelson and Rich Eames who alternate in playing behind him, Culver and Winkler also have guitarists Larry Koonse and Pat Kelley , drummer Kevin Winard, bassist Gabe Davis, saxophonist Ricky Woodard and trumpeter Nolan Shaheed join them. Winkler sings in duet with Culver on the closing "Caravan."
The title track is known instrumentally as the vaunted "C-Jam Blues" and appropriately Culver comes out of the gate raucously, with Woodard blowing hard behind his vocal. Calm and restraint marks "I Let a Song Go Out of My Heart" and Eames' piano with Shaheed's muted trumpet give "I Ain't Got Nothin' But the Blues" its requisite late night vibe.
"Do Nothin' Till You Hear From Me" sounds like a pianist/singer in a ark, intimate hotel lounge. The tune was originally meant for a quintet, but Culver is joined only by Nelson for a stylish, unique rendition. Culver claims that "Everything But You" is his favorite track, perhaps because he succeeded in effortlessly phrasing some difficult lines. Woodard then contributes mightily to "Just Squeeze Me," treated here as a bossa nova rather than as its usually flirtatious blues, as well as in the relaxed "Mood Indigo."
Inevitably there's a Billy Strayhorn song in the mix with the under-the radar "Something to Live For," the first tune that marked the string of romantic compositions from the partnership. "Love You Madly," a signature Ellington stand-by was a predictable choice as was "Sophisticated Lady." "I'm Just a Lucky So and So" reveals Eames' gift for remarkable arrangements and Culver exits the way he entered, in smoking fashion as he and Winkler share the mic for "Caravan.'
Culver has a "Hollywood" Dean Martin-like vocal style, that differs vastly from the many blues-oriented interpretations of Duke's songs.  It works because of his enthusiasm and balance between swing and restraint, the sophisticated arrangements, and simpatico accompaniment. It's difficult to say it any better than Winkler, who says, "He's got a great sense of swing, a beautiful voice, and, like Tony Bennett, an almost palpable love of singing." Oh, and the unexpected helps too – unearthing the Strayhorn tune, transforming "Just Squeeze Me" into a bossa nova, and adding lyrics to some tunes that are usually instrumentals have Culver putting his stamp on the wonderful Ellington songbook.