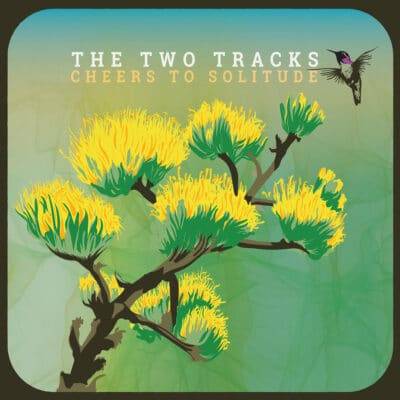 The Two Tracks
Cheers to Solitude
Cheers To Solitude, the newest album by Sheridan Wyoming's Funky-Americana quartet, The TwoTracks, releases on August 14, 2020 amidst radio charting buzz. The Two Tracks have been making a name for themselves nationally since their self-titled debut was voted "Wyoming Best Album" by Wyoming Public Radio In 2016. The 2017 release of Postcard Town and an extensive touring schedule turned a lot of heads coast to coast. Teaming up again with award winning producer Will Kimbrough, the Grammy-winning team of Trina Shoemaker for mixing, and Sean Sullivan for engineering (three individuals who are unstoppable on the music scene right now) might just give The Two Tracks the boost they've been striving to achieve. They are due.
The Two Tracks are a combined talent of two impressive songwriters, a Suzuki trained cellist, four-part harmony, a rhythm section driven by an honest to god train engineer, and a bass player with Jazz sensibilities. Julie Szewc's and Dave Huebner's songwriting each contributes a unique perspective on family, friendships, solitude, and living. Szewc's acoustic guitar and melodies are enchanting. Her influences include Dolly Parton, Rosanne Cash, and Linda Ronstadt. Julie's songs leave you feeling good inside. Huebner's, like his literary heroes Gary Snyder, Jack Kerouac, Henry Thoreau, and the "Beat" poets, are thought provoking.
Dave Huebner's cello is most responsible for the funky vibe. Equally at ease with both Bach and Beatles, Dave can drive a song to places we as listeners are un-accustomed. It's a nice surprise. Fernando (Fred) Serna has been a drummer and percussionist in bands all his life beginning at the age of nine when his dad bought him his first Pearl kit. By twelve he was playing Rancheta style with his family. Fred prides himself as being well-versed in all genres of music from Blues, Latino, Jazz, Rock and Country. Owing his style to great drummers like Omar Hakim, Alex Acuna, and Antonio Sanche,  he borrows all the time from Steely Dan, Pat Methany, and the Yellow Jackets. He listens to how those drummers approach the beat. Timing is everything and is the reason The Two Tracks excel at (the not so) simple shuffles and 16th notes on the hi hat. No stranger to the road, Fred has left the railroad life and now concentrates on family and percussion. His is a major influence on the band.
Taylor Phillips is the bassist for the band. Tempted by the family's baseball lineage, Taylor instead followed his passion for music. He spent time in Florida as a professional musician, attending jazz school while there. Eventually the pull to return home won out and The Two Tracks are the better for it. Dave usually plays cello or electric guitar, Perhaps in an idealistic future Dave could clone himself to play both cello and electric guitar at the same time as we hear on
Cheers To Solitude
, Could a new endeavor for the band see Dave's cello with Taylor's electric guitar blending together? Could this be something that will continue to elevate The Two Track sound?  A girl can hope. It should come as no surprise that I'm quite a fan of this group of artists. On the album, Will Kimbrough added mandolin, acoustic and electric guitars, dobro, banjo, organ, and backing vocals. Bruce Bouton provided pedal steel.
"Beautiful" begins the album with Dave's cello followed closely by The Two Tracks rhythm train and Kimbrough's mandolin. A song about finding heavenly beauty in the simplest treasures surrounding our everyday life. Four-part harmony and electric guitars drive "All Women Are Healers", a song reminding us to pay attention to the important people in our lives. The aforementioned blend of cello and electric guitar, and pedal steel is the high energy, "Good Company". As the song states, it ain't no cadillac but it's one helluva ride. "Past My Prime" is a commentary on the passing of time with sweet slide guitar and a smooth backbeat that reminds us that, "every now and then when the crowd gets real, and the musics good, oh it's all you feel". The strongest song on the album is the title track. Julie is a beautiful singer and her vocals are perfectly blended with Dave's soothing, and at time freaky, cello, the four-part harmony perfectly timed rhythm and addition of Kimbrough's well placed guitar voicing is stunning to the senses. This wasn't written with the pandemic in mind, but "Cheers To Solitude" is certainly something we all are feeling in these times. "Eternal School Bus", with its dobro, pedal steel, and jangly guitars, is pure Country in feel and Folk in its social commentary like. "Whiskey Please" is a modern "Tears In My Beer" song. "It's Too Easy" has a string band feel with it's addition of banjo. "Upside Down" is a bluegrass-barnburner with dueling mandolin and cello. "Red Yellow Orange" brings the 10 song album to a close. Cello, electric guitar, pedal steel, and Julie's vocal tone waltzes to a close as autumn of our lives draws near.
"Life changes with the colors of the trees

Red yellow orange and all those in between

We move ahead the musics slow

Swinging 'round to a do-is-do

How do we make it to bed"
Cheers To Solitude provides a refreshing distraction from the isolating pandemic and political stress. Songs written and recorded well before our current state, these songs speak to the emotions running rampant. The music is universal, it reminds us who we were, and will be again.
Viola Krouse August 13, 2020