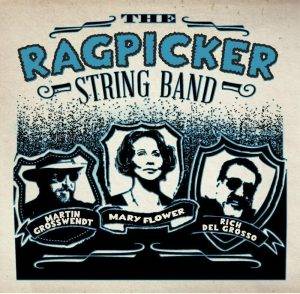 The Ragpicker String Band
Grosswendt, Flower and Del Grosso
Yellow Dog Records
The Ragpicker String Band is the trio of mandolinist Rich Del Grosso, guitarist Mary Flower, and multi-instrumentalist Martin Grosswendt. Their collective talents and appreciation for pre-war folk blues make this an excellent recording.
Del Grosso is a blues mandolinist who plays in a style similar to that of the late Yank Rachell who played with Sleepy John Estes. He also plays mandola and dobro. Del Grosso received a Blues Award Nomination in the category "Acoustic Album of The Year" for 2009's "Live From Bluesville" when he was in a trio with Fiona Boyes and Mookie Brill. He has also been nomintaed for BMA's five additional times as Instrumentalist – Other. In 2011 Del Grosso recorded "Time Slips On By" with guitarist John Del Toro Richardson and the album wound up being listed on Downbeat Magazine's Best of 2011.
Flower is a three time Blues Music Award nominee. She plays various guitars, including the lap slide, and has performed with Jorma Kaukonen, Tim O'Brien, Geoff Mudaur, Jon Cleary, Henry Butler, The Campbell Brothers and many others. She has ten recordings including 2005's "Bywater Dance" and 2011's "Misery Loves Company" also on Yellow Dog Records. Downbeat once said "Flowers weighs in on the close relationship between folk-blues and early jazz in a warm relaxed session…".
Grosswendt has shared the stage with Utah Phillips, Sonny Terry and Brownie Magee, Jesse Winchester, Tom Rush, Taj Mahal, Paul Geremia, NRBQ and many others. He first recorded with Phillips in 1973 and released his own first recording in 1979. Grosswendt plays guitar, mandolin, and fiddle. His knowledge includes Delta and Piedmont Blues; and Creole and Cajun music. Grosswendt also plays bass with the Cajun dance band Magnolia.
The album opens with "Honey Babe" written by Walter Vincson of the Mississippi Shieks. One can't help but be immediately impressed with the trio's harmony vocals. Also from the Mississippi Shieks is "Lonely One in This Town". From Sleepy John Estes the trio covers "Clean Up At Home"; my favorite "Black Mattie" and "Milk Cow Blues". The traditional "Trimmed and Burning" popularized by Kaukonen's "Hot Tuna" is also included.
From Thelonious Monk comes the standard "Blue Monk". Lil Johnson was a bawdy female singer in the 1920's and 30's and her "Minor Blues" is also covered. "Motel Towel" was written by the three time Grammy winning songwriter Randy Sharp and Jack Wesley Routh. Del Grosso delivers the tongue in cheek "Google Blues" written by south Florida's Rich Lyons and it is one of the highlights on this very special album. Flower contributes both "Bruno's Dream" and "Baby Where You Been". Del Grosso has also authored two; "By Your Side" and "Street Doctor Blues".
The Ragpicker String Band plans to tour in support of this album and they should not be missed. This is highly recommended.
Richard Ludmerer