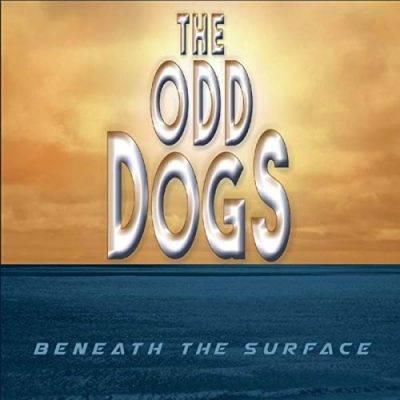 The Odd Dogs
Beneath the Surface
Manasus Music
The Odd Dogs are a fusion-based group comprised of top shelf L.A. jazz musicians and Beneath the Surface is their debut. The quintet includes bassist and leader Steve Billman, guitarist Jeff Miley, saxophonist and pianist Andy Suzuki, drummer Ralph Humphrey, and percussionist Billy Hulting. They are all veteran musicians, some of whom had their origins in progressive rock, which remains a major part of their sound. While some listeners relegate fusion jazz to the past ('70s-80s) The Odd Dogs and other bands this writer has covered in this space, prove that the sound is very much alive and vital.
The origins of the band trace back to five years ago when Billman and Miley collaborated on writing songs. Both hail from the progressive rock world and most of the tunes here are the results of their work. What makes progressive rock interesting to them and others who ply the genre is the instrumentation and compositional techniques usually associated with jazz, folk, or classical music. As such, Billman and Miley build pieces full of constantly changing meters and unexpected harmonic textures.
Some examples include the opener "Presence Unknown," which begins with a funky groove in 13/8 time and has a section reminiscent of Pink Floyd, with Suzuki playing different woodwinds to create different layers. "Failure to Authenticate" moves from 11/8 to 15/8 to 4/4 time and echoes Tool to Rush to Jeff Beck. "Title 5," written by Humphrey and Miley is perhaps the most straight-ahead jazz tune, while "The Beast" has some Texas-style guitar blues influence. "Monkish" is envisioned as Zappa band channeling the great Thelonious.
While the tunes are complex, there's plenty of melody and the changing patterns keep the listener engaged. When Suzuki was explaining the complicated structure of the title tune to his wife, she said that it didn't sound that complicated to her. He responded that the complexity lay "beneath the surface, thus the title of the song and CD.
The recording itself took some time to come about due to the busy nature of each member and the evolving concept of the group. After good friends Billman and Miley began writing, they brought in Ralph Humphrey, thinking they had the makings of a power trio. Billman got an email from Suzuki, who had been living in Berlin for five years and wanted to return to L.A. After rehearsing as a quartet, they felt they needed another layer and called on acclaimed percussionist Hulting to form the quintet.
Here's some more background on the players. Billman is a 40-year veteran, having played with Frank Gambale, Mike Stern, Billy Cobham, and Brain Bromber, among others. He also performed and wrote for the jazz/rock supergroup Continuum and made three albums with them. Miley leads his own modern jazz chamber quintet called BUG. He also performs and records with noted jazz vocalist Inge Swearingen and has received the Andres Segovia Performance Award from the American Guitar Society. Billman and Wiley have been friends since the '80s.
Drummer Ralph Henry's list of musicians played with runs the gamut from Frank Zappa and Mothers of Invention to Barbara Streisand and Mette Midler to Wayne Shorter, Al Jarreau, Toshiko Akiyosi and Pete Christlieb to name just a few. He, Billman and Miley teach at the Los Angeles College of Music in Pasadena. Suzuki, who overdubs his keyboards and woodwinds, performed in Europe with Robben Ford, Larry Carlton, Marcus Miller and Jan Garbarek. Percussionist Hulting has recently been touring with Zappa Plays Zappa, led by Dweezil Zappa playing the music of his dad.
As Miley says, "….rock-type playing while navigating jazz harmonies with people I hold in the highest regard." This is an opportunity to listen to musicians playing challenging music and having fun in the process.
[amazon_link asins='B07HNVX2YJ,B07HNGX49N,B07HNXH4KL,B07HNTMZYY,B07HNQ3NHR,B07HNP3V92,B07HNJ8LDP,B07HNHG7XM' template='ProductCarousel' store='maasc-20′ marketplace='US' link_id='302aef21-d093-11e8-8e6d-cba61db123ee']