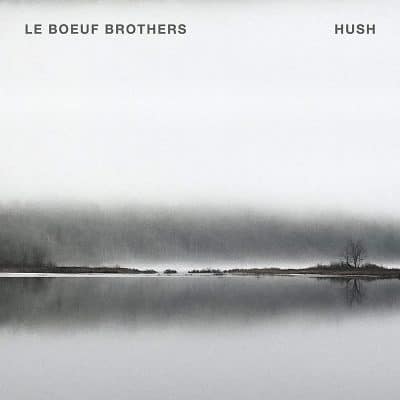 The Le Boeuf Brothers
Hush
Soundspore
If the sound and music of an album can be described in one word, the Le Boeuf Brothers have managed to do just that with this title, Hush. One does not find many jazz albums with 19 tracks as this has, but the many short vignettes or interludes serve the purpose of the whole – to create a calm mood. The twin brothers don't often get together to make music as each has recently made their respective mark as Grammy-nominated artists, saxophonist Remy in the direction of large ensembles, and pianist Pascal, for his compositions and electronic production. Pascal is currently an Assistant Professor in the Practice in Music and Technology at the Vanderbilt University Blair School of Music, and a Harold W. Dodds Honorific Fellow and Ph.D. candidate in Music Composition at Princeton University. Remy, on the other hand, is the Director of Jazz & Commercial Music Studies at the University of Denver's Lamont School of Music. Each recently got married and Remy just became a father. Distance, academic responsibilities, and parenthood are all obstacles in getting together. So, this project, as much as anything, is a family affair.
Working with bassist Linda May Han Oh, drummer Christian Euman, and tenor saxophonist Dayna Stephens, the brothers formed a quintet. Remy is understandably on alto for all but two tracks while Pascal is on piano. No electronics are involved. Pascal composed eleven pieces while Remy composed the other eight. The concept evolved from discussions in 2017 about Miles Davis's Kind of Blue, referencing comments from Jimmy Cobb – "It's relaxing and it's not hard…so people got a feeling from that record." Steve Lacy admired the album's subtlety. The brothers wanted to develop an antidote of sorts to our bustling society – giving the listener calming music that would not only be relaxing but ultimately feel good too. They adopted a technical approach of performing into close microphones at extremely low volumes, realizing that this close proximity would result in exaggerated low and high frequencies. These hushed, whispering tones exude warmth, and arguably an even more focused interplay among the musicians.
Usually, we urge one not to play this kind of well-conceived music as background music but in this case, we urge first a focused listen, and then if you'd like to use it as background music, it can honorably serve that purpose too. After all, this is all about the atmosphere. It's a work that needs to be taken as a whole so commenting on individual tracks seems a bit inappropriate. Nonetheless, we will highlight a few. Even as the album begins, "Arrivals" quietly sneaks in with Han Oh's arco tones and the two saxophonists playing gentle repetitive two-note phrases. Pascal's piano seems to beckon a major event in his opening to his "Wedding Planning" and here the music is brighter, full of anticipation reflecting the recent marriages of each. Remy, who has recently authored two books of 12 vignettes for saxophone, then offers the first of two Vignettes on the album, one specially composed for this project, "Vignette 25." So, even as we shift from darker tones and moods to brighter ones, the album as a whole remains quiet, marked by sustained notes and chords, with "Departures," where one single chord is broken down the best shining example. Remy's alto and Stephens' tenor blend beautifully throughout, as one example on "Oblique Two Step" where Han Oh's bowed bass also meshes beautifully.
Pascal's "Waiting Room" and "Apollo" paint one summoning the calm and fighting off anxiety while anticipating the birth of his first child. "Please Scream Inside Your Heart," aside from the great title, is about our collective emotions during the pandemic. "Revolving Doors" is ploddingly slow as a foundation for some quiet but fast-moving saxophone clusters that float above the backdrop. "State of Conflict" is dense and mysterious while "Susie Song" is a respectful ode to their late aunt and the lullaby-like "Gaia" is for their three-year-old niece. Family themes continually weave their way into the album.
Perhaps more Grammy recognition awaits. The Le Boeuf Brothers have crafted a stunningly beautiful work.
Help Support Making a Scene
Your Support helps us pay for our server and allows us to continue to bring you the best coverage for the Indie Artists and the fans that Love them!
Make a one-time donation
Make a monthly donation
Make a yearly donation
Choose an amount
Or enter a custom amount
$
---
Your contribution is appreciated.
Your contribution is appreciated.
Your contribution is appreciated.
Donate
Donate monthly
Donate yearly
Subscribe to Our Newsletter