By Adam Signore
The Jim Weeks Band
This Jim Weeks Band introduction comes to you via one pandemic, one national tragedy and one heart attack and very late to the planned writing, but no less important. Almost the gritty fodder for a rock song. In my typical style we are going to dig a little deep here.
There is a grit that runs through the best rock music songs. That grit is embedded in the stories and the music. The Jim weeks band is dialed into that grit. The grit that makes up a life, with all its ups and downs Happy shiny pop is not what they do, thank god.

My knowledge of the Jim Weeks band came via Michael Robert Kelly, a fantastic musician and creator of The Brother Stereo. He has joined forces with Jim. and the result is glorious music that runs deep and sometimes dark. You can feel the experiences in the writing. This music comes from the heart and life.
Where The Jim Weeks Band Comes From
In Massachusetts there are several music scenes that turn out great artists & original music. Boston of course gets all the attention but dig out a map and look up Leominster (as well as Milford, Worcester, Plymouth). I call it the Leominster scene or the burgs (Fitchburg, etc).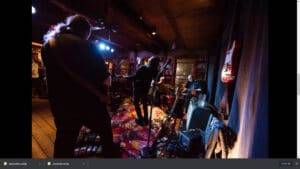 A far removed area from the glitter of Boston and I think it provides experiences that relate directly to the music. This is where Jim hails from. From a young age Jim was drawn to music and the Album, seeing the importance then of the full body pf work. An attitude you need to bring to listening to their new album BTW.
The Early Days
Humming tunes before 5, playing makeshift drums and recording/mixing voice over music by 10, teenage parties in the woods meant bringing a guitar, meeting other area musicians and learning. Always learning. Joining or putting together bands. A journey that had no choice but to happen. Drawn to music at an early age he might have not always understood why, but it has always been about the music. It's not a choice for Jim. He doesn't do music, music does him.
Around that time he was introduced to and joined a band called Matrix. This lead to the inaugural stage show for Jim. Nervous beforehand but has not looked back since. Jim spent a brief time with a Metal band but moved on to Axis, then I.O.U. A trio that took no prisoners. All experiences that have paved the road to this album and the beauty hear is if you truly listen, the story is there.
So, who is The Jim Weeks Band?
The Jim Weeks Band is of course Jim weeks, Vocals, Guitar. Michael Robert Kelly on Bass. Brook Meggs, Lead Guitar. Mike Levesque on Drums. There is a metric ton of talent in this band that have all journeyed to this moment and how sweet that moment is.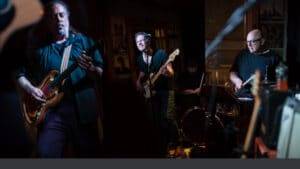 One of the things technology has made us lose is that deep listening where you sit down with an album and listen start to finish, reading the liner notes while you do. This new offering from the Jim Weeks Band will thrill you if you take it song by song but if you go the instant gratification route and skim over it you will miss the story that this well crafted album brings you. I'm guessing that a lot here is from real experience. One way or the other a prolific story that you should hear.
The New CD
Each song along the way is a piece of journey and it's a journey that has been hard and heartfelt. This is a true American rock album. Another favorite was The Plimsouls, "Everywhere At Once", an album that sat on high and alone, but alone no more.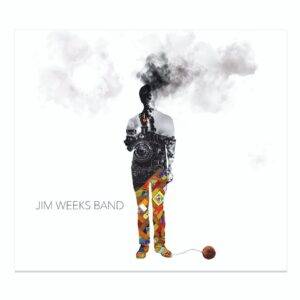 Of course I like to interpret music as much as the next guy. I can hit ir miss with the best of them but here's the story I heard. The opening tune, Adderall is an amazing comment on the pitfalls of treatments, that's how I read it anyways. the guitar, especially in the chorus has an ethereal wavy sound that has the sense of agitation that Adderall is meant to smooth over.
Black & Blue Heart, a story of love found and lost. Not your usual love song, more of a regret about love song. Music perfection.
Burned all of my bridges, Daddy & The War, Every Good Movie, are great American rock songs that tell a great story. Love regret, pulling away. Fantastic song writing throughout this album.
Everything, Gray Area Day, Lost & Found are amazingly written songs as is everything on this album. Never Thought I could Fall in Love, a rock solid about coming out alright on the other side. Musicianship and writing off the charts. Not going to describe every song, you're going to click a link in this article and buy this CD. You can thank me later.
I can't help but feel that so much of Jim's heart is in this album. Struggle, pain and joy. Life, A true reveal. I know a little bit about Jim and think there is one song written for someone special but I'm not going to say who or which song. Maybe he'll tell me if I am right some day.
So are you going to do this thing or what? If you know what is good for you, buy the new album from the Jim Weeks Band HERE.
Photos in this article by Robin Terhune. Album Artwork Emily Joy Ashman
Help Support Making a Scene
Your Support helps us pay for our server and allows us to continue to bring you the best coverage for the Indie Artists and the fans that Love them!
Make a one-time donation
Make a monthly donation
Make a yearly donation
Choose an amount
Or enter a custom amount
$
---
Your contribution is appreciated.
Your contribution is appreciated.
Your contribution is appreciated.
Donate
Donate monthly
Donate yearly
You can donate directly through Paypal!
Subscribe to Our Newsletter