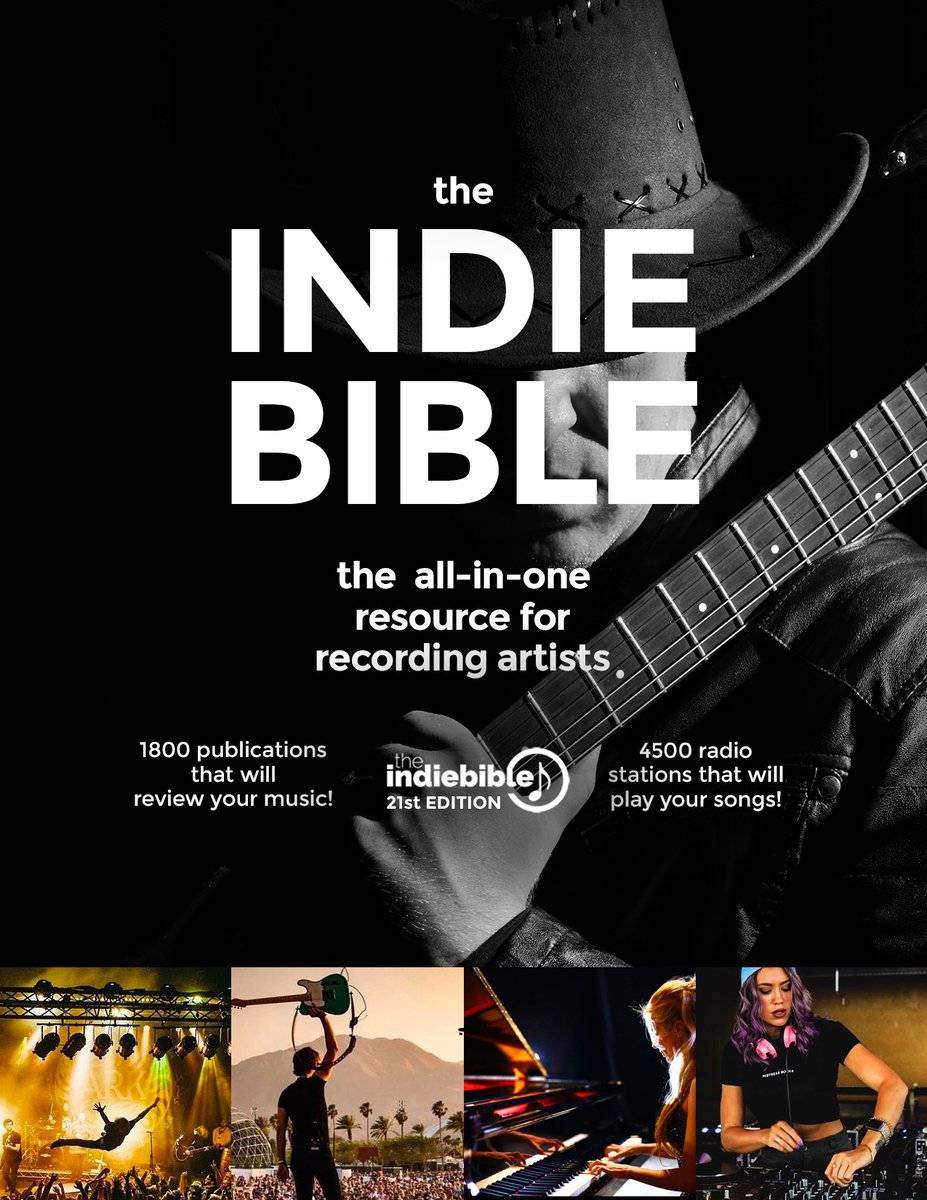 Making A Scene Presents a Review of the 2021 INDIE BIBLE
Introduction
Let's face it, the music industry is changing. For many of us, it seems that it is changing faster than we are able to keep up with. The one thing that is clear, this is a data driven industry and having access to the right data can make the difference in whether your music gets to the right ears or not.
The Indie Bible has been producing the their collection of Data for 21 Years now, and has become one of the most trusted resources for the indie artist. The 2021 version of the Indie Bible introduces some new additions that reflect the new realities we face as indie artists.
I am going to review each E-book in the context of the Indie Bible bundle offerings as opposed to individual offerings. The reason being is they not only discount the individual books within the bundle, but the compilation of information the bundles themselves represent, work together to give you a full comprehensive plan to market and promote your music.
The Ultimate Bundle is the first "Bundle" package that gives you a discount on 2 of their most popular List publications, 2 E-books PLUS access to their ONLINE database.
The Indie Bible – This is the granddaddy of indie artist resources on the market. This book contains 800 magazines that will REVIEW indie music, 4300 radio stations and shows that accept indie music, 970 music blogs, 700 labels and distributors. They also include 1000 promotion, marketing, management, PR and publicity services, 400 sites where you can UPLOAD your band's MP3s and/or videos.
The Index of the sections of the Indie Bible give you an idea of the scope of information that is included in its 1602 pages!
SECTION ONE: REVIEWERS OF INDEPENDENT MUSIC
SECTION TWO: MUSIC BLOGS
SECTION THREE: "REGIONAL" PUBLICATIONS AND RESOURCES
SECTION FOUR: RADIO PROMOTERS
SECTION FIVE: RADIO STATIONS AND SHOWS THAT ARE WILLING TO PLAY INDEPENDENT MUSIC
SECTION SIX: PROMOTION AND MARKETING SERVICES
SECTION SEVEN: PUBLICISTS
SECTION EIGHT: PUBLIC RELATIONS (PR) SERVICES
SECTION NINE: MANAGEMENT SERVICES
SECTION TEN: RECORD LABELS
SECTION ELEVEN: PHYSICAL DISTRIBUTORS
SECTION TWELVE: ONLINE MUSIC VENDORS
SECTION THIRTEEN: MUSIC SUPERVISORS & LICENSING SERVICES
SECTION FOURTEEN: DIGITAL MUSIC DISTRIBUTORS AND SERVICES
SECTION FIFTEEN: WEBSITES THAT WILL HOST YOUR AUDIO AND VIDEO FILES
SECTION SIXTEEN: SOCIAL NETWORKS AND ONLINE COMMUNITIES
SECTION SEVENTEEN: HELPFUL RESOURCES FOR MUSICIANS AND SONGWRITERS
The Venue Bible is broken up into 7 pdf E-books that cover several regions in the US. The regions provided are the Canada, North Central(US), North East(US), North West(US), South Central(US), South East(US) and South West(US). Each Guide is then broken down by State, Town and each venue has "Genre" tags to let you know what type of music they book. The information includes the Venue Name and their website. You have then do your research to get the phone and booking person, but you have a good head start with these guides.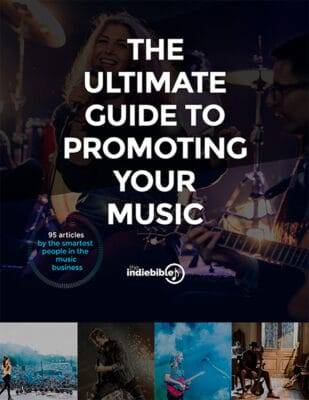 The Ultimate Guide to Marketing your Music
This contains 93 articles that help the indie artists understand the landscape that exists in the music industry as well as help them understand some of the changes that have taken place. These are invaluable resources if you are serious about navigating through this new music industry.
The subjects covered include:
TO ATTACH OR NOT TO ATTACH: A PRIMER FOR SUBMITTING YOUR MUSIC TO




RADIO, MUSIC BLOGS, PRESS AND LABELS

GETTING AIRPLAY

COLLEGE RADIO STRATEGIES: AN INSIDE LOOK

RADIO AIRPLAY 101 – COMMERCIAL AIRPLAY MYTHS

INDEPENDENT RADIO PROMOTER CHECKLIST

HOW TO SELECT A RADIO PROMOTER

HOW TO USE RADIO PROMOTION TO BOOST AIRPLAY AND BUILD NEW AUDIENCES

THE COLLEGE GIG AND COLLEGE RADIO CONNECTION

PUBLISHING ROYALTIES FROM RADIO

PODCASTS AS A PROMOTIONAL TOOL

HOW TO SUBMIT MUSIC FOR REVIEW

10 THINGS TO CONSIDER WHEN YOU'RE SUBMITTING AN ALBUM FOR REVIEW

HOW DO I GET MY MUSIC ON BLOGS?

DO'S AND DON'TS TO GETTING YOUR MUSIC POSTED ON BLOGS

5 TIPS FOR APPROACHING MUSIC BLOGS, WRITERS, AND OTHER MUSIC PRESS

INSIDE THE HEAD OF A MUSIC REVIEWER

5 TYPES OF PITCH EMAILS ALL MUSIC JOURNALISTS HATE GETTING FROM INDIE BANDS

HOW TO GET MUSIC BLOGGERS TO REPLY TO YOUR E-MAIL

SO YOU GOT A BAD REVIEW – WELCOME TO THE CLUB!

A MUSICIAN'S GUIDE TO STREAMING: THE PROS & CONS OF SPOTIFY, BANDCAMP, SOUNDCLOUD & MORE

THE EMERGING ARTIST'S GUIDE TO SPOTIFY PLAYLISTS

HOW IT'S EASIER THAN EVER TO END UP ON A SPOTIFY PLAYLIST

HOW TO PROMOTE YOUR MUSIC ON YOUTUBE AND VEVO

HOW ARTISTS MAKE MONEY ON YOUTUBE

SOUNDCLOUD: SHARE AUDIO RECORDINGS

HOW TO USE THE SOUNDCLOUD DROPBOX FOR DEMO SUBMISSIONS

SIMPLE WAYS TO PROMOTE YOUR MUSIC ON SOUNDCLOUD

WHAT ARE PERFORMANCE RIGHTS ORGANIZATIONS?

UPC & BARCODES FOR PENNIES AND SENSE

BAND AND PRESS KIT ESSENTIALS

SO, WHAT'S THE SCOOP WITH ELECTRONIC PRESS KITS?

WRITING A BAND BIO

THE "T" IN TOUR MERCHANDISE STANDS FOR T-SHIRT

5 TIPS FOR SELLING MORE AT THE MERCH TABLE

UNTANGLING THE MAZE OF MUSIC CONFERENCES

BUILDING A MUSIC SITE THAT SELLS: PROMOTE YOUR CD, NOT YOURSELF

DIY MUSIC LICENSING SONGS IN FILM, TELEVISION, ADVERTISING, GAMES AND NEW MEDIA

INTERVIEW: 7 QUESTIONS FOR A REAL LIVE MUSIC SUPERVISOR SARAH GAVIGAN OF GET YOUR MUSIC LICENSED

FIVE WAYS TO MAKE MORE SYNC MONEY FROM YOUR MUSIC

HOW TO COPYRIGHT YOUR MUSIC

HOW TO TRADEMARK YOUR BAND NAME

TRADEMARKING YOUR LOGO

ENTERTAINMENT INDUSTRY LAWYERS: WHO, WHERE AND HOW MUCH?!

ROYALTIES IN THE MUSIC BUSINESS

ARTIST-MANAGEMENT CONTRACTS

THE WRITTEN AGREEMENT AMONGST BAND MEMBERS

HOW TO LEGALLY SELL DOWNLOADS OF COVER SONGS

HOW TO BE YOUR OWN PUBLICIST

IS YOUR BAND READY TO HIRE A PUBLICIST?

TOP 10 MUSIC PR TIPS

MUSIC MARKETING STRATEGIES

7 EFFECTIVE STRATEGIES TO GET YOUR MUSIC NOTICED

EFFECTIVE USE OF SOCIAL MEDIA AND ONLINE MARKETING

SOCIALIZE YOUR WEBSITE: ESSENTIAL TIPS FOR USING SOCIAL MEDIA ON YOUR WEBSITE

THE 3 MISTAKES EVERY MUSICIAN MAKES WHILE USING SOCIAL MEDIA

THE DEFINITIVE GUIDE TO FACEBOOK FOR MUSICIANS

FACEBOOK 101: HOW TO MAKE A BAND PAGE ON FACEBOOK

8 WAYS TO IMPROVE YOUR BAND'S PRESENCE ON FACEBOOK

20 TIPS FOR IMPROVING YOUR FACEBOOK ARTIST PAGE

MUSICIANS TWITTER ROADMAP

TWITTER VS. FACEBOOK: WHICH IS BETTER FOR MUSICIANS?

REVERBNATION PROFILE

THE MUSICIAN'S GUIDE TO INSTAGRAM

INSTAGRAM FOR BANDS: 10 QUICK TIPS TO PROMOTING YOUR MUSIC WITH HIP IMAGES

THE MUSICIAN'S GUIDE TO INSTAGRAM'S IGTV

TOP PINTEREST TOOLS & TIPS FOR MUSIC MARKETING

ONE MAN'S ODE TO THE BEAUTY OF BANDCAMP

EVERYTHING YOU NEED TO KNOW ABOUT SNAPCHAT

MUSICIANS, DO YOU NEED TO BE ON SNAPCHAT?

'IF YOU CAN GET FAMOUS EASILY, YOU'RE GONNA DO IT': HOW TIKTOK TOOK




OVER MUSIC

GET YOUR MUSIC TO GO VIRAL USING TIKTOK | HOW MUSICIANS CAN USE TIKTOK

THE TOP 7 SOCIAL MEDIA OUTLETS TO PROMOTE YOUR MUSIC (AND HOW TO 20 STEPS TO CREATING A SUCCESSFUL BLOG FOR YOUR BAND

THE SECRET TO SUCCESSFUL CROWDFUNDING

2 SITES TO CROWDFUND YOUR NEXT TOUR

LABEL REPS SOUND OFF … WHAT MAKES AN ARTIST SIGNABLE … OR NOT

25 THINGS TO REMEMBER ABOUT RECORD DISTRIBUTION

FIVE TRUTHS ABOUT TODAY'S MUSIC INDUSTRY

13 THINGS EVERY DIY MUSICIAN SHOULD KNOW HOW TO DO

10 KEY BUSINESS PRINCIPLES

6 MUSIC NETWORKING TIPS NOBODY TELLS YOU

STOP BURNING BRIDGES…OR YOUR CAREER MIGHT GO UP IN FLAMES!

WHERE AM I GOING WRONG?

TOP 5 MUSIC BUSINESS MISTAKES

FINDING A SPONSOR

MAKING A LIVING AS A MUSICIAN

HOW TO CONQUER YOUR SELF-PROMOTION PHOBIA

BE COMMITTED!…YOU'LL NEVER BE FAMOUS IF YOU DON'T SHOW UP!

LEAVE YOUR DRAMA AT HOME: MORE ROCKIN' AND LESS SQUAWKIN'!

MUSIC CAREER KILLERS: SURE WAYS TO RUIN YOUR CHANCES OF SUCCESS!

15 REALITY CHECKS YOUNG ARTISTS NEED TO HEAR (FROM PEOPLE WHO KNOW WHAT THEY'RE TALKING ABOUT)

DEALING WITH REJECTION IN THE MUSIC BUSINESS

BABY STEPS AND THE ROAD TO SUCCESS

SO HOW DO WE MAKE OUR DREAM BECOME REALITY?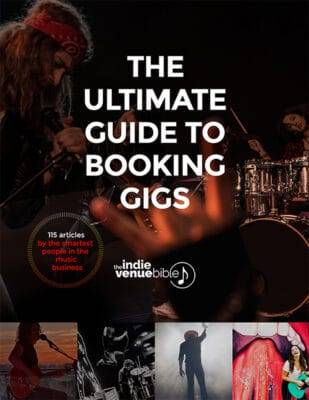 The Ultimate Guide to Booking Gigs
This should be a no brainer for anyone that is looking to make a living as a musician, but I can't tell you how many artists I have spoken to that really have no clue what is involved with creating their own tour and booking their own gigs. Sure they can get a gig at the local bar, but creating a tour, booking venues out of town or out of state takes a professional approach. This guide can help you move through the steps you need to move your booking from amateur to professional.
Subjects covered include:
A GLOSSARY OF LIVE PERFORMANCE AND BOOKING TERMS

A TALENT REPRESENTATION PRIMER (a brief rundown of some terms in the business)

VENUE OPERATOR AND MUSICIAN: A GOOD RELATIONSHIP DEPENDS ON BOTH OF YOU

WHY PLAYING LIVE IS SO IMPORTANT

TO TOUR OR NOT TO TOUR…THAT IS THE QUESTION!

EXPAND YOUR DEFINITION OF A LIVE PERFORMANCE

HOW TO FIND THE RIGHT VENUE FOR YOUR LIVE SHOW

DYNAMICS FOR SUCCESS

HOW A POSITIVE INDIE ATTITUDE WILL ADVANCE YOUR CAREER

VITAL GIG BOOKING TOOLS: THE PRESS KIT

PLANNING YOUR OWN TOUR

SETTING UP A SUCCESSFUL TOUR

LOOKING FOR AN AGENT

BOOKING AGENTS AND NATIONAL TOURING

How to Approach Booking Agents

MANAGERS: CAN'T LIVE WITH THEM…BUT CAN YOU LIVE WITHOUT THEM?

BOOKING LOCAL / CLUB SHOWS

THE BASICS OF BOOKING YOUR OWN TOURS

5 NEGOTIATION TECHNIQUES TO BUILD BOOKING KNOW-HOW

BOOKING YOUR ACT

HOW CAN I GET BETTER GIGS?

GET PAID WHAT YOU'RE WORTH!

HOW TO COMMAND A HIGHER FEE FOR YOUR LIVE SHOW

HOW PERFORMERS CAN FLUB THE INTERVIEW… BUT DON'T LAUGH

AUDITION AND INTERVIEW COMPLETE BUT NO REPLY… WHAT DO I DO NOW?

HOW TO USE THE RIGHT "FOLLOW-UP" TO BOOK THE GIG OF YOUR DREAMS

HOW TO SUCCESSFULLY BOOK FOLLOW-UP GIGS WITH CLUB OWNERS AND BOOKERS

ATTENDING BOOKING CONFERENCES

PREPARING A PROFESSIONAL ENGAGEMENT CONTRACT

THE RIGHT DOCUMENTS FOR BOOKING GIGS

WHAT IS NACA?

NACA AND THE COLLEGE GIG: HOW TO NAVIGATE THE EDUCATIONAL MARKET

A MUSICIAN'S ADVICE ABOUT THE COLLEGE MARKET

BOOKING COLLEGE SHOWS

HOW YOUR BAND CAN BREAK INTO THE (LUCRATIVE) COLLEGE MARKET

HOW TO GET INTO THE COLLEGE MARKET IN 4 STEPS

BOOKING COLLEGE SHOWS WITHOUT USING NACA

STEPS TO A SUCCESSFUL TOUR

TOURING STRATEGIES: RENTING TOUR VEHICLES

BAND SAFETY TIPS – NIGHT CLUB FIRES AND STAMPEDES

GIG CHECKLIST: PREPARING FOR A GIG OR SHOW

PERFORMANCE MARKETING / TOUR SUPPORT

HOW TO TURN YOUR GIGS INTO MAJOR MEDIA EVENTS

UNDERSTANDING "DRAW"

HARNESSING YOUR FAN POWER WITH STREET TEAMS

DOING YOUR OWN PUBLICITY

ENTREPRENEURSHIP IS THE KEY TO NEW ARTIST SUCCESS TODAY

HOW TOURING AND RADIO WORK TOGETHER

TOUR DISTRIBUTION USING RADIO

HOW TO USE RADIO PROMOTION TO BOOST AIRPLAY AND BUILD NEW AUDIENCES

COMPARING STATIONS TO TOURING

RADIO STATION VISITS

FINDING A SPONSOR

HOW TO GET TOUR SUPPORT FOR YOUR MUSICAL ACT

HOW TO GET BIG SPONSORSHIP MONEY FOR YOUR BAND, TOUR, EVENT OR PRODUCTION

THE PERFECT MARRIAGE OF ARTIST AND CORPORATE PARTNER

WHY YOU SHOULD SELL OUT: HOW RICH HARDESTY GOT FREE CDs AND A TRIP TO JAMAICA

BOOKING NON-TRADITIONAL SHOWS AND EVENTS

BOOKING FESTIVALS, FAIRS AND EVENTS

TIPS ON GETTING MORE FAIR DATES AND CORPORATE GIGS

THE SOLO RESTAURANT GIG – GUITAR A LA CARTE

DEFINITION OF GUERRILLA GIG

DEFINITION OF A BASEMENT SHOW

ARE HOUSE CONCERTS A GREAT OPPORTUNITY FOR YOU?

HOUSE CONCERTS: A NEW WAY TO REACH OUT TO NEW FANS

HOUSE CONCERT BOOKING TIPS FOR ARTISTS

SETTING UP A HOUSE CONCERT

FOLK CLUB AUDIENCE GUIDE

CREATING YOUR OWN LOCAL GIGS

CAN'T FIND A GIG? GET OUT ON THE STREET!

THE ART OF SHOWCASING

OPEN MIC PERFORMER'S GUIDE

LIVE PERFORMANCE: YOUR FIRST OPEN MIC (interview with Open Mic Host, Spook Handy)

TIPS TO HOSTING A SUCCESSFUL OPEN STAGE

JAM ETIQUETTE

THE TEN COMMANDMENTS OF JAMMING

GIG MANNERS: HOW TO BOOST YOUR APPEARANCES AT VENUES

THE ART OF PERFORMING

HOW TO REALLY GRAB YOUR AUDIENCE

14 Ways Musicians Can Increase their Tips

FINDING TRUTH THROUGH STAGE PERSONAS

IMPROVISATION & SURPRISES: THE KEY TO A GREAT COVER BAND

GET MOVING!: SINGING BETTER WHEN YOU MOVE YOUR BODY

PERFORMANCE POWER

A2Z SINGING TIPS

THE IMPORTANCE OF VOCAL HEALTH

BREATHING 101 FOR SINGERS & VOCALISTS

WICKED COLD AND A BIG GIG? TIPS FOR SINGERS – WHAT WORKS!

DRUNKEN MELODIES

HOW TO BEAT STAGE FRIGHT

7 SURE FIRE WAYS TO OVERCOME STAGE FRIGHT WHEN SPEAKING OR PERFORMING

CONQUERING STAGE FRIGHT

STAGE FRIGHT

GETTING PAST THE FIRST THIRTY SECONDS

STAGE FRIGHT? ME?

LIVE PERFORMANCE: CALMING YOUR NERVES

HOW TO TURN SHAKING KNEES INTO A NICE VIBRATO

BETTER PLAYING THROUGH CHEMISTRY (BETA BLOCKERS)

SELLING MORE CDs AT GIGS (A Case Study: The Rogues)

CONFESSIONS OF A MASTER CD SALES WOMAN

TIPS FOR SELLING YOUR CD AT GIGS

HOW TO SELL 60,000 CDs

HOW TO DOUBLE YOUR GIG REVENUES BY SELLING MERCH

HOW TO MAKE MONEY: WYLIE GUSTAFSON ON MERCHANDISING

THE "T" IN TOUR MERCHANDISE STANDS FOR T-SHIRT

WHY SHOULD YOU ORDER SHIRTS TO SELL AT YOUR EVENT?

SELL YOURSELF AT GIGS (NOBODY'S GONNA DO IT FOR YA)

LIVE CONCERT RECORDINGS ON USB STICKS
Because of the fact that things are changing so fast in the industry, especially with Covid. You need to keep up to date on those changes. It is also a great way to build your own database and mailing lists. The thing that sets the Indie Bible Resource apart from the other online "lists" is the fact that you can search for your specific criteria, based on type of contact, Genre(s) and country/countries/regions and export that data directly to a .xls (excel spreadsheet) which can be converted to a .csv file (Comma Separated Value) which can then be directly imported in most mailing programs and Spreadsheet programs. This is constantly kept up to date, and you can choose 1 or all of any of the listed search criteria with over 8,000 entries. This is worth the price alone!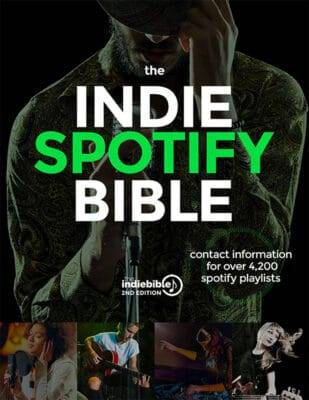 Ok, let's face the ugly truth, Streaming "IS" the new way people are consuming music. There is no sense denying it, or trying to fight it. The Indie artist is not going to change this truth, we have to learn how to use it to our advantage. We have to figure a way to engage our fanbase and reach new fans using how they consume music and where they consume it. The use of Streaming services and social media are our new marketing platforms like it or not. It is going to be those artists who master this new world that will gain success from it. The Indie Bible Streaming pack is designed specifically for that purpose.
The Spotify Bible was introduced last year and it is now in it's 2nd edition. Ever wonder how you can get your music featured on one of those big Spotify playlists? Well, the first step may just lie in the Indie Spotify Bible! With over 1288 pages of Spotify Tastemakers and playlist curators, plus a guide on how to submit your music to them, you could be on your way.
Like the Spotify Bible the Apple Music Bible is 933 pages of Apple music playlist curators. Now, this is new territory for most indie artists. We are all familiar with Spotify, and we have slowly have come to grasps on how it works to a degree. But Apple music is much more a mystery. Because of that they include:
The Independent Artists Guide to Apple Music
This 73 page guide takes you through all the ins and outs of how to make the best of the Apple Music Bible. The Subjects they cover are extensive and will quickly make you proficient in mastering this new streaming service.
HOW TO SIGN UP FOR APPLE MUSIC

HOW TO SET UP APPLE MUSIC

HOW TO CUSTOMIZE YOUR APPLE MUSIC LIBRARY

HOW TO UPLOAD YOUR MUSIC TO APPLE MUSIC

HOW TO ADD MUSIC TO YOUR APPLE MUSIC LIBRARY

HOW TO SHARE SONGS AND ALBUMS WITH FRIENDS IN APPLE MUSIC

HOW TO CREATE A PLAYLIST

HOW TO SHARE A PLAYLIST THROUGH APPLE MUSIC

HOW TO SAVE A PLAYLIST

HOW TO ADD PHOTOS TO PLAYLISTS IN APPLE MUSIC

HOW TO CLAIM YOUR ARTIST PROFILE ON APPLE MUSIC

APPLE MUSIC FOR ARTISTS: THE HOW-TO GUIDE & KEY BENEFITS EXPLAINED

APPLE MUSIC FOR ARTISTS RIVALS SPOTIFY'S ANALYTICS TOOLS

APPLE MUSIC FOR ARTISTS: UNDERSTAND YOUR ANALYTICS

SHAZAM IN APPLE MUSIC FOR ARTISTS

APPLE MUSIC FOR ARTISTS ON IOS

THE TRUTH BEHIND APPLE MUSIC AND PLAYLIST PITCHING: HOW IT REALLY




WORKS

WHAT TO DO (AND NOT DO) IN YOUR STREAMING MUSIC PROMOTION

APPLE MUSIC VS SPOTIFY: THE MUSIC STREAMING TITANS GO HEAD-TO-HEAD

APPLE MUSIC VS. SPOTIFY COMPARED

HOW TO TRANSFER YOUR SPOTIFY PLAYLISTS TO APPLE MUSIC

HERE'S HOW MUCH APPLE MUSIC PAYS YOU PER STREAM

APPLE CLOSING ITUNES— 3 THINGS IT'S TELLING YOU

HOW TO CREATE YOUR OWN RADIO STATION IN APPLE MUSIC
Youtube is still the #1 place the consumer market finds new music. The rise of Youtube playlist have been widely ignored by most indie artists, but that is about to change. The release of the 1st edition of the Indie Youtube Bible opens the door to tastemakers of youtube and giving the indie artist access to their contact information.
The Independent Artists Guide To Youtube
Indie artists are starting to realize, that besides the exposure you can get from youtube, it is also a good source of revenue. The Independent Artists Guide to Youtube gives you the tools you need to master this powerful content presentation platform. This 109 page guide takes you through the following subjects:
WHAT IS YOUTUBE? HOW DO I USE IT?

YOUTUBE: A SOCIAL MEDIA PLATFORM EVERY MUSICIAN SHOULD USE

WHAT ARE YOUTUBE MUSIC PROMOTION CHANNELS?

HOW TO GET YOUR MUSIC ON YOUTUBE PROMOTION CHANNELS

A BEGINNER'S GUIDE TO PROMOTING MUSIC VIDEOS ON YOUTUBE

HOW TO USE YOUTUBE TO PROMOTE YOUR BAND

7 PROVEN STEPS TO REACH 1M VIEWS ON YOUR MUSIC VIDEO

6 WAYS TO PROMOTE YOUR MUSIC VIDEO ON YOUTUBE

YOUTUBE MUSIC PROMOTION – HOW TO GET YOUR MUSIC FEATURED ON THE




BIGGEST YOUTUBE CHANNELS

YOUTUBE FOR MUSICIANS: 10 FUNDAMENTALS OF A CREATIVE STRATEGY

HOW A MONGOLIAN HEAVY METAL BAND GOT MILLIONS OF YOUTUBE VIEWS

HOW TO PROMOTE YOUR YOUTUBE CHANNEL: 23 TACTICS THAT WORK

9 ADVANCED TACTICS FOR PROMOTING YOUR YOUTUBE CHANNEL

7 ESSENTIAL WAYS TO GROW YOUR YOUTUBE CHANNEL (FOR MUSIC




ARTISTS)

PROFILE FOR ARTISTS

INTRODUCTION TO OFFICIAL ARTIST CHANNELS

CREATOR ON THE RISE & ARTIST ON THE RISE

MANAGE YOUR OFFICIAL ARTIST CHANNEL

CHANNEL SECTIONS

VIEW YOUTUBE ANALYTICS FOR ARTISTS

SET YOUR ARTIST AVATAR

INTERACT WITH CREATORS ON COMMUNITY POSTS

HOW TO UPLOAD VIDEOS TO YOUTUBE

HOW TO MAKE A MUSIC CHANNEL ON YOUTUBE

HOW TO TRANSFER YOUTUBE SUBSCRIPTIONS FROM ONE GOOGLE

ACCOUNT TO ANOTHER?

YOUTUBE FOR MUSICIANS: "HOW IS ALL THE $$ MADE?"

HOW ARTISTS MAKE MONEY ON YOUTUBE

HOW TO MAKE MONEY AND GET PAID BY YOUTUBE

20 YOUTUBE TRICKS, HACKS AND FEATURES YOU'LL WANT TO KNOW ABOUT

ROYALTY FREE MUSIC FOR YOUTUBE: WHAT YOU NEED TO KNOW

POSTING COVER SONGS ON YOUTUBE? WHAT YOU NEED TO KNOW

COMMON MISTAKES MUSICIANS MAKE MAKING YOUTUBE VIDEOS…AND HOWTO




FIX THEM

IS YOUTUBE WRECKING THE MUSIC INDUSTRY – OR PUTTING NEW ARTISTS IN




THE SPOTLIGHT?
The Extreme Bundle includes Everything! The Indie Bible, The Indie Bible ONLINE Database, The Indie SPOTIFY Bible, The Indie APPLE MUSIC Bible, The Indie YOUTUBE Bible, The Indie Venue Bible, The Booking Agents Directory, Plus all 5 Bonus Music Guides (THE ULTIMATE GUIDE TO PROMOTING YOUR MUSIC, THE ULTIMATE GUIDE TO BOOKING GIGS, THE ULTIMATE GUIDE TO TOURING AND PLAYING LIVE, INDEPENDENT ARTIST'S GUIDE TO SPOTIFY and INDEPENDENT ARTIST'S GUIDE TO YOUTUBE)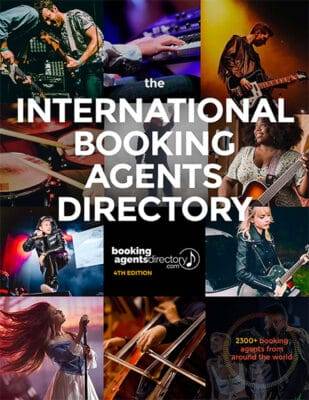 International Booking Agent Bible
This is a 308 page directory of Booking agent in both the US and Countries throughout the world. The data is broken up by Country/State(province) and City. Each Entry has information on the agency and what types of music they book. As any artist will tell you the most important person to have on your team is the Booking Agent because they are the one person on your team that actually helps generate income! This is an invaluable resource to start your journey toward finding one that will work with you.
The Ultimate Guide to Touring and Playing Live
Of course having the information is only half the battle. You need to have some knowledge on how to effectively use that information to make your or your band attractive to a potential booking agent. You need to have at the very least a base knowledge base about how booking agents work and what they need from their clients. You also need a heads up on what is needed to tour outside your own country, this guide gives you real world knowledge to give you a head start in making your tour successful! The Indie Bible provides you with this valuable guide to help you navigate and use this information effectively. The Subjects covered here are:
WHAT IS A BOOKING AGENT?

ALL YOU NEED TO KNOW ABOUT BOOKING AGENTS

WHAT DOES A MUSIC BOOKING AGENT DO?

HOW TO FIND A GREAT BOOKING AGENT FOR YOUR BAND

HOW TO GET A BOOKING AGENT TO BOOK YOUR BAND

MEET THE MUSIC BOOKING AGENTS

IS IT TIME TO HIRE A BOOKING AGENT?

4 WAYS TO GET A JAZZ BOOKING AGENT

TOURING TIPS FOR INTERNATIONAL MUSIC GIGS

TOURING ABROAD: TIPS FOR INDEPENDENT MUSICIANS ON INTERNATIONAL

BOOKING, PROMOTION, CUSTOMS, MERCH SALES AND TRAVEL

CHECKLIST: WHAT YOU NEED TO KNOW TO PERFORM OVERSEAS

5 TIPS FOR INTERNATIONAL TOURING BANDS

INDIE BAND, INTERNATIONAL PRESENCE: ADVICE FROM DEON ON REACHING NEW MARKETS

CANADIAN MUSICIANS: HOW TO TAKE YOUR SHOW ON THE ROAD

INTERNATIONAL MUSIC GIGS: MANAGING YOUR GEAR

5 OF THE BEST INTERNATIONAL MUSIC CITIES FOR INDEPENDENT ARTISTS

HOW TO SEND YOUR ACTS TO THE UNITED STATES

CROSSING THE BORDER TO THE GREAT WHITE NORTH: A MUSICIAN'S GUIDE

HOW TO MAKE THE MOST OF A CANADIAN TOUR

WANT TO TOUR IN CANADA? HERE'S WHAT AMERICAN BANDS NEED TO KNOW

WHAT NO ONE TELLS YOU ABOUT BOOKING GIGS IN TORONTO

TIPS FOR TOURING EUROPE AS A MUSICIAN: A FEW THINGS I'VE LEARNED FROM 8 YEARS PERFORMING INTERNATIONALLY

WHAT EVERYONE SHOULD KNOW ABOUT TOURING MAINLAND EUROPE

DOES YOUR BAND WANT TO TOUR EUROPE? MAKE IT HAPPEN!

INTERVIEW WITH MATTHIAS WENDL OF BERLIN-BASED BOOKING AGENCY ARTRIBUTE

WHAT YOU SHOULD BRING ON TOUR IN EUROPE

HOW TO SAVE MONEY ON TOUR IN EUROPE

TOURING IN EUROPE FOR BLUEGRASS BANDS

FALLUJAH VOCALIST ALEX HOFMANN'S TIPS FOR TOURING IN EUROPE

AN OVERVIEW OF TOURING IN THE UK

UK FOLK TOURING FROM OUTSIDE THE EU

A LEGAL GUIDE TO TOURING THE UK

THERE'S SUCH A DEMAND FOR LIVE MUSIC IN SWEDEN

AN AUSTRIAN BOOKING STORY: JAMES COTTRIALL PLAYS OVER A 100 GIGS IN AUSTRIA EACH YEAR

WHY EVERY BAND SHOULD TOUR REGIONAL AUSTRALIA

TOURING FOR AUSTRALIA

LOOKING FOR GIGS? TRY ASIA

PLAYING GIGS IN JAPAN

THE MUSICIAN'S GUIDE TO TOURING JAPAN

10 THINGS YOU LEARN WHEN YOU TOUR JAPAN FOR THE FIRST TIME AS AN AMERICAN BAND

TURNING JAPANESE: THE DARK SIDE OF TOURING

TRAVEL TIPS FOR UNDERGROUND ROCK BANDS TOURING CHINA

TOURING CHINA AND SOUTH AMERICA: AN INTERVIEW WITH MENNO VERSTEEG FROM THE CANADIAN INDIE BAND HOLLERADO

THE CORRUPT ABSOLUTE GUIDE TO CHINA

THE STRANGE BUSINESS OF BEING A TOURING BAND IN CHINA

CHINA ROCKS – JUST DON'T EXPECT THE GIGS TO MAKE A PROFIT

8 THINGS EVERY AMERICAN BAND SHOULD KNOW ABOUT PERFORMING IN CHINA

CHINA'S GREAT WALL OF CANADIAN SOUND

Q&A: LUCY ROSE ON HER DIY TOUR OF SOUTH AMERICA

AN INDIE GUIDE TO THE BEST LIVE MUSIC VENUES IN AFRICA

A MUSICIAN'S GUIDE TO CAPE TOWN'S INDIE-FOLK SCENE

THE LIVE MUSIC SCENE IN ZIMBABWE

PLAY MUSIC ON A CRUISE SHIP: IS THIS YOUR DREAM?

HOW TO PREPARE FOR THE JOB OF CRUISE SHIP MUSICIAN

THE CRUISE SHIP GIG

PLAYING MUSIC ON CRUISE SHIPS: KNOW BEFORE YOU GO

AN IN-DEPTH LOOK AT CRUISE SHIP MUSICIAN SALARIES AND PERKS

DIFFERENT TYPES OF CRUISE SHIP ENTERTAINMENT

TOP 10 TIPS FOR PROMO SUBMISSIONS TO CRUISE SHIPS

USING AN ENTERTAINMENT AGENCY TO GET CRUISE SHIP JOBS

INTERVIEW WITH JOEL PIERSON, CRUISE SHIP PIANIST
Conclusion
I will state the obvious, The Indie Bible Bundles are more than just lists of contacts, they are a massive amount of information that represents a complete guide to marketing and touring!
Let's face it, we are all entering some uncharted waters first due to the shutdown of the gig Economy because of Covid, Second because of the shift in perception of recorded music by the consumer from a product to a service. The only way the Indie Artist is going to find a way to survive this double hit is to not only educate themselves on how to use the technology in their favor, but also have the information needed to use that knowledge to reshape how they do business.
For 21 Years the Indie Bible has been cataloging information and educating the Indie artists to do just that. There are other services that advertise they can give you lists and make massive claims of success if you subscribe to them. I have check alot of them out myself and I have yet to find one that is as extensive and as user friendly as the "Indie Bible"! The Online database is probably the most useful resources I have found, because you are able to export blocks of data based on a specific search criteria that can be used in bulk email programs and as well as bulk mailing system like Stamps.com. I have yet to find another service that gives you that option.
I know money is tight for all of us, but if you are looking for a way to market your music and prepare yourself for the return to touring, consider a company that has been in business for 21 years and has gained the reputation of providing the gold standard resource for the Indie Artists. That distinction resides in only one place .. "The Indie Bible"
Help Support Making a Scene
Your Support helps us pay for our server and allows us to continue to bring you the best coverage for the Indie Artists and the fans that Love them!
Make a one-time donation
Make a monthly donation
Make a yearly donation
Choose an amount
Or enter a custom amount
$
---
Your contribution is appreciated.
Your contribution is appreciated.
Your contribution is appreciated.
Donate
Donate monthly
Donate yearly
Subscribe to Our Newsletter