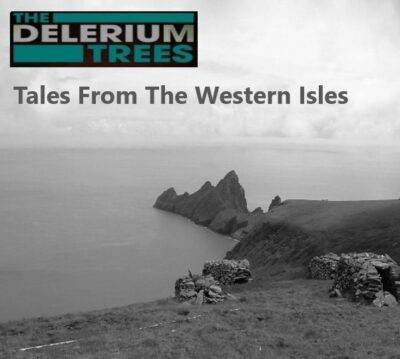 The Delerium Trees
"Tales From The Western Isles"
Today I would like to invite you to discover the new album by The Delerium Trees. I've already written a few reviews of this band and I'm always thrilled, but I have to say that "Tales From The Western Isles" is something very special.
After the debut album "Paradies Will Be" in 2018, an album that takes up all topics of loneliness, dreams, hope, politics and religion they released "Swimming With The Ghost Angels" in 2019, in which some of the themes from the previous album are taken up again and with some great pure instrumental pieces.
In 2020 "Underneath This Sun" was released, which is written in an easier mood but also contains critical topics.
In the same year a mini Christmas EP "Three More Christmas Songs" followed with three wonderful songs and now Drew presents us this new album that is not just an album. Rather it is a journey through the history of the Western Islands that the musician takes us on. Every single one of the six songs has its own story that is conveyed to us here musically.
"St. Kilda ", more than fourteen minutes long, instrumental and a song that has a special meaning for Drew and his wife Ashley. A sweeping sound that seems to carry you away mixed with brilliant gentle brass work and effective drum beats.
Even if you have only heard of the beauty of St. Kilda, with this song it becomes tangible!
"St. Clements Church " is the second place the journey takes us to. A church built in 1520 and still well preserved thanks to restorations. Being a church organist, Drew composed a medieval-style hymn and four-part fugue for organ to remember his visit.
And for me listening it was like sitting in this church and listening to the organ.
"The Oa (Islay)", a place with a great history. The American Monument was built in 1920 to commemorate the loss of two ships. A U-boat torpedoed the passenger liner Tuscania on 5 February 1918 and 230 people lost their lives. In this song Drew tells about the tragedy and the whole thing so hauntingly and with his great music arranged around the story it is truly a hymn.
"Tea at Inverlussa", the song was written during a vacation in 2018 in a tea hut after a long day of exploring. A wonderful melody and certainly a wonderful memory that we can partake of.
"The Dance at Baleshare", without question my personal favorite … As easy as a carefree night of dancing, a modern march, thrilling and happy, brilliantly played and you can hear Ashley, Drew's wife at the beginning of the song. It's like the vocals say…. Pick your partner by the hand … and off you go, I'm totally in love with the song.
"Down The Brae Into Uig (Skye)", last song on the album and once again Drew shows the full range of his musical skills.
Uig is a small but very important village because the ferries to Lochmaddy (North Uist) and
Tarbert (Harris) leave from and return to here. It is one of the gateways to Scotland's Outer Hebrides and after a long day Drew composed this song which also contains some guitar strumming. Energetic and full of power, a wonderful end to this album.
Again The Delerium Trees surprised us with something big and at least for me something I've never heard of before in this form. Drew's skills on every single instrument are as remarkable as they are admirable!
Tales From The Western Isles
All tracks composed by Drew Jarvie 2020/2021
Recorded – Crackerbox Palace, Turriff and ARC Studios, Mintlaw, both in Aberdeenshire, Scotland.
Drew Jarvie – Narration, Vocal, Piano, all Keyboards, Post Horn, Trumpet, Cornet, Trombone, Guitars, Accordion, Drums, Bass, Percussion and Programming.
With
Heitor Alves – Mixing and Mastering.
Ashley Craig – vocal on The Dance At Baleshare.
Help Support Making a Scene
Your Support helps us pay for our server and allows us to continue to bring you the best coverage for the Indie Artists and the fans that Love them!
Make a one-time donation
Make a monthly donation
Make a yearly donation
Choose an amount
Or enter a custom amount
$
---
Your contribution is appreciated.
Your contribution is appreciated.
Your contribution is appreciated.
Donate
Donate monthly
Donate yearly
You can donate directly through Paypal!
Subscribe to Our Newsletter
Find our Podcasts on these outlets